The Writing Life of: Ed Sheehan
Ed Sheehan
This week I am thrilled to be interviewing author Ed Sheehan. Ed will be sharing with us details of his writing life, telling us all about his latest book 'Hologram Destruction', which was released on 24th June 2019 and answering a few fun questions too. This post contains affiliate links.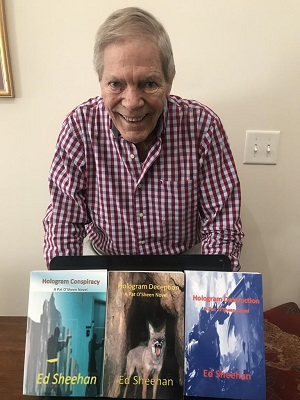 Ed Sheehan has a background in technical research writing and have been published by the International Society of Explosives Engineers. The historical and technical aspects of my novels is thoroughly researched. Hologram Conspiracy is the first of a trilogy, Hologram Deception is the second and Hologram Destruction the last.
He is married to his high school sweetheart, and they have three kids and three grand-kids. They now live in Alabama near their grand-kids.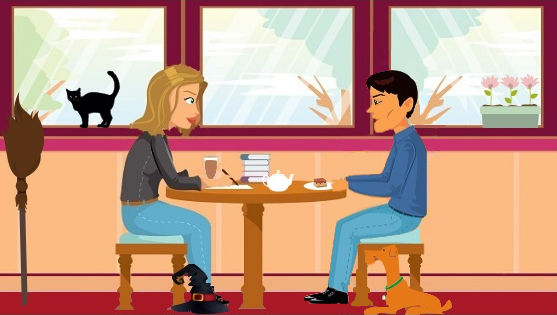 1) As a child did you have a dream job in mind?
In my early grades I wanted to be a teacher and/or a priest. In high school, after I fell in love with my wife, I decided to follow my dad into engineering.
2) Who was your favourite childhood author (s)?
Franklin W. Dixon, who wrote the Hardy Boys mysteries.
3) Was there a particular point in your life that you realised you wanted to be a writer?
I never considered becoming an author. While I was laid off from my job in 2009, I was bored and decided to write my memoirs for my kids and grand kids. The main character (me) was so boring that I started fictionalizing him. I enjoyed writing, and six months later, I was halfway through a novel and becoming a serious author. I got addicted and decided to turn my first novel into a trilogy. I've been writing ever since.
4) What is your average writing day like? Do you have any special routines, word count, etc?
I started writing in a one bedroom condo on the beach, and the only place to put my laptop was on the kitchen table. I still write on the kitchen table facing the TV. I went back to work full-time and could only write in the evenings. That is still my habit. I edit sometimes during the day.
5) How many books have you written? Any unpublished work?
I am currently writing my ninth novel. I have self-published the Hologram Trilogy thrillers, and a follow up romance/thriller novel. My main character is a spy named Pat O'Sheen. I plan to publish a prequel novel A Spy is Born in September 2020. It starts when Pat O'Sheen is a kid. The next three historical novels are in various stages of editing.
6) Are you a plotter or a pantser?
I started out as a seat of the pantser and still write that way. I have a general idea of where the novel is going, but I let my characters write the novel to get me there. My characters have much better imaginations than I do.
Concerning your latest book: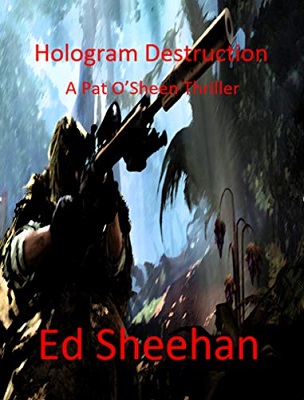 Hologram Destruction


Hologram Trilogy Book Three
Author – Ed Sheehan
Publisher – Bowker
Pages – 342
Release Date – 24th June 2020
ISBN 13 – 978-0988859654
Format – ebook, paperback

The Hologram Destruction is a stand-alone novel, but is the third of the hologram trilogy. Several sequels and prequels not related to the holograms (already written) will follow.
Pat O'Sheen is a religious man whose devotion to his wife and high-school sweetheart, Dale, and their three kids is top priority along with God and Country. He retired from army special forces with unique talents and a passion to protect American soldiers. Pat had never told Dale the details of the violence in his top-secret, covert career. A CNN van drives into O'Sheen's private cul-de-sac and declares to the world that Pat is an unsung American hero while claiming that he is responsible for the sudden decrease in deaths of American soldiers in Afghanistan.
CNN reports that a source in German intelligence credits O'Sheen for destroying a rogue top-secret weapons factory in what was once East Berlin, and that the U. S. government denied any involvement in the operation. The report infuriates Dale and the American congress. The German ambassador in D.C. demands an investigation. Pat avoids a subpoena from congress by flying to Europe with his son to investigate the German source and is drawn back into the ongoing hologram conspiracy.
---
7) How did you go about researching the content for your book?
For A Spy is Born, which is also a historical novel, I grew up in the era. I did research on the internet to get the correct dates and timing of events for the Vietnam War.
8) How long did it take to go from ideas stage to writing the last word?
Once I decided to write a prequel, and while working full-time, it took me about six months to finish my first draft of A Spy is Born. I was still trying to find an agent to traditionally publish the trilogy at the time.
9) How did you come up with the title of your book?
Once I decided to write a prequel about how Pat O'Sheen became a spy, the title came right to me. I did check the internet to make sure the title was original.
10) Can you give us an insight into your characters?
Pat O'Sheen is a religious man who was planning on becoming a priest until he fell in love with his high school sweetheart. After marrying Dale, he involuntarily goes into the army. The army discovers that Pat has amazing warrior skills and sends him to Sniper and Special Forces training and then to Officers Candidate School. Pat has trouble handling the killing in the war and creates an alter ego to cope. Dale is afraid that she is losing her kind man to the alter ego. Pat becomes a war hero by rescuing prisoners-of-war behind enemy lines.
11) What process did you go through to get your book published?
I researched agencies and agents on the internet, read everything I could find on how to write a query letter, and sent out hundreds of queries on my first three novels. I also went to several writing conferences and paid to present to agents. I gave up when I got close to one agent who liked my concept, thought the characters were interesting, but in the end decided not to read the novel. I gave up and started self-publishing.
12) What's next for you writing wise?
Finish editing my 6th thru 8th novels and finish writing my 9th.
Fun Questions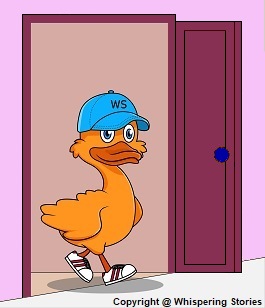 1) If you could have any super power for the day which would you choose?
Without a doubt, flying. I was a big fan of Superman when I was growing up.
We have had dogs over the years. When we lost our last dog, a black Cocker Spaniel named Shadow, we decided not to replace him. Shadow stayed on my wife's heels like her black shadow.
3) Your book has been made into a feature film and you've been offered a cameo role, which part would you choose, or what would you be doing?
I would play General Alexander Haig and take Pat to meet President Nixon to be offered the Medal of Honor—which Pat turns down.
4) Where is your favourite holiday destination?
Destin Florida. We had a condo on the beach there for ten years.
5) A baseball cap wearing, talking duck casually wanders into your room, what is the first thing he says to you?
'You quack!'
---
I would like to say a big thank you to Ed Sheehan for sharing with us details of his writing life and for a wonderful interview.
Author links

---
Share your thoughts on our interview with Ed Sheehan in the comment section below!
---
The above links are affiliate links. I receive a very small percentage from each item you purchase via these link, which is at no extra cost to you. If you are thinking about purchasing the book, please think about using one of the links. All money received goes back into the blog and helps to keep it running. Thank you.
Like us on Facebook – Tweet us on Twitter – Pin us on Pinterest