The Lock In by Phoebe Luckhurst – Book Review
The Lock In by Phoebe Luckhurst – Book Review
The Lock In
Author – Phoebe Luckhurst
Publisher – Penguin
Pages – 362
Released – 27th May 2021
ISBN-13 – 978-0241508756
Format – ebook, hardcover, audio
Rating – 4 Stars
I received a free copy of this book.
This post contains affiliate links.


Synopsis
Ellen and Alexa have survived hangovers, dodgy landlords and most of their twenties together.
But can they survive this?
One Saturday morning a flooded kitchen leads best friends Ellen and Alexa into their attic.
But when Ben – Alexa's date from the night before – walks in, the handle breaks, and all are trapped.
While Ellen nurses her hangover, she watches her best friend fall for this gorgeous stranger.
Only to come to the horrifying realisation that she knows him from somewhere.
Frantically searching her memories, Ellen wonders: is Ben really who she thinks he is?
And more importantly, what on earth is she going to do about it . . . ?
After a night out with work, Ellen awakes feeling rather rough. If she thought her day couldn't get any worse she was wrong. There is water flooding the kitchen. Not sure where the stopcock is she heads to the attic to see if it is there. Screaming at a dead mouse she wakes her housemates who come to check on her in the attic, and one housemate's guest for the night, Ben.
When a gust of wind from an open skylight blows the attic door shut, Ben tries to open it but knocks the handle off. The four of them are trapped. Ellen, who is nursing a hangover. Alexa her best friend, their housemate Jack, and Ben. They only have two phones between them, one which is about to die and another with no signal. After trying to yell for help the four settle in for the long run, knowing that they are trapped and the water is rising in the kitchen. How will they get out and what's with Ellen's deja vu when it comes to Ben?
The Lock In was a lot of fun, even if I was thinking at the beginning why did no one apart from twice shoulder barging the door, try to open it. With an attic full of items, surely there would have been something to wedge the door open or smash through it, anyway putting aside my logical head I enjoyed the relationships between the four stuck friends.
I giggled my way through sections of the book and enjoyed hearing from each of the characters in this multi-point-of-view novel. As the time went on the four became more desperate to leave and the topics they chatted about drastically changed, even going down memory lane, which is good for those wanting a bit of retro and giving the book a variety of paths.
The pacing of the book worked well, as did the way the characters bouncing off one another. I'm not sure how I would handle being stuck in a room, although I think like Ellen it wouldn't be long before I had something else on my mind not just being trapped or the kitchen flooding!!
This is a book I devoured in a couple of days. It has good humour to it. A decent, well-thought-out different plot featuring realistic characters with everyday issues in their lives. It felt a little strange to be reading a book where all the action happens in one place, and just like the movie 'Phone Booth' this actually does work and I felt heightened the drama too.
Purchase Online From:
---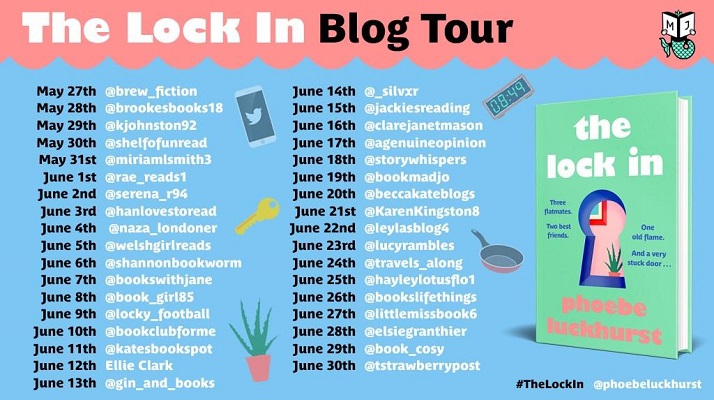 ---
What did you think of 'The Lock In'? Share your thoughts in the comment section below!
---
The above links are affiliate links. I receive a very small percentage from each item you purchase via these link, which is at no extra cost to you. If you are thinking about purchasing the book, please think about using one of the links. All money received goes back into the blog and helps to keep it running. Thank you.
Like us on Facebook – Tweet us on Twitter – Pin us on Pinterest – Join us on Instagram