The Night Ship by Jess Kidd – Book Review
The Night Ship by Jess Kidd – Book Review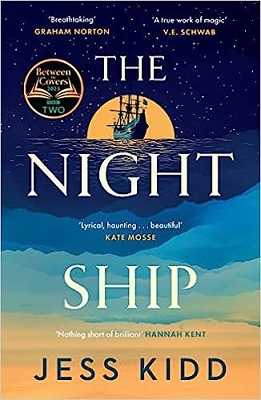 The Night Ship
Author – Jess Kidd
Publisher – Canongate Books
Release Date – 1st June 2023
Pages – 400
ISBN 13 – 978-1838856540
Format – ebook, paperback, hardcover, audio
Star Rating – 4
I received a free copy of this book.
This post contains affiliate links.

Synopsis
1628. Embarking on a journey in search of her father, a young girl called Mayken boards the Batavia, the most impressive sea vessel of the age. During the long voyage, this curious and resourceful child must find her place in the ship's busy world, and she soon uncovers shadowy secrets above and below deck. As tensions spiral, the fate of the ship and all on board becomes increasingly uncertain.
1989. Gil, a boy mourning the death of his mother, is placed in the care of his irritable and reclusive grandfather. Their home is a shack on a tiny fishing island off the Australian coast, notable only for its reefs and wrecked boats. This is no place for a child struggling with a dark past and Gil's actions soon get him noticed by the wrong people.
The Night Ship is an enthralling tale of human brutality, providence and friendship, and of two children, hundreds of years apart, whose fates are inextricably bound together.
The Night Ship weaves together a tale of fiction and fact, is told in two time periods, just over 300 hundred years apart, and features three main characters, Mayken, Gil, and the sea.
Opening in 1628 we meet a young Dutch girl Mayken whose mother has recently died. She is travelling on the Batavia with her nursemaid, Imke to the Dutch East Indies (now Indonesia) to go and live with her father. Mayken is a fiercely independent child, she craves adventure and is afraid of nothing.
In 1989 we meet Gil whose mother has also just died and he has been sent to live with his Grandfather, a Cray fisherman, on Beacon Island, Western Australia, a tiny island just 350 metres in length which is also known as The Batavia's Graveyard. Gil is a shy, reclusive boy who becomes easy prey for some of the menfolk of the island.
Author Jess Kidd has a unique style of writing which isn't always easy to read yet pulls the reader in and throws them about in the pure emotions that she shares. The Night Ship is a fascinating read, it is engaging and makes you need to know more the further you get into the book. It is also brutal, harsh, and sad. There is nothing held back here, especially as the story is mainly about two young children.
If you don't know the story of Batavia then I suggest you read up on it as it is not only a tale of a shipwreck but so much more. Including crew hating one another and savage murders. You can certainly tell that Jess Kidd has done extensive research into the events as they come across so clearly.
Overall, The Night Ship isn't a book that is easy to stomach but it features so much and you really feel for these two young children who have been dealt a bad hand. It is not only historical fiction, this is a Jess Kidd novel so expect some magic realism thrown in too, and watch as the two young lives come together.
---
Purchase Online:
Jess Kidd

Jess Kidd was brought up in London as part of a large family from County Mayo. Her first novel, Himself, was shortlisted for the Irish Book Awards in 2016 and she was the winner of the Costa Short Story Award in the same year. In 2017, Himself was shortlisted for the Authors' Club Best First Novel Award and longlisted for the CWA John Creasey (New Blood) Dagger. Her second novel, The Hoarder, was shortlisted for the Kerry Group Irish Novel of the Year Award and longlisted for the International Dublin Literary Award. Both books were BBC Radio 2 Book Club picks.
Author Links:
---
The above links are affiliate links. I receive a very small percentage from each item you purchase via these links, which is at no extra cost to you. If you are thinking about purchasing the book, please think about using one of the links. All money received goes back into the blog and helps to keep it running. Thank you.