The Scoop by Cat Walker – Book Review
The Scoop by Cat Walker – Book Review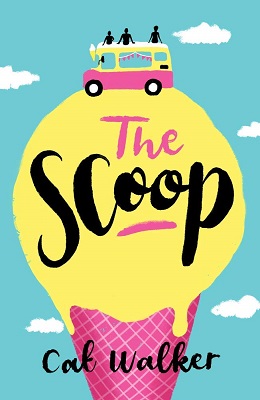 The Scoop
Author – Cat Walker
Publisher – RedDoor Press
Pages – 256
Released – 19th march 2020
ISBN-13 – 978-1913062101
Format – paperback
Review by – Stacey
Rating – 4 Stars
I received a free copy of this book.
This post contains affiliate links.


Casey Jones's life is a mess. Her job bores her, her parents confuse her, and she has repeated nightmares about her ex-girlfriend. In a moment of madness she packs in her job and plans an adventure with her schoolfriend, long-time lad Danny. What she didn't plan for was an extra passenger, in the shape of Danny's estranged twelve-year-old son, Ari, who has problems of his own.
The three of them are thrown together for an intense rollercoaster ride in Alice a converted bright pink ice cream van through some of the most beautiful and dangerous places in the world, from Tulse Hill to Tibet.

Casey Jones is working in a job she hates and is trying to find some inner peace and to figure out what her role in life is. One day she ups and leaves her job in the middle of the day hoping to find some enlightenment but it is short-lived when she is forced to go back to work for another three weeks to see out her contract.
Once again out of work Casey comes up with an idea to travel through Europe and onto exotic places to find herself and to see the world along the way too. Her plan involves her childhood friend, Danny, even though they have just gotten back in touch after many years.
The idea is to buy a campervan and the two to have a wild time together. However, when Danny buys an old ice cream truck that won't do any more than 65mph and also brings along his moody, spoilt twelve-year-old son that he never told Casey about her dreams come crashing down, but could this trip work for the three of them or will it be a disaster?
The Scoop is a fun, engaging read that is set within many different countries. Casey is a woman who is trying to understand herself and life better. She feels lost and wishes that there was a written plan for all of us as she doesn't seem to be able to find what her role in life truly is, hence she decides that travelling and visiting some spiritual places might give her some insight.
Danny is Casey's friend from when they were children. They were inseparable and then they lost touch. They have only just re-acquainted but he's up for travelling around the world. He was always a ladies man with plenty of charm which doesn't seem to have disappeared as he has aged.
Ari, short for Aristotle, is Danny's twelve-year-old son that he told no-one about. He left Ari's mum when Ari was just two years old. Ari has been spoilt by mum and thus is a bit of a handful. He also has a lot of his plate at the moment as his mum is sick, hence why Danny is having to look after him.
The travelling aspect took quite a while to get going and I initially found the first part hard to get into. Once the trio eventually manages to leave the UK and head to their first stop in Amsterdam the book picks up, especially after Casey eats numerous hash cakes.
Whilst this is what I would class as a chick-lit book there are some hard-hitting issues within the pages as well as information about the countries they travel through, some will certainly open your eyes. There are also quite a lot of humorous moments, you just have to read the prologue to see what I mean!
This is a book to take your mind to some stunning places around the world and invest your time in three people who are all trying to find themselves in their own way. It's a book about love and friendship and will have you engrossed in their adventures. In a time when people need a pick-me-up and some light relief this book definitely works.
Book Reviewer – Stacey
---
Purchase online from:
---
About the Author

Cat Walker was born in the sunny seaside town of Scarborough in North Yorkshire. But one day she saw that there was a big wide world outside and decided to explore. She travelled extensively throughout Europe and South East Asia, and spent time living in Ireland, France, and Australia before returning to the UK.
With a PhD in economic psychology, Cat's day job is as the Director of her own research consultancy which works exclusively with voluntary and community organisations. She is the respected author of two textbooks, numerous research reports, and hundreds of articles and blogs.
In her spare time she writes stories and has published poetry and once co-wrote and directed a successful amateur musical ('Honeybees: The Musical' – the world's first lesbian field hockey musical) which sold out performances in Brighton, Eastbourne and the famous RADA Studios (formerly the Drill Hall) off the West End of London.
Cat currently lives in Brighton with her wife and baby son.




---
What did you think of The Scoop? Share your thoughts in the comment section below!
---
The above links are affiliate links. I receive a very small percentage from each item you purchase via these link, which is at no extra cost to you. If you are thinking about purchasing the book, please think about using one of the links. All money received goes back into the blog and helps to keep it running. Thank you.
Like us on Facebook – Tweet us on Twitter – Pin us on Pinterest