The Winter Garden by Heidi Swain – Book Review
The Winter Garden by Heidi Swain – Book Review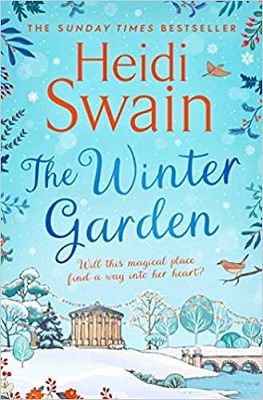 The Winter Garden
Nightingale Square Book Three
Author – Heidi Swain
Publisher – Simon & Schuster UK
Pages – 464
Released – 1st October 2020
ISBN-13 – 978-1471185724
Format – ebook, paperback, audio
Review by – Stacey
Rating – 5 Stars
I received a free copy of this book.
This post contains affiliate links.


Will love bloom this winter?
Freya Fuller is living her dream, working as a live-in gardener on a beautiful Suffolk estate. But when the owner dies, Freya finds herself forced out of her job and her home with nowhere to go. However, with luck on her side, she's soon moving to Nightingale Square and helping to create a beautiful winter garden that will be open to the public in time for Christmas.
There's a warm welcome from all in Nightingale Square, except from local artist Finn. No matter how hard the pair try, they just can't get along, and working together to bring the winter garden to life quickly becomes a struggle for them both.
Will Freya and Finn be able to put their differences aside in time for Christmas? Or will the arrival of a face from Freya's past send them all spiralling?

Freya Fuller has been working as the live-in gardener for the last three years at a beautiful estate in Suffolk. Unfortunately the owner, Eloise, recreantly died and her home was taken over by her American nephew who has decided to sell the place, including Freya's cottage which Eloise allowed her to rent.
When she is offered the job as the gardener at the Victorian mansion in Nightingale Square, including accommodation Freya jumps at the chance, especially as she can bring Nell, Eloise's dog with her. The residents of Nightingale Square are all lovely and friendly with the exception of local artist Finn who has been brought in to design some structures for the garden. He and Freya seem to clash on everything and have a frosty relationship.
But with Christmas fast approaching can the two work through their differences and create the most amazing Winter Garden?
The Winter Garden is the third book in the Nightingale series. I read book one, 'Sunshine and Sweet Peas in Nightingale Square' back in 2018 and enjoyed it immensely, though I haven't read book two in the series, even though I own a copy. However, whilst I always think series should be read in order I never felt like I didn't understand what was happening or that I had missed any backstory, so I would say this works as a standalone too.
Freya is a warm-hearted character who not only has had to deal with issues with her family, the death of her boss and best friend Eloise but also put up with the nastiness of her new boss and his unwanted advances. He was still trying to hurt Freya on her leaving day, such a vile human, and I was thankful Freya had found a better place to live and work, one where she would be appreciated.
I love the idea of a winter garden. I'm not very green-fingered so in winter my garden tends to look bare, I've never thought about plants for winter before, but I have picked up a few tips from this book.
The story is like one big cuddle in a book. It is inviting, enthralling, and so beautifully written. It made the dark days feel brighter and gives you a sense that it is never too late to change your life if you don't like where it is heading or what is happening within it. It is a tale of love, friendship, and doing what is right for you.
This is a must-read for the festive period. Whilst it is not a Christmas book it has all the sparkling elements you could want to put you in the holiday mood. Plus if you have read the others in the series there are some familiar faces within and a continuation of their stories.
Book Reviewer – Stacey
---
Purchase online from:
---
About the Author

Although passionate about writing from an early age, Heidi Swain gained a degree in Literature, flirted briefly with a newspaper career, married and had two children before she finally plucked up the courage to join a creative writing class and take her literary ambitions seriously.
A lover of Galaxy bars, vintage paraphernalia and the odd bottle of fizz, she now writes contemporary fiction and enjoys the company of a whole host of feisty female characters.
Heidi can be found at the keyboard at all hours of the day and night and quite often scribbling longhand in her car during her lunch break. She lives in stunning south Norfolk with her wonderful son and daughter and a mischievous cat called Storm.




---
What did you think of The Winter Garden? Share your thoughts in the comment section below!
---
The above links are affiliate links. I receive a very small percentage from each item you purchase via these link, which is at no extra cost to you. If you are thinking about purchasing the book, please think about using one of the links. All money received goes back into the blog and helps to keep it running. Thank you.
Like us on Facebook – Tweet us on Twitter – Pin us on Pinterest