The Writing Life of: Nicholas Goroff
Nicholas Goroff
This week I am thrilled to be interviewing author Nicholas Goroff, who will be sharing with us details of his writing life, telling us all about his book 'Laughter of a Scoundrel', which was released on 7th January 2020, and answering a few fun questions. This post contains affiliate links.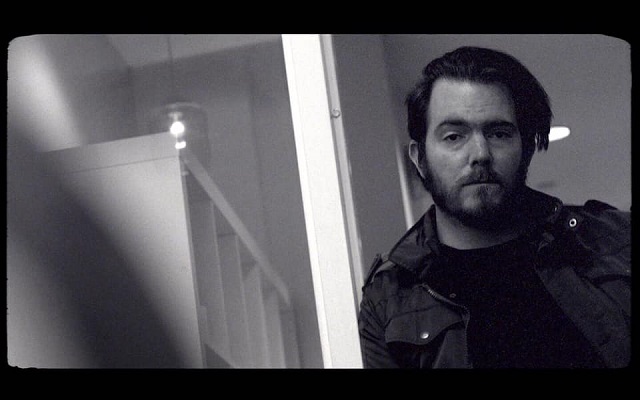 Nicholas Goroff is an actor, writer and activist. He grew up primarily in New Hampshire in the towns of Londonderry and Manchester. After high school and a brief stint in the military, he attended college in Manchester where he studied Criminal Justice and Political Science, while working as a security officer and cook.
In 2008, after the birth of his daughter, his interest in politics led him to a career as a campaign consultant and field operative for the Political Action Committee (PAC) and Non-Profit sectors, engaging in everything from campaign management to field investigation and policy research. Following one such research project, where he was tasked to improvise various roles and performances in public in order to study reaction, he began dabbling in student and independent film, auditioning for Boston and New York based productions whenever time permitted.
Now residing primarily back in New Hampshire full time, he continues to act where time and roles permit while spending the majority of his time writing both fiction and as a journalist.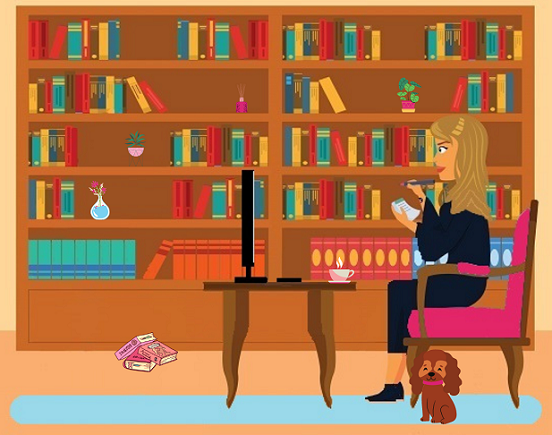 1) Did you enjoy writing when you were a child?
I've been writing since the third grade actually. It's been a consistent hobby, refuge and passion of mine throughout my life.
2) Which author shaped your childhood?
A few come to mind. My father read my Tolkien to my brother and I, giving me my first real taste of fantasy writing. Later I was introduced to Raymond Feist and David Eddings which were the first long form novel series authors I read.
3) What motivated you to begin your first novel?
To be honest, my fiction writing almost always stems from a story or character I create and just can't get away from. This is for instance how my next novel, based on a short story I wrote for that very reason will be written this year. However the majority of my finished novel work thus far have been ghost writing projects, so in those cases, while I was passionate and collaborative with my client, money was a motivator.
4) Do you plot your book, or are you a pantser?
I rarely if ever really outline stories, but tend to keep a mental framework for the plot and story arcs in mind. However I have noticed in recent years that as I get to know my characters better they tend to become almost like real people with agency enough to often disrupt my plans. I'll come to a section or scene that's integral to what I had planned only to find the characters re-deciding for me according to what in their nature would guide their actions in the world.
5) What is your average writing day?
I'm often a late riser and night owl, so if I should rise around 10 or 11 am, I'll sip down a pot of coffee, often listen to lectures or talks given by authors like Neil Gaiman for a bit of motivation, then I'll sit down at the computer with a minimum word count quota of between two and five thousand words. From there it's more coffee, sometimes beer and ideally story milestones I set as goal posts.
It's not uncommon for me to put in ten to twelve hour days on a project, losing track of time entirely until my eyes feel sticky and tired. Then if I'm not headed to bed, I'll reward myself with a whiskey and a movie.
6) What is the best thing about being an author?
I love the freedom of it. The absence of a dreary office to slog off to, only to be told all day what to do by other people. The freedom that comes with utilizing my creativity and dare I say, talent with words, in an effort to scrape out a small living while bringing my visions into the world. It's one of the few professions where getting your "head out of the clouds" is and rightly ought to be actively discouraged.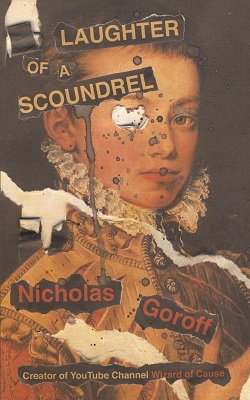 Laughter of a Scoundrel
Author – Nicholas Goroff
Publisher – Clash Books
Pages – 140
Release Date – 7th January 2020
ISBN 13 – 978-1944866556
Format – ebook, paperback
Synopsis
We're Not Doomed Yet…
Laughter of a Scoundrel
This book is that laughter. You, dear reader are to be that scoundrel. Howling mercilessly at a culture that has lost itself to grift, hysteria and charlatanry; it is a humble, yet crumbling hope to call for, if nothing else, a pause and moment to breathe. In a world demanding and insisting that all within it move mindlessly at light speed, it requires a scoundrel of mirth and merit to simply say "no."
Purchase Online From:
7) How did you go about researching the content for your book?
I try my best to draw from experience and personal knowledge, but when research is necessary, I'll often start out by reaching out to knowledgeable friends. On my latest ghost writing project for example I consulted with a friend who works in bio-medical engineering to learn about crispr, gene altering and cellular manipulation techniques. After that, Google and thorough cross referencing is always helpful for details to better illustrate what I'm writing about.
8) How long did it take to go from the ideas stage to writing the last word?
On the most recently completed project, six months, though I'd had the ideas in the back of my mind for several years. For new, fresh projects however, I'll often take the base idea and begin writing and let it take me where it wants to go.
9) What made you choose the genre you write in?
I write in many genres. Really it comes down to whatever the story I have in mind is. I've written horror stories, a good amount of science-fiction, grittier street and crime stories, etc. It's really more about the story that needs telling than any niche or genre ultimately.
10) How did you come up with the name(s) for your lead character(s)?
I'll typically try my best to avoid anything that leans too far in either the directions of mundanity or descriptive cliché. An action packed adventure story or crime thriller for example will typically not have a main protagonist with a name like John Smith anymore than one named Sebastian Bladebearer the Third. In truth, having grown up in the 90s I recall even as a boy thinking the names TV writers (or more likely as I learned later in life, unimaginative studio executives) came up with like Max Knight or Lucious Cross rather cringey and on the nose.
11) Can you give us an insight into your characters?
They are as real as I can find a way to make them. Flaws and all. Motivation is always key but often needs to be nuanced. Most recently I've made a point of showing the results of trauma and grief in their actions, rather than merely through dialogue or exposition. As many authors try, I seek to make them as vibrant and real as possible by never shying away from grey zones or moral ambiguity.
12) How did you feel when you had completed your book?
The biggest sensation I got first was relief. As I try when working on projects to keep to a production quota, the sense that a thing is done and no longer lingering like unfinished homework that's due the next day is a wonderful complimentary sensation to the underlying feeling of accomplishment.
Fun Questions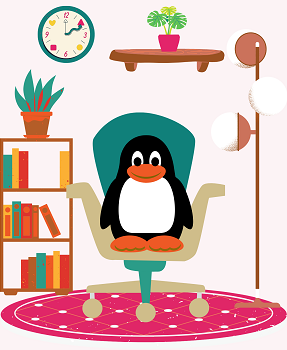 1) Do you have a favourite quote?
"I would much rather have men ask why I have no statue than why I have one." -Marcus Porcius Cato
I have a black cat I inherited from my late girlfriend who passed in our home in September. She is named (officially) Olivia, but since she moved in I've taken to calling her Shadow Loaf.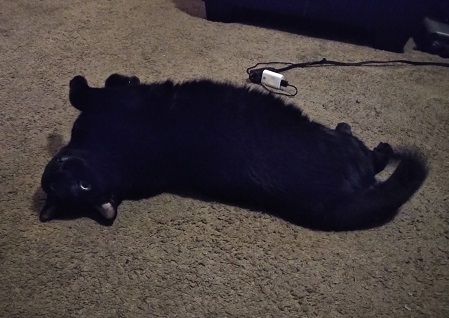 3) What are you currently reading?
As I'm presently juggling multiple writing projects, I'm almost ashamed to say nothing. I try to avoid reading when in the midst of a project so as to avoid a shift in voice or tone. I notice for example when I read Christopher Hitchens I'll often unintentionally begin adopting/mimicking his flow and prose which can cause all manner of problems.
4) Your book has been made into a movie, you've been offered a cameo role, what will you be doing?
I'm actually a screen actor and have done a few films. A cameo in my recent books? For the most recently completed ghost writing project, I can only say that I have a rather direct connection to one of the main protagonists. Otherwise I leave that to casting directors. lol
5) If you could travel to a fictional world from any book for the day, which would you choose?
It would actually be a graphic novel I think. Sandman. I'd like to have a talk with the lord of dreams and the personification of death.
6) There's a penguin sitting in your chair, what's the first thing he says to you?
"You took the purple acid again, didn't you…"
A big thank you to Nicholas Goroff for sharing his writing life with us and a wonderful interview.
---
Author links
Twitter
IMDb
YouTube
Goodreads
---
Let us know what you thought about our interview with Nicholas Goroff
---
The above links are affiliate links. I receive a very small percentage from each item you purchase via these link, which is at no extra cost to you. If you are thinking about purchasing the book, please think about using one of the links above. Thank you.