To Catch A King by Charles Spencer – Book Review
To Catch A King by Charles Spencer – Book Review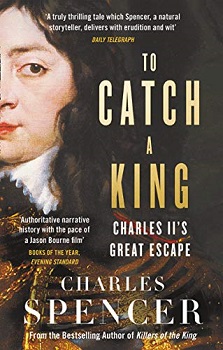 To Catch A King
Charles II's Great Escape
Author – Charles Spencer
Publisher – William Collins
Pages – 336
Released – 5th October 2017
ISBN-13 – 978-0008153632
Format – ebook, paperback, hardcover, audio
Reviewer – Julie
Rating – 4 Stars
I received a free copy of this book.
This post contains affiliate links.
How did the most wanted man in the country outwit the greatest manhunt in British history?
In January 1649, King Charles I was beheaded in London outside his palace of Whitehall and Britain became a republic. When his eldest son, Charles, returned in 1651 to fight for his throne, he was crushed by the might of Cromwell's armies at the battle of Worcester.
With 3,000 of his supporters lying dead and 10,000 taken prisoner, it seemed as if his dreams of power had been dashed. Surely it was a foregone conclusion that he would now be caught and follow his father to the block? At six foot two inches tall, the prince towered over his contemporaries and with dark skin inherited from his French-Italian mother, he stood out in a crowd. How would he fare on the run with Cromwell's soldiers on his tail and a vast price on his head?
The next six weeks would form the most memorable and dramatic of Charles' life. Pursued relentlessly, Charles ran using disguise, deception and relying on grit, fortitude and good luck. He suffered grievously through weeks when his cause seemed hopeless. He hid in an oak tree – an event so fabled that over 400 English pubs are named Royal Oak in commemoration. Less well-known events include his witnessing a village in wild celebrations at the erroneous news of his killing; the ordeal of a medical student wrongly imprisoned because of his similarity in looks; he disguised himself as a servant and as one half of an eloping couple. Once restored to the throne as Charles II, he told the tale of his escapades to Samuel Pepys, who transcribed it all.
In this gripping, action-packed, true adventure story, based on extensive archive material, Charles Spencer, bestselling author of Killers of the King, uses Pepys's account and many others to retell this epic adventure.

'To Catch a King' the story of King Charles II by best-selling author, Charles Spencer. The book is beautifully presented with a selection of paintings reproduced and interspersed in the text. It is divided into four parts and the chapters are of fairly equal length; each beginning with an epigraph to give an indication of what to expect. The book is written in narrative style rather than as a dramatisation.
The content is fairly easy to read with the occasional short contemporary extract from a publication or diary entry written by one of the Charles II's associates or indeed Charles himself. Inevitably when trying to piece together a timeline, memories will differ and so it is with this account. Many of those involved have conflicting recollections but these instances are dealt with in a balanced way by the author.
There is a reasonable amount of background information leading up to the beheading of Charles I before we get to the Battle of Worcester, which led to Charles II needing to make good his escape to France. For any readers unfamiliar with this period of English history, it will undoubtedly be useful, providing they don't get bogged down with names.
Some characters shine through as particularly strong, not least Charles' mother, Henrietta Maria of France, Jane Lane who was instrumental in helping Charles evade capture and career soldier and MP, Lord Wilmot. We are also given potted histories of some other people involved along the way; which I found helpful. As a volunteer at Petworth House in Sussex, the references to the Wyndham family and 10th Earl of Northumberland were particularly relevant.
The synopsis suggests this is 'a gripping action-packed true adventure story' and some readers may view it as such. Whilst the escape from England is undoubtedly the epitome of Charles' story, I think it would be more accurate to portray this work as a biography of his entire adult life. I particularly enjoyed the scenes when Charles was in hiding and noted the loyalty he inspired in those of both noble and lowly birth. Disguising a man of over six feet tall, when the average male height was no more than five feet six inches, was no mean feat. Upon the restoration, Charles proved himself to be a worthy patron to those who had protected him at his time of greatest need.
This is a diligent and competent work, if a little stodgy in places and not totally captivating. It is clear that a huge amount of research went into its production but whether it brings anything new to an already fairly well-known part of the Stuart reign, is arguable. Nonetheless, Charles Spencer has given an interesting and fairly sympathetic account of life of this monarch and I award a commendable four stars.
Reviewed by Julie
---
Purchase online from:
---
About the Author

Charles Spencer obtained his degree in Modern History at Magdalen College, Oxford. He was a reporter on NBC's Today Show from 1986 until 1995, and is the author of six books, including Sunday Times bestseller Blenheim: Battle for Europe (shortlisted for History Book of the Year at the 2005 National Book Awards), Prince Rupert: The Last Cavalier, Sunday Times bestseller Killers of the King and Times bestseller To Catch a King.

---
The above links are affiliate links. I receive a very small percentage from each item you purchase via these link, which is at no extra cost to you. If you are thinking about purchasing the book, please think about using one of the links. All money received goes back into the blog and helps to keep it running. Thank you.