Warmth by Liv Miles – Book Review
Warmth by Liv Miles – Book Review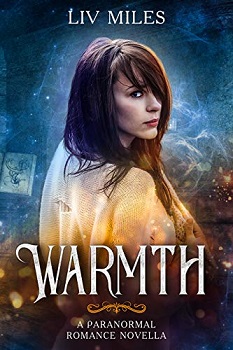 Warmth
Author – Liv Miles
Pages – 99
Released – 19th November 2018
ISBN-13 – 978-1731039033
Format – ebook, paperback
Reviewer – Stacey
Rating – 3 Stars
I received a free copy of this book.
This post contains affiliate links.
Can he ever forgive her?
Fire witch and full-time outcast Ariel Manchester thought her dreams had come true when Jordan Walker, her crush since high school, kissed her on New Year's Eve.
But when Jordan reveals that he is a vampire and she is his midnight snack, Ariel uses magic to save herself — and in the process, burns her attacker to a smoldering crisp.
Now Jordan's dark and mysterious brother, Ryan Walker, is out for revenge. A talented warlock with a knack for spell casting, he summons a demon to take care of Ariel once and for all.
But Ariel isn't Ryan's only problem.
There is a price to be paid for meddling with the supernatural. A price that must be paid in blood.
And there's only one person he can turn to for help.
Ariel is a fire witch, although she doesn't have a great understanding or control of her powers. One evening she is making out with the boy she had a high school crush on, Jordan, she can't believe her luck. That is until he tries to suck her blood. Turns out he really is a vampire and Ariel is to be his evening snack.
Although he is pulled off by his brother Ryan, Ariel loses control and uses her powers against Jordan, vaporising him. His brother is angry, not only because Ariel killed him but because she's a witch too.
He's determined to get Ariel back and summons a demon to take care of her, but not everything is as easy as it seems.
Warmth is a short novella of just 99 pages (90 in the paperback version). It is a paranormal romance book that deals with the fall out between a vampire and a fire witch. Although Ariel has no proper control over her powers she is strong in other ways and has a feisty character.
Ryan is a sexy vampire but even vampires need more than good looks. He is upset and angry with Ariel and wants revenge and does so by using his powers to get someone else to do his dirty work, demon Besarion, who is actually quite amusing. But has he made a mistake?
The book was a quick read, I read it in under an hour and in one sitting. The writing flowed, the pace was good and I did enjoy the plot. My issue with the book though is more to do with the size. You see I feel it needed some world building, some explanation of why and how these people became to be vampires and witches living amongst mortals.
There was also a romance element to the book but because it came around quickly it didn't feel authentic. There wasn't enough time to get involved with the character and fully like them. I feel even if there had been an extra 10/15 pages that dealt with the backstory this would have made the book more interesting and intriguing.
Reviewed by Stacey
---
Purchase online from:
---
About the Author

Liv Miles is a paranormal romance author from New England. When she's not taking care of her baby daughter, she's writing stories about witches, vampires, werewolves, and other supernatural tales of eternal love and dark fantasy.
She is also a freelance writer and an avid reader, with a towering collection of books and a love for yoga, bellydancing, and the Georgian language.




---
The above links are affiliate links. I receive a very small percentage from each item you purchase via these link, which is at no extra cost to you. If you are thinking about purchasing the book, please think about using one of the links. All money received goes back into the blog and helps to keep it running. Thank you.
Blog posts straight to email via Bloglovin – Like us on Facebook – Follow us on Twitter