What Venice Can Teach Us About Living Forever by Gareth Southwell – Guest Post
What Venice Can Teach Us About Living Forever by Gareth Southwell – Guest Post
Today on the blog we welcome author Gareth Southwell, with his guest post 'What Venice Can Teach Us About Living Forever'. His new book 'Munki' was released on the 22nd January 2021. This post contains affiliate links.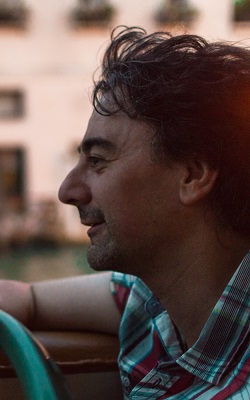 Gareth Southwell is a philosopher, writer of fiction and non-fiction, and a professional book illustrator. He lives in South Wales in the UK. He has a PhD in death, which has been read by exactly four people (including himself). MUNKi is just a thinly fictionalised version of this, with most of the boring bits taken out and replaced with robots and people swearing in Welsh.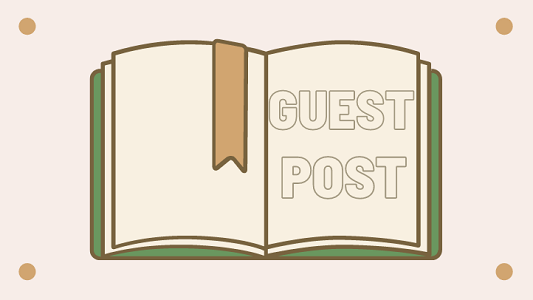 What Venice Can Teach Us About Living Forever
Memory is a tricksy thing, so I can't now recall whether I'd already decided to set part of my novel in Venice before I'd made plans to visit there. Whatever the case, back in the summer of 2016 – the very day after the Brexit referendum, as we watched the pound abseiling down the FTSE – my family and I set off for a brief stay.
From the moment you leave the bus station at Piazzale Roma, there are no cars, and the only travel is by foot or boat. Perhaps these enforced modes of old-fashioned conveyance add to the pleasant sense of strangeness and disorientation, as you are forced to take things in at a slower pace. And there is plenty to take in. For Venice is a place like no other, a sinking city where the roads are made of water, and you sometimes have to wear your wellies to the grocer; where gothic churches and Renaissance palaces rub shoulders with supermarkets and news kiosks, and the gondolieri's songs vie with the horns of the cruise ships. It's an extraordinary place, where it's almost impossible to take a bad or boring photo (though, in my defence, I did try!).
Handy as Google Street View is, nothing beats actually going to the place you're writing about, and I'd prepared a meticulous agenda of sites I'd convinced myself I absolutely must visit: the Doge's Palace, the Jewish Ghetto, the pavilions in the Giardini where they hold the art biennale. I'd even plotted a winding route that one of my characters would walk, and which (my family's patience allowing) I planned to trace. But Venice had other ideas – as had my book.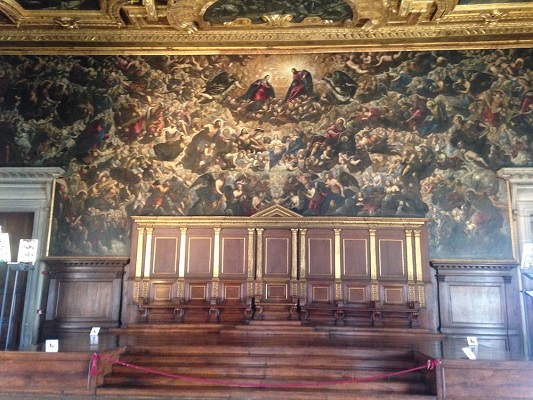 Over the next few years after my return, my novel underwent revision after revision, and many of the scenes I'd researched ended up being cut. The only survivor of my visit that remained relevant was a single photo of the back entrance to a house on a little canal, and which ended up inspiring a new scene late in the book. And as my story developed, so did fresh questions. Did the new flood barriers work? Is Venice's native population dwindling? What are those little shutters called that shopkeepers put in doorways to hold back the water? And so I was driven back again to second-hand sources, to books and documentaries, to bothering social media acquaintances who live there, and of course to good-old Google Street View.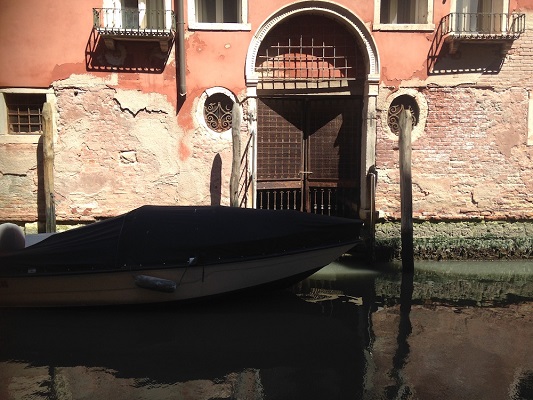 This is not to suggest that the trip was wasted, writing-wise, for I also brought back with me a myriad of little details and observations – the wonderful ice cream, the price of coffee, the beggars and locals, the graffiti and grandeur – little touches of colour and sense of place that gave my writing more confidence and authenticity (in my own mind, at least). And of course, ultimately, my research was all just ingredients out of which I would make a Venice of my own imagining, a Venice of the future.
On the face of it, like most sci-fi, MUNKi is a novel about technology, and how it promises or threatens to affect us. What will our lives be like when robots can do many of our jobs, or AI writes our news articles and diagnoses our illnesses? When most interaction is virtual, and our memories can be uploaded to computers? These are fascinating questions, but as with most sci-fi, underlying them are much older, more fundamental concerns. How should we behave toward one another? What form should society take? Who or what are we? Will the future change us? So while my characters are chasing runaway robots or hunting sentient computer viruses, hanging out in VR or taking self-driving cab rides, they are also exploring and questioning what it means to be human.
And it is at this deeper level perhaps that the influence of Venice upon the book most remains, as a sort of metaphor for our own predicament. In its battle against the effects of global warming and tourism, against the forces of gravity that draw it daily down further into the lagoon, technological progress seems to offer salvation. But the same forces that bring new flood barriers and advances in engineering also help to disseminate through social media the photos that entice fresh tourists, arriving in planes and cars with heavy carbon footprints (can planes and cars have footprints…?). And as for Venice, so for us, too, technology is a double-edged sword. In our own struggle to preserve ourselves, to extend and improve our lives, we grant technology (and the companies that wield it) greater and greater access – to monitor and surveil, to record, analyse and categorise, to shape and influence us – in the hope that we too might one day live better, longer lives; might even, perhaps, live forever.
But at what price?
---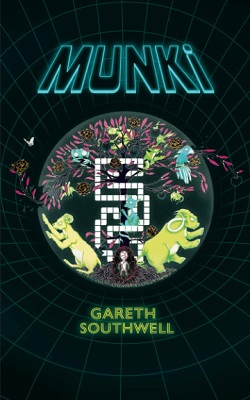 Munki
Author – Gareth Southwell
Pages – 324
Release Date – 22nd January 2021
ISBN 13 – 979-8589674392
Format – ebook, paperback

What price would you pay to live forever?
The winter her grandfather died, Cari Silvestri swapped her home town for a new life. But the past is not so easily outrun. Almost ten years on, Grandfather returns, his stolen memories repackaged by technology giant Merrywhile Industries as a slick marketing promo for their latest project: digital immortality. But when no one believes her, Cari's search for proof and answers gradually draws her into a lawless digital underworld.
Mel Faith is also haunted by the past. Her journalistic career circling the drain, she finds herself still obsessed with the one piece she never filed – the tragic history of Michael Sommeil, grandson of Merrywhile's founder. It's a story with few leads and fewer prospects, but at whose heart – she's sure – a secret still sits untold.
As their paths intertwine, the two women enter a world of masks and aliases, of mercenary hackers and corporate spies, and where, underlying it all, is the hunt for the Singularity – the point, both feared and hoped for, where AI will finally surpass human understanding, and nothing will ever again be the same.
Set in the near future, MUNKi is a sci-fi cybergothic fairy tale. From the rural slumber of the South Wales valleys, to the frenzied beat of London's capitalist heartland, to the decaying grandeur of the canals of Venice, it is a twisted tale of revenge, ambition and loss, a philosophical exploration of memory, death and identity, and the ambiguous role that technology has come to play in all our lives.
Purchase Online From:
---
Share your thoughts on 'What Venice Can Teach Us About Living Forever' in the comment section below!
---
The above links are affiliate links. I receive a very small percentage from each item you purchase via these link, which is at no extra cost to you. If you are thinking about purchasing the book, please think about using one of the links. All money received goes back into the blog and helps to keep it running. Thank you.
Like us on Facebook – Tweet us on Twitter – Pin us on Pinterest