Turtle Rescue by Jonny Marx – Book Review
Turtle Rescue by Jonny Marx – Book Review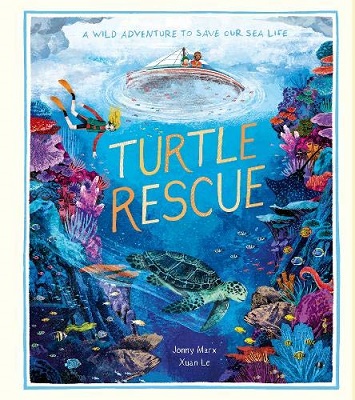 Turtle Rescue
Author – Jonny Marx
Illustrator – Xuan Le
Publisher – Caterpillar Books
Pages – 32
Released – 1st April 2021
ISBN-13 – 978-1838911768
Format – Hardcover
Rating – 5 Stars
I received a free copy of this book.
This post contains affiliate links.


Synopsis
Join Flora and Fauna, the world's GREATEST explorers, as they hang up their ice picks, put down their rucksacks and enjoy a well-deserved holiday.
When the sea turtles stop showing up to lay their eggs in the golden sands, however, Flora and Fauna are called into action. They must sail to the reef to investigate, but it looks like an ENORMOUS storm is brewing…With flaps and paper effects throughout, who knows what WILD creatures they'll find along the way.
Marine biologist, science boffin, and adventurer Flora is on holiday with her partner Fauna who is an inventor and adventurer too, along with their young son Bud. Whilst relaxing on the beach they read that the sea turtle who usually come to the beach each year to lay their eggs haven't shown up and the locals are worried.
They ask Flora and Fauna to help them find out why they haven't shown up and to make sure they are safe. So the couple and their son set out on a boat to try to find them and see why they haven't come to their usual breeding place this year.
Turtle Rescue is an educational, lively, adventure book that follows two adventurers in their quest to locate the sea turtles and discover why they haven't turned up at their usual beach.
The book is written in a way that it reads like the family's life is being documented. The narrator has some comical moments to add to the family's actions. Inside the book, there are also flaps to lift, real-life photographs to gaze at, cutouts to sneak a peek at upcoming pages, and newspaper snippets about the turtles and the family.
The illustrations are vibrant, colourful, full-page, and bring the story alive and give children the visual representation of the plot alongside the text. There is quite a lot of text so this book would need a confident reader. The way the story is written also gave me the feeling that this isn't aimed at young children, even though it looks like a picture book with it being a hardcover and large. It is more for children between the ages of 6-10+, though I could see older children enjoying it as much as the younger ones.
I did have a quick look to see if this was part of a series as the book opens about the family having a relaxing time rather than their usual adventures, but I couldn't see previous books and there are none mentioned inside this book. I do hope that there will be more adventures in the future with Flora, Fauna, and Bud as this book was truly spectacular and engaging.
For those children who love to explore and crave knowledge or just want to learn about turtles and other sea creatures, this book is definitely a must-buy. It is not only a wonderful and beautiful story but it also educates children about turtles, plastic waste, and keeping our beaches safe and clean.
Purchase Online From:
---
What did you think of 'Turtle Rescue'? Share your thoughts in the comment section below!
---
The above links are affiliate links. I receive a very small percentage from each item you purchase via these link, which is at no extra cost to you. If you are thinking about purchasing the book, please think about using one of the links. All money received goes back into the blog and helps to keep it running. Thank you.
Like us on Facebook – Tweet us on Twitter – Pin us on Pinterest – Join us on Instagram