180⁰ Chord by Chris Leicester – Book Review
180⁰ Chord by Chris Leicester – Book Review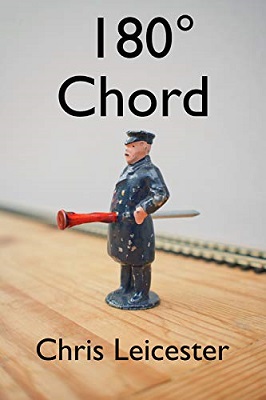 180⁰ Chord
Author – Chris Leicester
Publisher – Too Write Productions
Pages – 247
Released – 19th April 2021
Format – ebook
Rating – 3.5 Stars
I received a free copy of this book.
This post contains affiliate links.


Synopsis
You're the pride of the police force. Your conviction rates are unbelievable. You're so ruthless and unethical; some say you're like a criminal yourself. And there's no fate or consequence for you, just facts. But what happens when they both unexpectedly come calling one afternoon? One moment you're a detective sergeant and the next, a convicted murderer. Then due to an administration 'error', you end up in the very same maximum-security prison you sent most of your scalps to. So what then?
As soon as the news of your arrival at the prison spreads, the riot starts and they come looking for you. As the prisoners begin their rampage, a fellow inmate, Connor hides you in his cell. Together you flee and hide from the gang in various parts of the prison as they frantically seek you out. But who is Connor and why is he protecting you exactly? The reason will soon become abundantly clear as your past life comes back to haunt you.
Firstly, thanks to Chris Leicester for an advance copy of 180° Chord, hopefully to be published later this month. I can see that Chris has already published several books and screenplays plus a play, The Incident Pit, which has toured the UK.
180° Chord is a gutsy, sometimes brutal, description of a prison riot but one that could quite realistically occur. During the course of the rampage we follow the backstories of the leading participants. We also follow the prison authorities and the Home Secretary as they do their best to deal with the situation.
In his Goodreads' Biography, Chris tells us that he studied Creative Writing and his skills are evident in his descriptive passages where he is very good at setting an atmosphere. On a couple of occasions I felt that the descriptions outweighed the merits of the action.
I struggled to empathise with any of Leicester's characters. Of course, prisons hold a number of violent, even evil people but many inmates are there through circumstances or inadequacies but these do not appear to be represented. The authorities are generally portrayed as ineffective buffoons. Maybe Leicester was trying to use them as a light-hearted contrast to the strong themes in the prisoners' storylines.
Despite these concerns the book kept my attention. The lively climax gave me some interesting and unforeseen twists although I was left wondering about some of the peripheral storylines. Maybe I missed some detail but I was left with a few questions.
In summary, I can recommend 180° Chord as an earthy UK prison novel and have awarded 3.5 stars. Who knows, you may be able to pick up on the finer points that I missed.
Purchase Online From:
---
What did you think of '180⁰ Chord'? Share your thoughts in the comment section below!
---
The above links are affiliate links. I receive a very small percentage from each item you purchase via these link, which is at no extra cost to you. If you are thinking about purchasing the book, please think about using one of the links. All money received goes back into the blog and helps to keep it running. Thank you.
Like us on Facebook – Tweet us on Twitter – Pin us on Pinterest – Join us on Instagram