Akea. His Mother's Son by Elizabeth Jade – Book Review
Akea. His Mother's Son by Elizabeth Jade – Book Review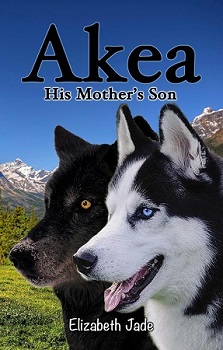 Akea. His Mother's Son
Author – Elizabeth Jade
Publisher – i2i Publishing
Pages – 94
Released – 11th December 2019
ISBN-13 – 978-1916228597
Format – ebook, paperback
Review by – Stacey
Rating – 5 Stars
I received a free copy of this book.
This post contains affiliate links.


The heart-wrenching sequel to Akea – The Power of Destiny.
Akea is no ordinary husky, and taking her place as Wolf Queen was just the first step in the journey set out for her by the Great Wolf. Akea's world turns upside down when humans raid their home, scattering the pack and capturing her hybrid son. Salvador struggles to adjust to a life in captivity, quickly realising not everyone approves of his husky mother's rise to Wolf Queen. And when the Great Wolf sends him warning dreams, Salvador discovers his true purpose for being there.
'Step inside the minds of the huskies and wolves; feel both sides of the experience of loss and change; take the next step in the journey laid out by the Great Wolf.'

Akea. His Mother's Son is the second book in the Akea series featuring wolves and huskies. I haven't read the first book but it didn't stop me from enjoying this one.
Akea, who is a husky, is the Wolf Queen alongside her partner Kazakh, a wolf. Together they have four pups, Gwenevier, Fayth, Adair, and Salvador. When humans come into their home they capture Salvador and take him to a wildlife park.
Will Akea ever see her son again, and what about the pack that is approaching her land to overthrow her from her throne?
The first thing that I noticed when I began reading this book is how you suddenly feel like you are there with the wolves and listening to them having conversations, it is like you have channelled your inner wolf.
The book is beautifully written and at only 94 pages long it was easy to read in one sitting, which is good as I didn't want to put it down once I began.
The wolves (and huskies) are all such perfect characters. It makes you think about their lives and also about the animals in zoos/wildlife parks.
The book shows children about never giving up, about facing adversity and also about family. There are some wonderful black and white illustrations throughout which was great to see as I'm a big believer in that all children's books should contain illustrations as it helps children to connect to the plot.
It is lovely to see a book told through the eyes and hearts of such beautiful creatures. This is an amazing story and well deserves my five-star rating.
Book Reviewer – Stacey
---
Purchase online from:
---
About the Author

Elizabeth Jade was born in 1998 and lives with her family in Wellington, in the UK. She started writing at fourteen when she began to struggle with depression and anxiety, but was eighteen before she was diagnosed with Aspergers – an autistic spectrum disorder.
Her natural affinity to animals moved her to volunteer with various animal rescues, being labelled 'The Cat Whisperer' during her time working with Cats Protection. This combination of Aspergers and animal magnetism enables her to write from the animal's perspective in a convincing and captivating way.





---
What did you think of Akea. His Mother's Son? Share your thoughts in the comment section below!
---
The above links are affiliate links. I receive a very small percentage from each item you purchase via these link, which is at no extra cost to you. If you are thinking about purchasing the book, please think about using one of the links. All money received goes back into the blog and helps to keep it running. Thank you.