Angel Fever by L.A. Weatherly – Book Review
Angel Fever by L.A. Weatherly – Book Review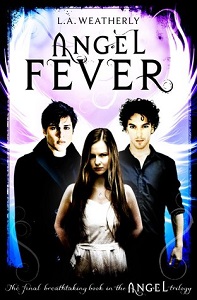 Angel Fever


Angel Trilogy Book Three
Author – L.A. Weatherly
Publisher – Usborne Publishing Ltd
Pages – 576
Release Date – 1st August 2013
ISBN – 978-1409522393
Format – ebook, paperback, hardcover, audio
Reviewer – Stacey
Rating – 5 Stars
Contains Affiliate Links

In the devastated remains of the world, millions of people live in "Edens" provided by the angels who have all but enslaved humanity.
As the angelic stranglehold on humanity tightens, Willow and Alex are recruiting and training new Angel Killers, while struggling to hold ground on the celestial battlefield.
Willow continues to struggle with feelings for Seb, and her love and resolve are tested as a shattering revelation sends Alex on a separate journey. Now that the final battle versus the angels is about to begin and the fate of the world hangs in the balance each of them must face the consequences of their own choices. Will love endure? Will the human race survive?

'Angel Fever', is the final instalment in the 'Angels' series, and what a way to end it!
Willow, Alex, Seb and the other AK's (Angel Killers), need to work together if they are to rid the world of the 'life diminishing angels', who are hell bent on getting rid of the humans, and take over the earth.
Alex and Willow need to round up enough troops and teach them how to fight, if they are to stand a chance of winning the battle.
However there is heartache to come for Willow, when Alex has to make a personal journey, alone, leaving her in charge. Quickly, she finds herself at the forefront of the organisation and needing to learn fast, how to lead an army.
Can Willow lead the Ak's in to battle, and at what cost? Will Alex return home safe to Willow?
Now this is how finales should be done! We have excitement, thrilling moments, passion, love, fear, sadness and heartache all bonded together perfectly. Plus, you are there for the epic final showdown, between the AK's v's The Angels.
I have enjoyed the whole paranormal series, but book three completely blew my socks off! I found myself reading it whenever and wherever I could, and I struggled to put it down for more than a few seconds at a time.
The pace of the book was so fast that there never seemed to be a 'perfect time' to leave the story and come back to it. I also desperately needed to know what would happen in the end.
The characters, especially Willow, evolved immensely throughout the three books. It was lovely to see how Willow grew from the slightly awkward teenager in the first book, into a sophisticated, yet strong, tough warrior, who had to lead her army into battle in the last book.
Alex and Seb, once again bring the sexiness and muscle to the story. They both love Willow tremendously, but I'm glad that the right man won her heart in the end.
I am full of praise for L.A Weatherly, and would highly recommend the 'Angels' series to everyone who likes a good paranormal book. You won't be let down.
Book reviewed by Stacey
Purchase Links