The Writing Life of: Rose Edmunds
Rose Edmunds
This week on 'The Writing Life of:' I am thrilled to be interviewing author Rose Edmunds. Rose will be sharing with us detail of her writing life, telling us all about her latest book 'Concealment', which was released on 23rd March 2015 and answering a few fun questions too. Contains affiliate links.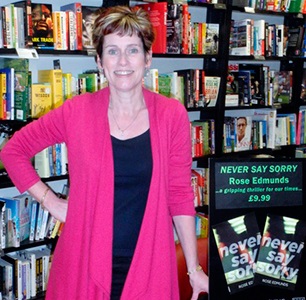 Rose Edmunds lives in Brighton with her husband David. She gained a degree in mathematics at the University of Sussex and a PhD from Cardiff University, before qualifying as a chartered accountant and embarking on a successful career advising entrepreneurial businesses together with their owners. She worked for Arthur Andersen and Grant Thornton, before being head-hunted to join Deloitte as a partner.
In 2007, after more than 20 years in the business she jumped off the corporate hamster wheel and now writes financial thrillers with a strong ethical theme. Her writing draws heavily on her considerable insight into the business world and in particular the uncomfortable conflict between individual and corporate objectives.
Concealment is Rose's second novel. Her debut thriller, Never Say Sorry, about a Big Pharma cancer cure conspiracy,was published in 2012.
Rose is also a trustee of Brightside, a charity helping young people to access career and education opportunities they might not have believed were available to them.
---
1) Do you remember the moment you decided that you would like to become a writer?
When I was nine years old I decided on the spur of the moment to write a book. It filled twenty pages of an exercise book when I'd finished, and was about a spider who lived in a royal palace. From then on, I was hooked.
2) How did you go about following your dream?
Over the next few years I wrote several longer novels which my school friends enjoyed reading. But then real life got in the way and after studying mathematics to PhD level (way easier than writing fiction!), I became an accountant specialising in tax.
For twenty odd years my literary endeavours were limited to dry tax planning reports and eloquently argued letters to HMRC. Even so, one of my clients once told me I should become a novelist when he saw how I'd presented his case to the Inspector of Taxes!
But one positive aspect of my 'sensible' career choice was that ultimately it bought me the financial freedom to get off the hamster wheel, and it also gave me much material for plots.
3) Is there a particular author that inspires you?
I've always enjoyed reading John Grisham and he gave me hope that I might somehow one day escape from the world of professional services as he had done.
I also like his cynical attitude towards Big Business. A couple of his more recent books haven't been so well-structured in my opinion, but at his best the plotting and pacing are second to none. And as an aspiring thriller writer, I observed his techniques avidly.
4) What is your average writing day like? Do you have any strange writing habits?
I usually start off about nine and spend an hour or so catching up on social media before starting to write.
I try to write for about six to eight hours with a short break for lunch, but of course I'm as prone to distraction as the next person and may end up randomly surfing the internet when I started out checking a simple fact. And yes, I know I should disconnect my computer… Six pm is time to down tools and enjoy a large Gin & Tonic.
On a good day, I will have written 2500 words, but many of those will be rewritten in subsequent drafts! I rarely write outside normal working hours or at weekends, which is a legacy from my accountancy days.
5) Do you write Longhand, Type writer, Computer?
I make notes in longhand when I'm trying to get my head round the plot, but otherwise I always work on the computer. It's so easy to amend, find and replace, cut and paste etc that I couldn't work any other way.
6) From all your books, do you have a favourite character?
Yes, Amy from Concealment. Some people ask if Amy is based on me because she did the same job and grew up in the same dysfunctional family background, but she is simultaneously way more flaky and much, much braver. I think in her position I would have just kept my head down and ignored what was happening around me, but of course that wouldn't make for a very interesting plot.
Concealment is the first in a series, in which Amy will be propelled right out of her comfort zone and will (I think!) eventually end up as a modern day female Robin Hood type character.
7) Do you plot your books completely before hand or do you let your imagination flow whilst in the writing process?
I'm not a great advance plotter. I have a rough idea of the story and characters, but like to let the creative process weave its magic as I go along.
Sometimes, the characters can surprise you. In my current manuscript, a minor character I introduced primarily to advance the plot turns out to have a feisty personality and an agenda all of her own. And it looks like she will be quite a challenge for Amy to deal with.
Concerning your latest book: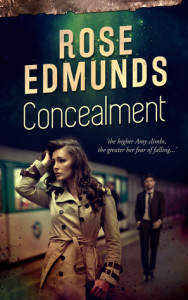 Concealment
Author – Rose Edmunds
Publisher – CreateSpace
Pages – 340
Release Date – 23rd March 2015
Format – ebook, paperback

Amy is at the top of her game as a finance professional despite a traumatic childhood. But the higher she climbs, the greater her fear of falling.
Her new boss Ed sniffs out insecurity like a shark smelling blood. He's trashed dozens of careers on a whim and has Amy lined up as his next victim. When a young colleague is murdered, Amy's fragile equilibrium is shattered. A client's fraud may be linked to the killing, but no one seems to care.
Caught in a tangle of business and personal connections, and fighting for her sanity, can Amy find the moral courage to uncover the truth?

8) How long did it take to get from the ideas stage, to the date of publication?
Over three years, which sounds crazy, but it was the book that only I could write so it follows that no one else could have finished it any faster!
9) Did you suffer from writer's block at any stage? How did you overcome it?
I don't believe in writer's block.
In my opinion there are two issues for writers to grapple with – technical problems and a disinclination to write. I completed my début novel, 'Never Say Sorry', in around a year, but I found 'Concealment', much more heavy going.
Firstly, as Amy's paranoia and insecurity are key to the plot, the story had to be written in the first person. This presented some technical difficulties which took time to solve.
Then there were the psychological factors which held me back from writing. Because the book contained some painful autobiographical details it was very emotionally draining to write, although ultimately cathartic.
Like me, Amy had grown up with a mother who was a severe hoarder and describing the legacy her childhood experiences had left on her as an adult evoked strong emotions that I wasn't always strong enough to face. In fact at one point, I even put the manuscript aside for six months and began working on something else.
It was Amy who saved me in the end. She is such a strong character that I found myself inexorably drawn back to her – it was as though she was willing me to bring her adventure to a conclusion!
10) How did you come up with the name(s)for your lead character(s)?
Characters names just pop randomly into my head, but I don't always get it right straight away. I will often start writing a character and as he or she develops I realise that the name is not suitable, usually when the new name pops into my head. This is where 'find and replace' is particularly useful!
11) If your book was made in to a film, who would you love to play the lead character(s)?
I'd love to see what Michelle Dockery of Downton Abbey fame would make of Amy, with her glacial, polished exterior hiding inner turmoil within.
Having seen Ralph Fiennes as an evil Nazi in Schindler's list, I'm sure he could bring the right degree of menace to the role of Ed, Amy's evil bullying boss.
And as for Dave Carmody, the policeman, I think Damian Lewis would have a good stab at portraying his frustrations and insecurities.
12) Did you get anyone in particular to read your work before sending it to the publisher i.e family member, friend etc?
My husband, David always reads my books first, and he is always honest, even at the risk of incurring my wrath! Following his comments I do another round of editing before sending to my trusted Beta readers.
A couple of these have no financial background, so I can double check that the content is not overly technical (always a danger when writing books based in the financial world!). A couple of the others are still working in the environments I describe, and can pick up details that don't ring true. So I try to test it on different types of people before publishing.
You can find out more about Rose Edmunds by visiting the website/social media sites below.