Arctic Dawn by Karissa Laurel – Book Review
Arctic Dawn by Karissa Laurel – Book Review
Arctic Dawn
The Norse Chronicles Book Two
Author – Karissa Laurel
Publisher – Red Adept Publishing
Pages – 332
Release Date – 5th July 2016
Format – ebook, paperback
Reviewer – Nia
I received a free copy of this book
Post Contains Affiliate Links

Alone and exhausted after her month-long sojourn as a shooting star, Solina Mundy flees to southern California to lie low, recuperate, and plot a survival strategy. The one person she trusts to watch her back is her best friend, Skyla Ramirez. But Skyla has been missing for weeks.
The arrival of a dangerous stranger and the discovery of a legendary weapon of mass destruction forces Solina out of hiding and back into the fight for her life. Solina knows she won't last long on her own. She must find out what happened to Skyla and unite her contentious allies if she hopes to track down this devastating weapon before her enemies use it to burn the world to ash.

This book is the second in a series of what I can only pray won't be a trilogy because I need MORE!!
The first book, Midnight Burning, introduced us to the main players in the story and hinted at what part they would each play in the war to come. At the time, I thought that the character development was a little bit long winded but now I agree with my original idea that it was essential to help the next story flow.
There are so many things that I love about The Norse Chronicles, but if I had to choose a favourite it would probably be the depth of the characters. They have their own personal histories which are based on traditional Norse myths but given a contemporary twist to bring them into the modern day but also to make them characters that we can truly empathise with and care about.
I also said in my review of Midnight Burning that if the character of Thorin continued down the right path, I would admit to a literary crush. So… yup…. Consider this my admission.
He's a very intense character who has lost some of his humanity as a result of an immortal lifetime spent alone, but he's finally becoming more human and altruistic in his desire to save Solina as well as himself. He's also shirtless a fair amount.
Laurel's writing style is truly phenomenal, there's something so timeless about her storytelling and the way she weaves ancient mythology into the modern day. The story is told from the perspective of Solina, a former wallflower and current badass, it expresses a whole depth of emotion that you don't normally experience in a single novel and is what has me so utterly hooked.
The story itself is unpredictable and enjoyable, even the mythology hints don't give too much away. The Valkyries aren't mentioned as much in this book as they were in the first (for reasons which will become obvious if you do the right thing and read this book) but they're fixed to play a huge part later in this series which I am looking forward to!
I would recommend this series to anyone who likes a combination of ancient mythology, strong female characters and great characters. I will warn you though, the sexual tension in Arctic Dawn may cause you to combust!
Book Reviewed by Nia

Chapter One
Oneida Lake looked almost the same as I remembered. The water was dark and glassy, the perfect mirror for a giant or a god. Late fall had come to northern New York. The surrounding trees had shed their fiery fall cloaks and encircled the lake as skeletal sentries, silent witnesses to what happened there all those weeks before. A blast of wind sent the trees swaying, and they creaked and groaned but gave away no secrets. They told me nothing about what had happened to Skyla.
The bits of detritus scattered throughout the Ramirez family's cabin maintained the silence as well. Our sleeping gear and luggage lay undisturbed. Empty wine bottles adorned the counter, and dishes collected dust in the drying rack. I ignored the cooler squatting on the kitchen floor. The ice had certainly melted over the past five weeks, and whatever was left inside had probably bred several mold cultures I was happy to never know about. If only mold could talk. Then again, the stuff growing inside that cooler probably could.
Outside, in the front yard, a smear of burnt grass indicated the place where I had gone stellar, transmuting into that other state, but no rusty stains showed where Inyoni had bled out from a fatal cut to her throat. No remains proved Khalani, the Valkyries' Mistress of the Blade, had existed. No ash pile signified the gravesite of Hati, the mythological wolf who'd killed my brother. No monument to my vengeance, no memorial to commemorate the place where I'd fulfilled my promises.
I had found Mani's killer and brought him justice. Still, a hollow place lingered inside me: the hole that had formed after Mani's death. Killing Hati had not healed it. Perhaps it restored some sense of balance, though, because I no longer felt so much like a broken-keeled ship, listing to one side.
I had never killed anything other than the occasional spider or mosquito. Hati was a man, a wolf, a monster, and I had snuffed his animating spark, or his spirit, or whatever it was that had brought him to life. Did it matter whether he was myth or real, magic or flesh and bone? I had wanted him dead, and the result was the same. I kept asking myself if I regretted killing him, if I felt bad about it, but I never did. I still don't. Was that wrong?
At the end of the day, I managed to look myself in the face without cringing. Nothing else mattered.
Purchase Links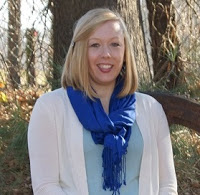 Some of Karissa Laurel's favorite things are coffee, chocolate, and super heroes. She can quote Princess Bride verbatim. She loves to read and has a sweet tooth for fantasy, sci-fi, and anything in between.
Sometimes her husband convinces her to put down the books and take the motorcycles out for a spin or go hunting for rusty old relics at flea-markets. Karissa lives in North Carolina with her kid, her husband, the occasional in-law, and a very hairy husky named Bonnie.
www.KarissaLaurel.com
@KarissaLaurel
Facebook
Pinterest
Instagram
Goodreads