Arrowood and the Thames Corpses by Mick Finlay – Book Review
Arrowood and the Thames Corpses by Mick Finlay – Book Review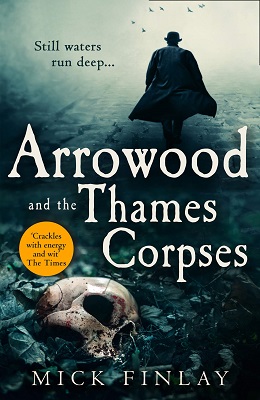 Arrowood and the Thames Corpses
Author – Mick Finlay
Publisher – HQ
Pages – 400
Released – 2nd April 2020
ISBN-13 – 978-0008324520
Format – ebook, paperback, audio
Review by – Stacey
Rating – 5 Stars
I received a free copy of this book.
This post contains affiliate links.


South London, 1896.
William Arrowood, Victorian London's less salubrious private detective, is paid a visit by Captain Moon, the owner of a pleasure steamer moored on the Thames. He complains that someone has been damaging his boat, putting his business in jeopardy.
Arrowood and his trusty sidekick Barnett suspect professional jealousy, but when a shocking discovery is pulled from the river, it seems like even fouler play is afoot.
It's up to Arrowood and Barnett to solve the case, before any more corpses end up in the watery depths.

Arrowood and the Thames Corpses is the third book in the Arrowood series and the second I have read. You can find my review of the second book, The Murder Pit, here.
Set in 1896, William Arrowood is a private enquiry agent, along with his trusted sidekick Norman Barnett. One afternoon they are called upon by Captain Moon and his daughter. The Captain runs trips on the Thames on his pleasure steamer and someone is trying to put him out of business. The boat has had windows broken and fish guts were thrown on it and he wants Arrowood to investigate who is doing it.
Arrowood and Barnett stay on the boat one night hoping to catch the culprits but the first night they miss as a group of masked men try to set fire to the boat. The second night Arrowood has been called away and so it is up to Barnett to watch the boat. When the Captain and his daughter turn up in the morning Barnett reports that all has been fine and there have been no problems. However, it soon becomes apparent that someone has attached three dead bodies to the boat and fourteen children's skulls.
The case has now taken a sinister twist and even though Arrowood is told to stay off the case by the police, he is determined to find out who is trying to destroy the Captain and why.
The Victorian era is one of my favourite eras to read about and I love sleuth books so Arrowood is the perfect series for me. William Arrowood is a big fella with a temper who never fails a case, unlike that charlatan Sherlock Holmes! His sidekick Barnett is the muscle to Arrowood's brains.
The case had me intrigued and held me captivated throughout. If you are squirmish there may be some sections that you might like to miss, such as the description of the bodies they bring out of the water. However, these parts are kept to a minimum as so it shouldn't bother you too much.
Whilst Arrowood might hate Sherlock Holmes, I can see some similarities between them and for me, this made the book more enjoyable as I'm a big Sherlock fan. The setting and time period have been well researched and you do feel like you have taken a step back in time. It is an amazing feeling to be able to perfectly visualise what is going on, even down to the Victorian dress.
This book had a bit of everything, including mystery, suspense, action, intrigue, and a damn fine plot. I'm just hoping that there will be more in the series to come.
Book Reviewer – Stacey
---
Purchase online from:
---
About the Author

Mick Finlay was born in Glasgow and grew up in Canada and England. He now divides his time between Brighton and Cambridge. He teaches in a Psychology Department, and has published social psychological research on political violence, persuasion, and verbal and non-verbal behaviour. Before becoming an academic he worked as a tent hand in a travelling circus, a butcher's boy, a hotel porter, and in various psychology-related roles in the NHS and social services. He reads widely in history, psychology, and enjoys a variety of fiction genres (including crime, of course!)
Mick used his background in psychology to write 'Arrowood', a historical crime fiction novel set in Victorian London. It is published HQ (Harper Collins) in the UK and by Mira in the USA.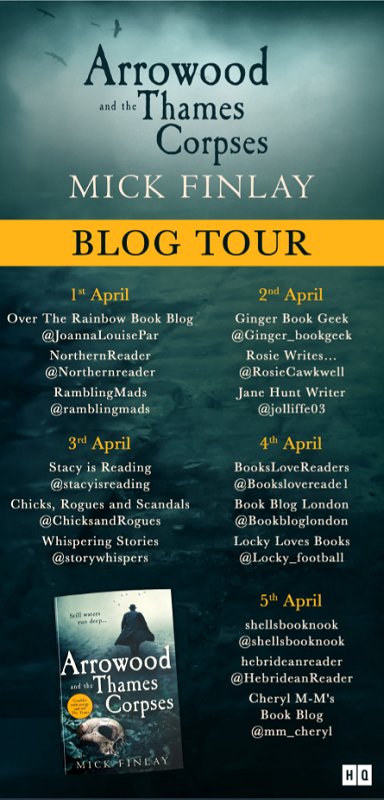 ---
What did you think of Arrowood and the Thames Corpses? Share your thoughts in the comment section below!
---
The above links are affiliate links. I receive a very small percentage from each item you purchase via these link, which is at no extra cost to you. If you are thinking about purchasing the book, please think about using one of the links. All money received goes back into the blog and helps to keep it running. Thank you.
Like us on Facebook – Tweet us on Twitter – Pin us on Pinterest