Bells and Bows on Mistletoe Row by Emily Harvale – Book Review
Bells and Bows on Mistletoe Row by Emily Harvale – Book Review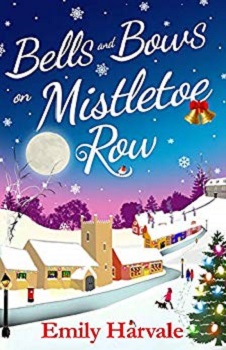 Bells and Bows on Mistletoe Row
Author – Emily Harvale
Publisher – Crescent Gate Pub
Pages – 273
Released – 6th November 2018
ISBN-13 – 978-1909917385
Format – ebook, paperback
Reviewer – Stacey
Rating – 4 Stars
I received a free copy of this book
Post contains affiliate links.
It'll take a miracle to make Juliet's Christmas merry, but Mistletoe Row is the place to be when you need some Christmas magic.
The last person Juliet Bell expects to see when she returns home for Christmas is Harrison Bow. Especially with the most beautiful woman in the world by his side. Twenty years ago, Juliet and Harrison had the shortest romance in history, consisting of one date – and one blazing row. But Juliet will never admit when she's wrong, and Harrison doesn't forgive easily, so they haven't seen, or spoken to one another since.
Harrison Bow vowed he'd never visit his grandfather at The Grange, again, or drive along Mistletoe Row, the scene of one of the unhappiest times of his life. He hasn't been back for twenty years and he's only here now because his brother pleaded with him to come. At least with his executive assistant joining him, he'll be able to do some work. But Juliet's sister, Zoe and Harrison's brother, Luke have some surprises in store for their elder siblings, and so it seems does Fate.
After Harrison risks his life to save Juliet, the least she can do is be nice. The problem is, Harrison is hotter than the log fire in The Mistletoe pub, and when she's surrounded by twinkling lights and softly falling snow, it doesn't take long for her to realise she's in love with the man she thought she hated. Even if he doesn't appear to be in love with her.

Juliet Bell has travelled home to Mistletoe Row to be with her family for Christmas and because she has been made redundant from her job, which came with her flat and she now needs somewhere to live.
Upon returning to where she grew up she discovers that Harrison Bow has returned to the little village too. She hasn't seen, nor spoken to Harrison for twenty years after her family lost their home to his uncle and she blamed Harrison for informing his uncle about the families financial troubles.
Turns out that Juliet has not quite got the facts right and that maybe it is time for forgiveness. However, is Harrison ready to forgive Juliet for breaking his heart?
Bells and Bows on Mistletoe Row is a festive, romantic story of two people who were madly in love being separated by a misunderstanding. Twenty years have gone by and Harrison swore he would never return to the village but he broke his promise for his brother Luke. He's not just here for all play though, he is working and brought his assistant Kiki with him.
Books nearly always have at least one character you love to hate and Kiki was definitely that character in this one. God, she was a stuck-up, self-righteous woman who thought she was gorgeous and could get any man she wanted and was happy to trample on others to get there. Why Harrison had her as his assistant I'll never know.
The plot was a little predictable and I knew what was going to happen between Harrison and Juliet well before it did. I also knew there was going to be a few hiccups along the way. However, this did not take away my enjoyment of the story. In fact, it heightened it as I was waiting for the moments to occur.
This is a beautiful romantic book that will make you feel jolly and in the Christmas spirit. I found it hard to put down, so much so that I read it on one sitting.
Reviewed by Stacey
---
Purchase online from:
---
About the Author

Having lived and worked in London for several years, Emily returned to her home town of Hastings where she now spends her days writing… and chatting on social media. Emily is a Member of the SoA, a PAN member of the RWA and a Pro Member of ALLi. She's an Amazon bestseller and a Kindle All Star. Emily loves writing and her stories are sure to bring a smile to your face and a warmth to your heart.
Emily says, "I write about friendship, family and falling in love. I believe in happing endings." When she isn't writing, she can be found enjoying the stunning East Sussex coast and countryside, or in a wine bar with friends, discussing life, love and the latest TV shows. Chocolate cake is often eaten. She dislikes housework almost as much as she dislikes anchovies – and will do anything to avoid both.





---