Cafe Birds: Sparrowsong by Alicia Hope – Book Review
Cafe Birds: Sparrowsong by Alicia Hope – Book Review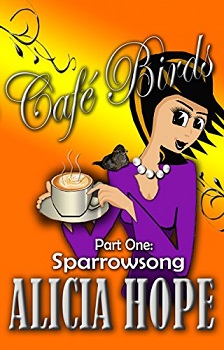 Cafe Birds: Sparrowsong


The Cafe Birds Book One
Author – Alicia Hope
Pages – 69
Release Date – 3rd October 2015
Format – ebook
Reviewer – Kerstin
I received a free copy of this book
Post Contains Affiliate Links

Sparrowsong introduces us to five women of different ages who call themselves the Cafe Birds, and who meet regularly to share the ups and downs of life, love, and bird ownership over skinny and not-so-skinny cappuccinos and cake. Each of them has a goal, be it absolution, reinvention, a second chance to make things right, or finding real love. And each has obstacles to overcome.
Paige's marriage to a PTSD-afflicted soldier and her newly established business both hover on the brink, but will the solution to one push the other over the edge? A devastating discovery rocks the foundations of Caitlin's world, thrusting her into the arms of an unconventional – did someone say imaginary? – new friend. Faced with an overly generous helping of secrets, a bad-tasting batch of guilty conscience, and a disagreeable serving of gluten intolerance, dinner party doyenne Megan has a lot on her plate. As does widowed Nita, who feels her life and relationship with her recently 'Goth' teenage daughter have come adrift. And gorgeous 'match of the day' Grace appears permanently typecast as trophy girlfriend to a succession of shallow suitors, a situation that can't go on forever – not if her friends can help it!
A no-fail recipe: in five pretty cafes, blend women friends and their modern day dramas with to-die-for coffees and scrumptious cakes and serve. Bon appétit!

This book is about five women of different character and age living in a small village in Australia. Grace is the youngest among them and is a singer. Meg is the tough one, Caitlin the Plain Jane, Nita the oldest, and Paige is the organiser, and a bird-rescuer. All of them have worked in the mine in the past and that is where they have met.
During one of their get-together's at a Café they decide to catch up more regularly and start calling themselves "The Café Birds", because every one of the women has received a bird from Paige as a gift. Paige works in a bird-refuge and made it her mission to safe injured birds and four of such became a gift for her friends.
The plot of the book is quite unique, at least for me, because every chapter of the book is another get-together at a different Café and the chit-chats during these meetings sum up to the whole plot. Somewhere after the middle of the book there is a slight change and you get to know more about the characters including background information. The author starts giving away more pieces of information and insights with every chapter. Additionally, you can feel the bond between the women is getting stronger and stronger with every meeting.
In the beginning I didn't know what to think about the story and the writing style. It took me quite some time, but by sticking with it I warmed up to the characters and their stories. It was like watching a tree grow: with every new blossom the story grew better and better. And so did Ms. Hope's writing.
Each of the five women has to deal with difficulties like an unhappy marriage, a tragic past, a lost child, an abusive boyfriend or a rebellious daughter. Their problems are problems we all know about one way or another, so I felt for the characters and was hoping throughout for a happy end, or rather five happy endings.
I appreciate the work of Alicia Hope because she tried something new with the plot. I have to say her writing improved simultaneously with the story. Although I've had difficulties warming to her style, I am glad I read the book.
Book Reviewed by Kerstin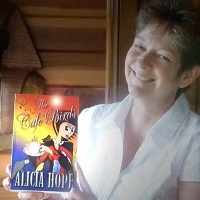 Alicia Hope lives in Australia with her author husband and their two birds LB and QB, her much-loved feathered muses. A multi-published author, human resources professional, bass player and bird lover with a finely-honed appreciation for good espresso coffee, Alicia lives in one of the most beautiful parts of the country surrounded by rainforest, rare birds and butterflies.
Alicia writes contemporary, historical, and romantic fiction, stories featuring credible characters in realistic situations and (mostly) Australian settings. Hers are feel-good books that readers of any age can curl up with on a rainy afternoon – or any time! – and enjoy. She suggests accompanying them with a barista-quality espresso and a generous slab of fine chocolate, and wishes her readers, 'Bon appétit!'
Author Links