Christmas at the Little Cottage by the Sea by Rachel Griffiths – Book Review
Christmas at the Little Cottage by the Sea by Rachel Griffiths – Book Review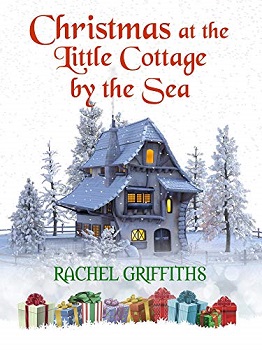 Christmas at the Little Cottage by the Sea
Author – Rachel Griffiths
Publisher – Cosy Cottage Books
Pages – 134
Released – 15th November 2019
Format – ebook
Review by – Stacey
Rating – 4 Stars
I received a free copy of this book.
This post contains affiliate links.
Driving around unfamiliar country lanes, while enduring the scorn of her teenage daughter, wasn't how Pippa Hardy thought she'd start the Christmas holidays, but her satnav seems to be more confused than she is.
Joe Roberts has had a difficult year following the loss of his mother. Added to this, he's trying to run his own business while dealing with pressure from his sister about when he'll finish renovating their mother's house. So when his best friend, Luke Hardy, invites him to a remote Welsh cottage to join his family for Christmas, it seems like the break he needs.
Christmas at a cottage by the sea sounds appealing, but sometimes having all the people you care about together in one place can be a festive recipe for disaster — especially when unexpected guests arrive.
As snow falls, carols play and Pippa and Joe face the ghosts of Christmas past under the mistletoe, they realise that there might actually be more than festive magic sparkling between them.

Christmas at the Little Cottage by the Sea is a very sweet festive read about family dynamics and coping with a large family Christmases. Pippa and her teenage daughter Bella are spending Christmas at a cottage in Wales with Pippa's parents, her grandmother and her brother Luke who has brought his new girlfriend and his friend Joe with him.
Pippa and Joe used to date a long time ago and things didn't end well between them so they have a lot to say to one another and catching up to do, but could they still hold a spark for one another? Trouble also looms when Luke's ex-girlfriend arrives, crashing into his car in the process.
One thing is for certain, this is a Christmas that is going to be eventful and one they won't forget in a hurry.
I love Rachel Griffith's novellas. She writes such wonderful characters and always includes amazing places that really set the scene. Christmas at the Little Cottage by the Sea is no exception.
The book felt very realistic and I've been to some large family gatherings over the holidays and there is always plenty going on so I could picture the events in this book perfectly. Whilst Pippa was the main character, I really adored her dad. He made me giggle with his too-big Christmas tree, he just wouldn't listen when they tried to get him to choose a smaller one.
If you are looking for a festive read that is all about family then this is the book to read. It is short enough to read in one sitting and filled with enough magical moments to have you smiling the whole way through.
Book Reviewer – Stacey
---
Purchase online from:
---
About the Author
Author. Wife. Mother. Earl Grey tea drinker. Gin enthusiast. Dog walker. Fan of the afternoon nap.


---
What did you think of Christmas at the Little Cottage by the Sea? Share your thoughts in the comment section below!
---
The above links are affiliate links. I receive a very small percentage from each item you purchase via these link, which is at no extra cost to you. If you are thinking about purchasing the book, please think about using one of the links. All money received goes back into the blog and helps to keep it running. Thank you.