Christmas in New York by Helen J Rolfe
Christmas in New York by Helen J Rolfe – Guest Post
Today we welcome author Helen J Rolfe onto the blog with her guest post, Christmas in New York. Helen shares with us why she would love to be in New York for Christmas, the setting for her books, Christmas at the Little Knitting Box and upcoming new book, Snowflakes and Mistletoe at the Inglenook Inn. Post contains affiliate links.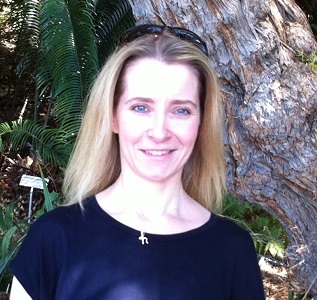 Helen J Rolfe writes contemporary women's fiction with an emphasis on relationships and love. She enjoys weaving stories about family, friendship, secrets, and characters who face challenges and fight to overcome them. Helen enjoys creating strong female lead characters and although her stories often deal with serious issues, they always have a happy ending.
Location is a big part of the adventure in Helen's books and she enjoys setting stories in different cities and countries around the world. So far, locations have included Melbourne, Sydney, New York, Connecticut, Bath and the Cotswolds.
Born and raised in the UK, Helen graduated from University with a business degree and began working in I.T. This job took her over to Australia and it was there that she studied writing and journalism and began writing for women's health and fitness magazines. She also volunteered with the PR department of a children's hospital where she wrote articles and media releases.
Helen began writing fiction in 2011 and hasn't missed the I.T. world one little bit, although the I.T. skills have come in handy of course, especially when it comes to creating and maintaining a website.
After fourteen years of living in Australia, Helen returned to the UK and now lives in Hertfordshire with her husband and their children.
Christmas in New York
I would love to experience Christmas in New York!
I think I've seen so many movies featuring the festive season in the city that my imagination was really fired up as I wrote Christmas at the Little Knitting Box. I also was able to ask friends who have been over there at that time of the year so have learnt a lot along the way.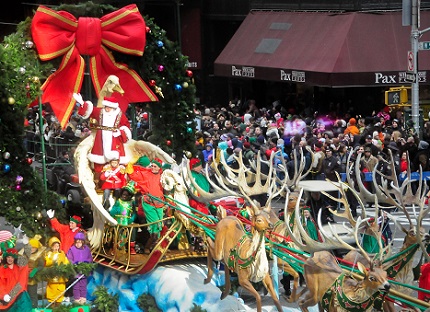 For New Yorkers, the Thanksgiving Parade at the end of November marks the start of Christmas celebrations. It's an elaborate parade, held every year running for a few hours at a time covering many streets in Manhattan, including the famous 34th Street. One of my favourite movies is Miracle on 34th Street in which the parade is featured. The parade has enormous balloons of different characters and in the past these have included Snoopy, Santa, Spiderman, Mickey Mouse and Shrek. As well as the balloons there are marching bands, performers and floats to enjoy, and although it gets very crowded, I can imagine it's a kids' dream to watch if you get there early enough to find a good spot to watch from.
Thanksgiving is also the time when a lot of New Yorkers put up their Christmas decorations and the window displays in the city come alive. One year I'd love to see them – Macy's, Saks, Barneys – they all seem to have wonderful displays much like we do in London. Some of the stores also have light displays up the sides of the building which would definitely get tourists and residents in the Christmas mood.
I visited the Rockefeller Center recently and they were starting to prepare the ice rink which is a major attraction every year. There will be an enormous Christmas tree which will be lit at the annual Christmas tree lighting ceremony, and even seeing the rink starting to be put together was exciting.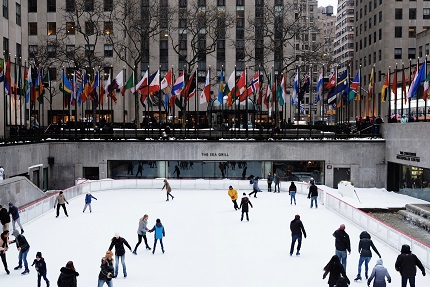 I don't think it snows every year at Christmas time but the city would be wonderful to walk around, all bundled up in coat, scarf and hat, taking in all the lights that would come with the season. New Yorkers have a Christmas lunch much like we do and it's a time when family and friends come together. The only thing I'm not sure about is Egg Nog… it seems to be popular though, so you never know, one day I might try it! ☺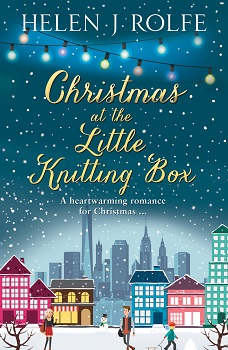 Christmas at The Little Knitting Box


New York Ever After, Book One
Author – Helen J Rolfe
Publisher – Createspace
Pages – 294
Release Date – 29th November 2016
ISBN 13 – 978-1540764829
Format – ebook, paperback

Christmas is coming and New York is in full swing for the snowy season. But at The Little Knitting Box in the West Village, things are about to change …
The Little Knitting Box has been in Cleo's family for nearly four decades, and since she arrived fresh off the plane from the Cotswolds four years ago, Cleo has been doing a stellar job of running the store. But instead of an early Christmas card in the mail this year, she gets a letter that tips her world on its axis.
Dylan has had a tumultuous few years. His marriage broke down, his mother passed away and he's been trying to pick up the pieces as a stay-at-home dad. All he wants this Christmas is to give his kids the home and stability they need. But when he meets Cleo at a party one night, he begins to see it's not always so easy to move on and pick up the pieces, especially when his ex seems determined to win him back.
When the snow starts to fall in New York City, both Cleo and Dylan realise life is rarely so black and white and both of them have choices to make. Will Dylan follow his heart or his head? And will Cleo ever allow herself to be a part of another family when her own fell apart at the seams?
Full of snow, love and the true meaning of Christmas, this novel will have you hooked until the final page.
---
Author Links