Codename Lazarus by A.P. Martin – Book Review
Codename Lazarus by A.P. Martin – Book Review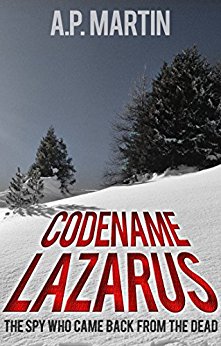 Codename Lazarus


The Spy Who Came Back From The Dead
Author – A.P. Martin
Publisher – CreateSpace
Pages – 365
Release Date – 15th July 2016
ISBN-13 – 978-1535212304
Format – ebook, paperback
Reviewer – Clive
I received a free copy of this book
Post Contains Affiliate Links

Spring 1938 and Great Britain is facing potentially lethal threats: the looming war with Germany; the fear that her Secret Service has been penetrated by Nazi agents and the existence of hundreds of British citizens, who are keen to pass information to her enemies.
John King, a young academic, is approached by his Oxbridge mentor to participate in a stunning deception that would frustrate Britain's enemies. As King struggles to come to terms with the demands of his mission, he must learn to survive in a dangerous and lonely 'no man's land', whilst remaining one step ahead of those in hot pursuit.
Adapted from a true story, 'Codename Lazarus' takes the reader on a journey from the dark heart of Hitler's Germany, across the snowy peaks of Switzerland to the horrors of Dunkirk, the Battle of Britain and the London Blitz, before reaching a thrilling and decisive conclusion, from which none of those present emerges unscathed.

Codename Lazarus is a very good spy story set alongside an excellent potted history of England and Germany during the approach to and early stages of the Second World War. However, you will need to be patient; stay with it and you will be rewarded.
A.P. Martin is a social historian who uses his knowledge and experience to good effect. As a backdrop he includes the major events of the time but the real joy of the work is his detail on everyday life in both England and Germany during those difficult times. He also provides a good insight into the political dilemmas of the period, showing how the situation between the UK and Germany was not clear cut with many people believing that Russian Communism was the true enemy.
The first part of the book follows the academic John King in Germany. I found this section of the book somewhat dry but I was kept intrigued by the detailed descriptions of life in Germany at that time. It also included a romantic episode which was unrealistic and cheesy.
The thriller then comes alive as we follow a second protagonist in his dramatic journey to England. From then on you will struggle to put the book down. Did the writing style and the depth of characters improve or did I just lose my objectivity in the excitement of the plot? Who knows, who cares? Just go with the flow and you will turn the final page contented.
I've commented on the historical and social detail but the book is not without historical errors. If you spot them you can feel smug, if you do not spot them your life will not be ruined by the misinformation. (A.P. feel free to message me via Whispering Stories if you want more detail).
Codename Lazarus is not perfect but it's a lively spy thriller with an excellent political and social history. I have awarded four and a half stars.
Book reviewed by Clive
Purchase Links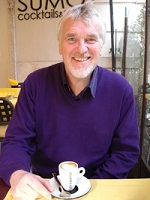 I was born and spent my entire working life in the North West of England, where I taught at school, college and university levels. I became Head of Department of Social Sciences at a University, specialising in the study of social inequality, social mobility and sport. During my academic career I published many sociological studies on these themes.
Since taking early retirement, I have really enjoyed immersing myself in reading and writing fiction. I feel that most historical fiction benefits from a connection to something that actually happened, so when I wrote my first book, Codename Lazarus, I took a little known true story and used it as a framework for an exciting thriller.
I am currently writing my second spy story, which also takes as its inspiration a fascinating, yet almost unknown episode from the Second World War.
Author Links