Cold Storage by David Koepp – Book Review
Cold Storage by David Koepp – Book Review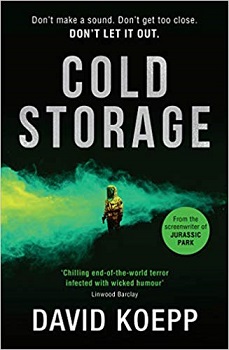 Cold Storage
Author – David Koepp
Publisher – HQ
Pages – 320
Released – 19th September 2019
ISBN-13 – 978-0008334505
Format – ebook, paperback, hardcover, audio
Review by – Stacey
Rating – 4 Stars
I received a free copy of this book.
This post contains affiliate links.
When Pentagon bioterror operative Roberto Diaz was sent to investigate a suspected biochemical attack, he found something far worse: a highly mutative organism capable of extinction-level destruction.
Now, after decades of festering in a forgotten sub-basement, the specimen has found its way out and is on a lethal feeding frenzy. And only Diaz knows how to stop it.
He races across the country to help two unwitting security guards – one an ex-con, the other a single mother. Over one harrowing night, the unlikely trio must figure out how to quarantine this horror again . . . before it's too late

Australian outback, 1987. Pentagon bioterror operative Roberto Diaz and his partner Trini Romano have been sent to Kiwirrkurra to a town where all the residents were dying. All they know that in 1979 a Skylab Space Station fell out of the sky and a chunk of it landed in Kiwirrkurra, after years of the piece sitting in the ground as a souvenir, it began to rust.
A local resident cleaned the piece of Skylab awakening the fungus inside which eventually would kill the entire village, and one of the people sent to make it safe.
A small sample of the fungus – Cordyceps Novus was stored in forgotten sub-basement in Kansas, hoping that it would stay buried forever. Unfortunately, the earth heated up and sixteen-years after the sample was buried the site was deemed a cold war site and could be built on.
Now in 2019 Teacake and Naomi are security guards at the storage facility built on the grounds. An alarm can be heard beeping and the two investigate, unwittingly putting themselves in danger. Roberto Diaz is now retired but the Pentagon wants him on route to the facility to check out what is happening as their monitors are showing activity with the fungus.
It's now up to Teacake, Naomi, and Roberto to stop the fungus spreading and save the world.
I'm not much of a sci-fi fan but I like a good mystery/thriller and the synopsis intrigued me so I jumped at the chance to read it. The book is certainly different from anything I've read before. I enjoyed the build-up to the case and was both intrigued and a little frightened at what this fungus could do to both people and animals – there is a great scene featuring a cat and a deer.
The book ebbs and flows when it comes to pace. The character development I was a bit unsure of as we get to read snippets about Roberto and his life and career, yet Teacake and Naomi we get all their backstory and emotions, sometimes a little too much and I started skipping over these sections as I didn't feel they added anything to the plot.
Unsurprisingly given that this book has been written by a screenwriter I could certainly see this being made into a movie as everything was perfectly easy to visualise along the way, intelligently written springs to mind.
It's a book I will remember and I enjoyed it immensely and read it in just a couple of days. There were times when I was shocked and moments which made me giggle, there were sections which went over my head and others that put me on the edge of my seat.
It's quite weird because I would say this book verged on the far-fetched, unbelievable and also far too realistic at times too. You will have to read it to understand what I mean. If you enjoy sci-fi/science-based books that have an air of a thriller to them, plenty of action throughout, and are very entertaining, then this is the book for you.
Book Reviewer – Stacey
---
Purchase online from:
---
About the Author

David Koepp is a celebrated American screenwriter who's written more than two dozen feature films. He's written with success in a wide variety of genres, including the first two "Jurassic Park" films, "Death Becomes Her," "Carlito's Way," "The Paper," "Mission: Impossible," "Spider-Man," "Panic Room," "War of the Worlds," "Angels and Demons," and "Inferno."
Some of the films he's both written and directed are "Stir of Echoes," "Secret Window," "Ghost Town," and "Premium Rush." "Cold Storage" is his first novel.
Koepp grew up in the small town of Pewaukee, Wisconsin. He went to a variety of colleges over a leisurely-paced academic career, and recounts his junior year as being "three of the happiest years of my life." He cites the University of Wisconsin at Madison and the film school at UCLA as particular highlights.
He credits much of his success as a writer to the Sisters of the Third Order of Saint Francis at Saint Anthony's Church and School, because they told him early on his handwriting was so awful he'd better learn to type immediately.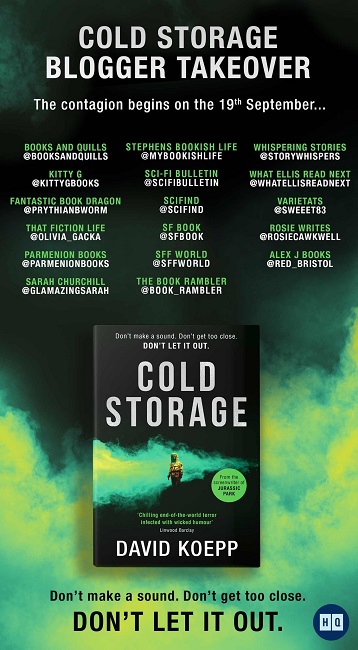 ---
What did you think of the book? Share your thoughts in the comment section below!
---
The above links are affiliate links. I receive a very small percentage from each item you purchase via these link, which is at no extra cost to you. If you are thinking about purchasing the book, please think about using one of the links. All money received goes back into the blog and helps to keep it running. Thank you.