Death at the Plague Museum by Lesley Kelly – Book Review
Death at the Plague Museum by Lesley Kelly – Book Review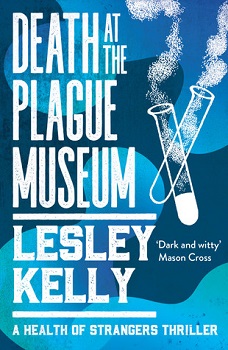 Death at the Plague Museum
A Health of Strangers Thriller
Author – Lesley Kelly
Publisher – Sandstone Press Ltd
Pages – 356
Released – 18th April 2019
ISBN-13 – 978-1912240524
Format – ebook, paperback
Reviewer – Stacey
Rating – 4 Stars
I received a free copy of this book.
This post contains affiliate links.
On Friday, three civil servants leading Virus policy in Scotland hold a secret meeting at the Edinburgh Museum of Plagues and Pandemics. By Monday, two of them are dead and one is missing.
It's up to Mona and Bernard of the Health Enforcement Team to find the missing official before panic hits the streets.

After a meeting held at the Plague Museum in Edinburgh between three civil servants, all who have something to do with the governments virus policy, one of them is found dead inside the museum. First thoughts are that he killed himself, but blood work shows something abnormal in his system.
The Het department (Health Enforcement Team), soon learn that another is missing and later the third is also dead. With all leave cancelled and this case brought to the forefront, the team must work out what happened and where the missing official is.
This is the third book in A Health of Strangers series. I hadn't realised it was the third book until partway through the first chapter when I suddenly wondered what the hell was going on as I hadn't a clue as to what was happening, who these characters were and what the term HET meant. So I went searching for answers and that's when I discovered there were two previous novels.
I then had to make a choice, continue on with help from members on Goodreads (reviews of previous books) or DNF the book. As this was for a blog tour and I had left it until last minute to read the book – my fault entirely, I opted for the later.
After getting my update I found the book a little easier to read as I was clued up on what had happened and was ready to find out where this new development in the story would take the characters.
The plot is filled with secrets and mysteries that keep you on your toes. The characters have an awful lot to say throughout and I enjoyed the banter that the team have. It actually felt like this team had been put together filled with people who didn't like one another but they knew they had a job to do.
I found Death at the Plague Museum quick and easy to read and once I had gotten past my earlier issues I fully enjoyed it. I really don't believe this book can be read as a standalone and I wish I had realised that earlier on as I would of read the other two books first before jumping into this one.
It is a remarkable series set in the UK where a virus has caused an epidemic and the people of the UK have to have monthly check-ups to keep an eye on them. At times this all felt a little too realistic and I sure hope that this never happens in real life.
Book Reviewer – Stacey
---
Purchase online from:
---
About the Author

Lesley Kelly has worked in the public and voluntary sectors for the past twenty years, dabbling in poetry and stand-up comedy along the way. She has won a number of writing competitions, including The Scotsman's Short Story award in 2008.
Her first novel, A Fine House in Trinity, was published by Sandstone Press in 2016, and was longlisted for the William McIlvanney Prize.
Her Health of Strangers series is published by Sandstone Press in 2017.
​She lives in Edinburgh with her husband and two sons.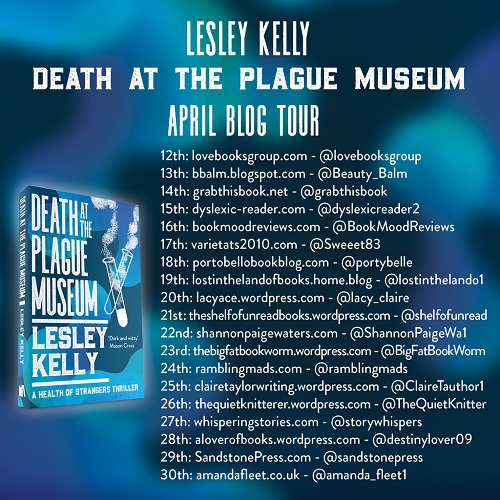 ---
Share your thoughts in the comment section below!
---
The above links are affiliate links. I receive a very small percentage from each item you purchase via these link, which is at no extra cost to you. If you are thinking about purchasing the book, please think about using one of the links. All money received goes back into the blog and helps to keep it running. Thank you.