The Biggest Idea in the World by David Joland – Book Review
The Biggest Idea in the World by David Joland – Book Review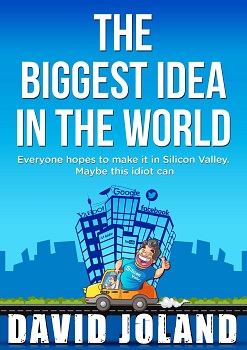 The Biggest Idea in the World
Author – David Joland
Publisher – Nielsen Book Services
Pages – 254
Released – 3rd October 2017
ISBN-13 – 978-1527214958
Format – ebook, paperback
Reviewer – Stacey
Rating – 4 Stars
I received a free copy of this book
Post contains affiliate links.
Meet Barry, a deluded Uber driver, saddled with debt and a wife who hates him. Convinced he's a genius, and that Facebook, Tripadvisor – and just about every other internet giant – were all his ideas, he's determined not to lose out with his latest brainwave by taking it to Silicon Valley himself.
Leaving London with a suitcase full of Non-Disclosure Agreements and a head full of dreams, Barry's confident he's done everything possible to protect his idea and make his billions. He pitches to deal-crazed bankers, greedy funders, geek-techies – and a shop assistant whose partner's a conman.
All of them want Barry's idea. All of them want to cut him out.
His one savior could be Mickey Roughton, the world famous movie producer who's in town to promote his latest blockbuster.
What starts off as a helping-hand turns to disaster when Barry's idea is broadcast on national TV allowing anyone to steal it – and everyone does. It looks like his unblemished record of disasters remains intact, until slowly the details of his master plan unfold revealing what could be the greatest scam to hit the Valley.

Meet middle-aged, overweight and underpaid (according to him), Barry. He tells a good story about how Facebook and other highly well-known million/billion dollar companies were actually his ideas. With another 'billion dollars' idea up his sleeve he takes off to Silicon Valley to become the man he's always dreamed of being – A rich man.
Leaving London and heading to California he is determined to make it this time and no-one is going to rip him off, he knows this because he has brought a load of non-disclosure forms with him so no-one can steal his latest idea.
He also has a wife he detests – Believe me she hates him just as much too. Told from both the perspectives Barry and his wife, this is one tale of a man on a mission, a mission to get rich quick.
I wasn't sure how I was going to get on with this book before I started reading it. The blurb although made me interested didn't really give away how amusing the book would turn out to be. It is hilarious at times. Barry is a fun guy, if not a little delusional. He made me laugh from the off and between that and the fact the book reads so effortlessly I was eager to keep on reading to see if Barry actually did have any great ideas and could he make any money from them.
The only sections I wasn't that keen on were from his wife. She too felt she had been dealt a bad hand in life, and that bad hand was Barry. I just couldn't get interested in what she had to say, I do wish the book had been written all from Barry POV, though his sections did outnumber his wife's, so it wasn't that bad.
If you are after an easy, fun, laugh-out-loud book based on modern society then The Biggest Idea in the World is your book. It is truly original and I was hooked from the first page to the last.
Reviewed by Stacey
---
Purchase online from:
---