The Development by Jackie Kabler – Excerpt
The Development by Jackie Kabler – Excerpt
Today we welcome author Jackie Kabler onto the blog with an excerpt from her new book, 'The Development', the third book in The Cora Baxter Mysteries series. Post contains affiliate links.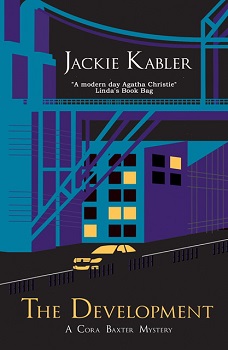 The Development


The Cora Baxter Mysteries Book Three
Author – Jackie Kabler
Publisher – Accent Press
Pages – 300
Release Date – 10th May 2018
ISBN 13 – 978-1783758128
Format – ebook, paperback

After a stressful week, TV reporter Cora Baxter is ready for a quiet weekend. What she isn't counting on is witnessing the shocking death of a young woman on her way home.
Cora discovers that seventeen-year-old Leanne has been protesting against a new housing development, angering the powerful establishment. Leanne's death is ruled a suicide but, when puzzling information comes to light, Cora decides to investigate further.
She might not know what an unscrupulous businessman, a suspended police officer and hate-mail sending neighbours have to do with the case – but she does know there is a news story there.
With her eccentric camera crew on hand to help, can Cora work out what happened in the days before Leanne's death? And was it really suicide after all?
Excerpt
As a TV news reporter Cora Baxter spends most of her time on the road with her slightly eccentric camera crew, Scott, Nathan and Rodney. Rodney has a rather "interesting" sense of style, which his colleagues never cease to be amused by…
Nathan finished adjusting his tripod and stood back, brow furrowing as he assessed the light levels. It was just before eight a.m. and Cora and the crew were in the Peak District in Derbyshire, after being called from their beds in the early hours when reports of a woman missing on the moors had reached the news desk in London. They'd arrived on location at around five a.m., Cora finding the three-hour drive even more tiring than she normally would after her busy weekend. As soon as she was at the scene, though, the adrenaline had kicked in. There was nothing quite like a breaking news story, even one with a potentially grim ending. As they'd set up on the edge of the high moorland plateau of the northernmost Dark Peak, waiting for news from the overnight mountain rescue team, Cora had scribbled notes for her first live broadcast, stomach flipping with nervous tension. Would she be reporting on a positive outcome this morning, or on yet another tragedy?
The missing woman, a 27-year-old walker from Huddersfield, had gone out alone yesterday, telling her family she fancied a Sunday afternoon ramble and roughly where she was heading for, and saying she'd be home before it got dark. When she wasn't back by 7 p.m., her anxious husband had raised the alarm. Cora knew this area, had covered stories here numerous times, and she knew the terrain could be treacherous, especially in winter, the weather changing quickly. There had been heavy rain yesterday, and it wasn't unknown for lone hikers to get trapped in waterlogged boggy areas out on the wild moorland and die of exposure. It was with a sense of relief then, that a few minutes ago, and just in time for Morning Live's eight o'clock bulletin, Cora had received news that the woman had been found, hypothermic and with a broken ankle, but otherwise fine and on her way to hospital. Now, as they got ready to give the nation the good news, Cora turned to Nathan.
'Second light please. Need all the help I can get, today, I'm knackered. And I agree with you about fancy dress parties. Do you have to go, Rodney?'
Rodney, who'd just been telling them about a party he was being forced to attend in the run-up to Christmas, and bemoaning the dress code, groaned.
'Yes, I do. It's Jodie's mum's sixty-fifth birthday and she's obsessed with fancy dress. I mean, what on earth do I go as? I'm rubbish at this sort of thing but Jodie's insisting I make my own flipping costume. She wants us to surprise each other.'
Nathan shivered and pulled the zip of his heavyweight fleece higher under his chin.
'Well, you could go in what you're wearing today. That would surprise her. Just tell everyone you've come as a Mad Soundman.'
Cora, who'd been stomping up and down the road behind the camera to keep warm, stopped for a moment and snorted with laughter. Rodney's outfit of choice today was, as usual, remarkable: a pair of red flannel trousers which looked suspiciously like pyjama bottoms, chestnut coloured UGG boots and a calf-length military-style coat, complete with some realistic-looking medals pinned to the left lapel. A pale blue knitted hat topped with an enormous fluffy pompom completed the look.
Purchase Links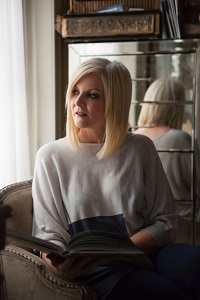 Jackie Kabler is a journalist, TV presenter and author. She spent twenty years as a TV news reporter for GMTV, ITV and BBC news, and now works as a presenter for shopping channel QVC and is author of the Cora Baxter Mysteries, a series of murder mysteries set in a television newsroom.
The Development is her third novel. Jackie lives in Gloucestershire with her husband, who is a GP.
Author Links