The Doubly Dead Angel-Thief by Marc Whelchel – Book Review
The Doubly Dead Angel-Thief by Marc Whelchel – Book Review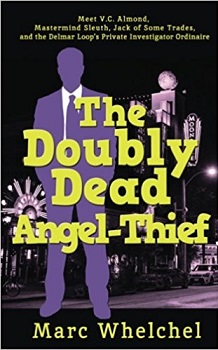 The Doubly Dead Angel-Thief
Author – Marc Whelchel
Publisher – Open Books
Pages – 380
Released – 11th September 2017
ISBN-13 – 978-0615722818
Format – ebook, paperback
Reviewer – Clive
Rating – 3 Stars
I received a free copy of this book
Post contains affiliate links
Meet V.C. Almond, Mastermind Sleuth, Jack of Some Trades, and the Delmar Loop's Private Investigator Ordinaire.
V.C. Almond's life is in the gutter. Divorced and broke, he's living in a rat trap apartment above the loudest punk music venue in the Delmar Loop. Worse, his dear friend Jake Kennedy, son of crime boss Big Jamie Kennedy, has just committed suicide.
The night of Jake's funeral, V.C. returns home to find a surprise on his floor: Jake's freshly murdered, bullet-riddled body. Soon realizing Jake's double death appears destined to go unsolved, V.C. reluctantly agrees to help private detective Aldous Lewie crack the case.
Stumbling upon the body of a man who's supposed to already be dead is just the first leg of V.C.'s journey down the rabbit hole.

Marc Whelchel has an interesting writing style and personally I had some issues in understanding this book.  The Doubly Dead Angel-Thief is written in the first person and it took me some time to work out what was happening. Indeed, I was some way in before I knew the name of the narrator.
That said the narrative was not too hard to read because, despite the confusion, my attention was maintained by the quirky humour and the descriptions of V.C.'s unconventional life. The book is littered with cultural references, some of which I recognised and enjoyed but also many that I did not understand. No doubt there were other references that passed straight over my head.
The story is set in The Delmar Loop area of St Louis which I assumed to be fictitious, but I have since learned from Wikipedia that it was named in 2007 as "One of the Ten Great Streets in America" by the American Planning Association. You learn something new every day.
The plot, when it developed, was fairly thin but it provided an adequate base around which to weave the atmosphere and humour.  I found the support characters all a bit exaggerated but that is often needed for the comedy which was generally gentle apart from one rather ridiculous slap stick section. I'll leave it to you to work out which section that is.
After I finished the book I re-read the opening chapters.  It then made more sense but do you want to read 380 pages twice? If there were other books by this author I suppose you would get used to his style over time.
It's safe to say that although Marc Whelchel and I live on the same planet and, generally, speak the same language we are not always on the same wavelength. I found some merit in The Doubly Dead Angel-Thief but I can only recommend it with caution. I have awarded three stars.
Reviewed by Clive
---
Purchase online from:
---
About the Author

Marc lives in St. Louis, Missouri with his beautiful wife and daughter, a green-eyed demon cat, and a song in his head that he can't quite identify. When he is not driving to and fro, scouring the wastebasket of his mind for a point, he is writing the next Great American Novel, a half-decent short story starring some Congolese guy in faraway lands.
He enjoys whistling off-key at the moon, loud music, dead quiet, meeting new people, and avoiding the human race at all costs. Two people once said he's funny, so it must be true. Those who know him best agree that he has damn good reason to be self-deprecating.
He is the author of four novels, the first three having been shredded and recycled into Chinese food containers long ago.



---