Emboozlement by Rich Leder – Book Review
Emboozlement by Rich Leder – Book Review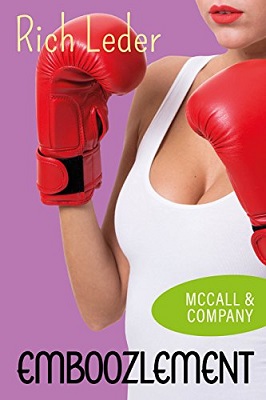 Emboozlement
McCall & Company
Author – Rich Leder
Publisher – Laugh Riot Press
Pages – 394
Released – 8th September 2017
Format – ebook
Reviewer – Stacey
I received a free copy of this book
Post contains affiliate links.
ONE SLIPPERY SPORTS BAR EMBEZZLER; TWO DEAD DECADENT DIVORCE LAWYERS; McCALL & COMPANY ON THE CASE
PI Kate McCall was warned to stay home, stay put, and stay out of NYPD business. But someone is killing Lowry Lowe lawyers, and Kate is sure her father's murderer is pulling the trigger. At the same time, former Major League relief pitcher Steve "Blue" Stark wants her to catch the crook embezzling big bucks from his West Side sports bar.
Kate can't help but get in the game.
The problem is the killer is cluing her in before murdering each lawyer and she's falling for Blue as fast as he's becoming her prime suspect.
Can Kate and her crackpot crew catch her father's killer before all the lawyers are dead? And will she find real love with dreamboat Blue? Or will she have to lock him up for stealing his own money?
If she comes through the kidnappings, she might beat the odds.
Review
45 year old Kate McCall has inherited her father, Jimmy, Private Investigation business after he was murdered by a trained killer.
Kate decides that as a PI, it is her job to investigate her father's murder and find out who killed him. This leads her to becoming acquainted, via messages, with the killer and he wants her dead as much as she wants to discover who he is.
Kate is also a Broadway actress (amongst other small acting jobs), in New York. She is part of a very eccentric theatre group who put on horrendous plays that the paying audience of thousands seem to love.
Alongside her investigations into her father's death, she is also being paid to discover who is stealing from a sports bar, owned by a very sexy baseball player, that she is trying to keep her hands off, plus investigate a spate of murders at a well known law firm too.
Emboozlement, is a quirky book following the bizarre and exceptionally busy life of Kate McCall. She isn't your usual protagonist, she has many flaws and if I'm honest came across as a bit of a mess most of the time.
The plot is fast paced, and Mr. Leder has certainly put a lot of energy into making his book have the right balance of storylines, humour, superb characters, and most of all, something to keep your mind occupied all the time.
However, I did feel that in parts that the humour was a little forced which ended up having the opposite effect. I also had to re-read sections to make sure I was following the right train of thought.
If you like quirky characters mixed in with a wacky plot, surrounded by humour, then this would be a great book for you.
Reviewed by Stacey
---
About the Author
Rich Leder has been a working writer for more than two decades. His screen credits include 18 produced television films for CBS, NBC, Lifetime, and Hallmark and feature films for Paramount Pictures, Tri-Star Pictures, and Left Bank Films.
He has written five funny novels to be released in 2014: McCall & Company: Workman's Complication; McCall & Company: Swollen Identity; Juggler, Porn Star, Monkey Wrench; Let There Be Linda; and McCall & Company: Emboozlement.
He founded Laugh Riot Press, a social media marketing and self-publishing company, as an imprint for his funny books and the funny books of other indie authors looking to join an intimate, genre-specific community focused on maximizing the exponential power of year-round digital marketplace exposure.
He has been the lead singer in a Detroit rock band, a restaurateur, a Little League coach, a film director, a literacy tutor, a magazine editor, a commercial real estate agent, and a visiting artist for the University of North Carolina Wilmington Film Studies Department, among other things, all of which, it turns out, was grist for the mill. He resides on the North Carolina coast with his awesome wife, Lulu, and is sustained by the visits home of their three college kids.
You can find out more about Rich in our interview with him – 'The Writing Life of: Rich Leder'






---