Stories for Homes Vol Two – Book Review
Stories for Homes Vol Two – Book Review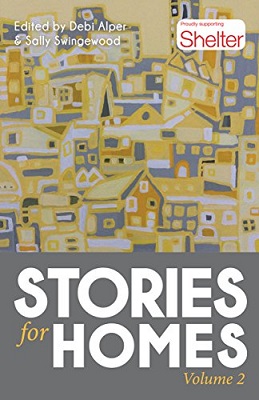 Stories for Homes Vol Two
Author – Various
Pages – 299
Released – 28th September 2017
Format – ebook
Reviewer – Stacey
I received a free copy of this book
Post contains affiliate links.
A home is something most of us have the luxury of taking for granted but for many it is a grim struggle to obtain what should be a basic necessity. Stories for Homes is a collection of witty, poignant, funny and heartbreaking short stories by fifty five authors, both established and emerging, reflecting the connection between the immediacy of housing crisis and the stories people tell about their lives around and within it.
Volume Two of the anthology includes stories, poems and flash fiction and again all proceeds will be donated to Shelter, the charity for housing and homelessness.
Review
Stories for Homes is an anthology containing the writings of fifty-five authors. Each short story has been written especially for the book, with the proceeds from the sales going to the charity, Shelter. The book is dedicated to the victims and survivors of the Grenfell Tower Fire.
The collection is as diverse as the authors. I must confess some of the stories did confused me as to what was actually happening, but they were still delightful to read. Others made me smile, whilst a few touched my heart. All of them were poignant, and made me stop and look at the world.
A few of my favourites were:-
– Seagull by Sharon Bennett
– Day 89 by Giselle Delsol
– The Nightingales Song by Rose McGinty
My overall favourite though was 'Nomad' by Sharon Telfer. It tells the story of how one nomad feels, although I'm sure there are plenty who feel the same way. Everything he uses, everywhere he goes, everything he touches is someone else's, or someone else has been there before him. But there are a few things that are just his, one is his bag, the other is deep inside of him, his pain.
As you can imagine with fifty-five stories to get through, it's not a short, nor quick read, but what is great about anthologies is that you can pick the book up, read one, or a few of the stories and then put down again for another day.
A wonderful book, written by a group of lovely authors who have given up their time, for free, for a brilliant charity that help so many people in the UK.
Reviewed by Stacey
---