A Mighty Bitey Creature by Ronda Armitage – Book Review
A Mighty Bitey Creature by Ronda Armitage – Book Review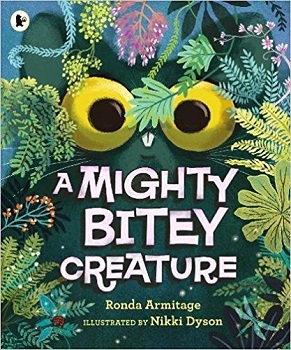 A Mighty Bitey Creature
Author – Ronda Armitage
Illustrator – Nikki Dyson
Publisher – Walker Books
Pages – 40
Released – 5th October 2017
ISBN-13 – 978-1406377989
Format – paperback, hardcover
Reviewer – Stacey
I received a free copy of this book
Post contains affiliate links.
A raucous, suspenseful, silly comedy starring jungle favourites Monkey, Zebra, Frog and Lion … and a bottom-biting bush baby!
In this raucous jungle caper illustrated by Dinosaurs Don't Have Bedtimes' Nikki Dyson, something MIGHTY with SUPER-DUPER sharp teeth keeps biting Frog, Monkey and Zebra … right on their bottoms! "Ya-hoooooo!" So, guarding their beautiful behinds, the trio run as fast as they can through the jungle.
They're looking for big, brave King Lion, who just might know what to do… Delicious drama builds before the bottom-biting creature's identity is finally revealed in this hilarious tale brought brilliantly to life by the read-aloud sound effects of Ronda Armitage and the exuberant, magnificent art of Nikki Dyson.
Review
Frog was sat minding his own business enjoying the peace and quiet of the jungle, suddenly something bit him on his backside. Ou-Ou-Ouch said Frog. He didn't know what had bitten him, but he did know that it hurt and that he didn't want it to happen again. He decided he needed to tell Lion, the King of the Jungle, as he would know what to do.
On the way to finding Lion, Frog bumped into many of his jungle friends, but when one by one they all get bitten too they decide to join Frog in finding Lion. Someone needed to stop this 'Mighty Bitey Creature', but just what was the creature that was taking a bite out of the animals.
'A Mighty Bitey Creature', is a very amusing short children's book. At 40 pages long, and with only a few words on each page, it is a quick read, but it certainly contains a whole lot of fun.
The illustrations are beautiful, and shiny. They are big, bold and brightly coloured. I love the expressions that the illustrator, Nikki Dyson has given the animals, especially when they have just been bitten.
This book is a lovely light-hearted read that will keep children amused, not only with the brilliant plot, but with the superb drawings too. I can see this book being the perfect bedtime story, one that will be asked for over and over again.
Reviewed by Stacey
---
About the Author
Ronda Armitage was born in New Zealand. She is the author of many books for children, including the well-loved Lighthouse Keeper series of stories, which tell of the adventures of Mr. and Mrs. Grinling and their marmalade cat, Hamish.
Most of her books are illustrated by her husband, David, who is an artist. She was a primary school teacher for several years, and is a trained counsellor, specialising in family therapy.