Unlikely in love by Ashlie Knapp – Book Review
Unlikely in love by Ashlie Knapp – Book Review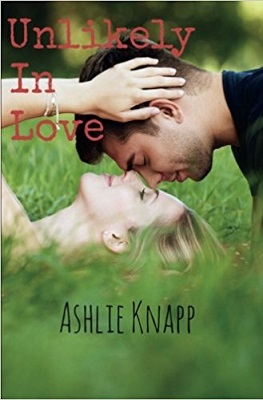 Unlikely in love
Parker Lake Novel Book One
Author – Ashlie Knapp
Publisher – Lulu.com
Pages – 302
Released – 8th August 2017
ISBN-13 – 978-1387153275
Format – ebook, paperback
Reviewer – Linda
I received a free copy of this book
Post contains affiliate links.
At 27, Annabelle Cleaver finds herself sitting in a lawyer's office, listening to the last will and testament of the only relative she's ever loved being read. Stuck in the small Oklahoma town she always had ever intention of leaving, she has no idea what comes next.
When her sexy high school crush, Wyatt Holloway, returns to town and asks her for a job on her farm, her simple life becomes more complicated than she ever imagined. Wyatt Holloway returned from three tours overseas in the army a broken man. He'd seen and done things that haunt his days and nights.
When he discovers Annabelle Cleaver, the beautiful but quirky girl from high school, needs help on her family farm after the passing of her crazy grandma, he finds himself inexplicably drawn to the woman who'd always held his interest.
Warm, sexy and laugh out loud funny, Unlikely in Love tells the story of two people coming together despite the odds against them.
Review
'Unlikely in Love', is the first novel by Ashlie Knapp that I have read, and I did thoroughly enjoyed it. It's a story of two people whose lives have been effected by events in their past. Annabelle was brought up by her "crazy" grandma after the death of her father, and abandoned by her mother. Wyatt Holloway fought in three tours whilst in the army where he saw things most of us couldn't even begin to imagine!
Ashlie Knapp sets this story in present day Oklahoma. She use good vocabulary and lovely expressions, some of which made me smile. It's a romantic love story, with sensitivity when describing Annabelle's upbringing and Wyatt's time in the army. There is also the added bonus of humour throughout.
The characters came across very real and believable, from Wyatt loving family, his friend Griff, to Annabelle's Grandma who was dearly loved, plus her best-friends who grew up with her too.
'Unlikely in Love', is a lovely easy read which flowed naturally along as the plot slowly unfolded. It was easy to assume where the plot was going, but none the less it still kept me hooked and made we want to keep reading, not putting it down until I'd reached the last word.
I Loved everything about this book, it is just the story to curl up with on the sofa, especially now the nights are drawing in. I look forward to reading more from Ashlie.
Reviewed by Linda
About the Author

I am a small town Oklahoma mom with a passion for writing. One who loves happy ever afters. I'd rather buy a book knowing I am going to be smiling at the end, floating on a cotton candy cloud of sunshine and rainbows instead of dreading the never-ending tears, swollen eyes, red nose and soggy pillow that follows a heart-breaking tragedy.
Nuh-huh. I want the fairy tale. Forget Romeo and Juliet. I'll take Snow White and Prince Charming any way. I love binge watching Parks and Recreation, Game of Thrones and The Walking Dead and am quickly on my way to becoming the crazy cat lady. I hate mornings, mushrooms and mosquitos.
My days are spent with my two witty and intelligent children and love-of-my-life husband on the lake or the golf course. If I'm not there, you can find me napping on the couch with my twelve year old Cocker Spaniel and two cuddly cats.