Emily the Master Enchantress by Jonathan McKinney – Book Review
Emily the Master Enchantress by Jonathan McKinney – Book Review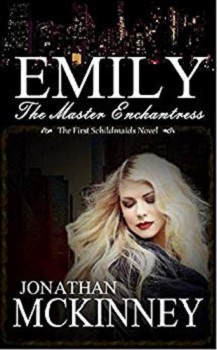 Emily the Master Enchantress
The Schildmaids Saga Book One
Author – Jonathan McKinney
Publisher – Siren Stories
Pages – 378
Released – 26th July 2016
ISBN-13 – 978-1520503387
Format – ebook, paperback
Reviewer – Julie
Rating – 4 Stars
I received a free copy of this book.
This post contains affiliate links.
Siren Stories presents: The first instalment of the Schildmaids Saga, Emily the Master Enchantress.
Hidden, veiled behind the compressed wealth of New York City, is a dank underbelly of exploitation and slavery, which most people never see, or sense, or suffer. A cruel, expanding world. And when Emily Hayes-Brennan, a proficient enchantress with a good heart and a tendency to overshare, is recruited to the world renowned crime fighters, the Schildmaids, she will find that that cruel world threatens to expand around her, and everyone she cares about.
She will be confronted by conflicts of fate and choice, as she seeks to find her place in the world.

'Emily the Master Enchantress' is an urban fantasy set in Manhattan and the first book in the Schildmaids series by British author, Jonathan McKinney. The book is written in the third person from the perspectives of several leading characters. Emily, of the title, is the incumbent of mystic abilities, courtesy of being the seventh daughter of a seventh daughter.
Emily has moved from a town in Collin County Texas, to work in journalism and is part of a crime-fighting trio known as the Bowery Girls. Emily's contribution is to use her supernatural powers to try to keep the streets safe. At her disposal, she has spells and charms, along with a variety of gadgets.
Emily's skills have come to the attention of the Schildmaids, a sophisticated group who believe in delivering justice rather than retribution in the hope of making the world a better place. The other Bowery Girls are pleased for Emily but also sad that she will be leaving them to work with people who operate at a much higher level, tackling organised crime and, in particular, people-trafficking.
When Emily reports to the Manhattan Herald Building she meets her idol, Lola, along with Miri and Teo, Lola's younger brother, with whom she shares an instant connection. She then finds out the adversaries that team leader, Sarah Schiller, wants to tackle are predominantly vampires and doomed souls. These mythical beings have joined forces with William Conrad Gramm, a man who would stop at nothing to kill Emily in order to capture her gift. This sets the scene for the story to come.
The plot is reasonably straightforward with a few twists and a bit of misdirection along the way. The central message is good versus evil, overlaid with a fledgling romance. The author rather cleverly uses an interdependent link between these two strands to stop cynics (like me) getting irritated by the love story angle.
Jonathan McKinney flirts with religion as his characters face fear, deception, betrayal, greed, fatalism and loss. As a counter-balance, there is camaraderie, bravery, heroism and altruism in abundance. Masses of time and effort must have gone into thinking up complex names, phrases and procedures and I compliment him on his great attention to detail.
The structure is tight in the beginning but then becomes a bit floppy with characters recapping plans of action in an attempt to keep the reader firmly in the loop; maybe a ruthless edit would have addressed this. The climax is dramatic with an unlikely superhero stepping in to help save the day and I confess to tentatively looking forward to the next instalment, minus the mush over the pancakes.
In a vastly over-crowded genre Emily the Master Enchantress acquits itself pretty well, offering something a little different to the usual run-of-the-mill vampire scenario and it will appeal to fans of fantasy action adventure stories. The stage is set with the central cast now gathered in place for further stories and I award a well-earned four stars.
Book Reviewer – Julie
---
Purchase online from:
---
About the Author

I'm Jonathan McKinney, also known as Jon the Odd and McKinney the Drinker. I am a writer, blogger, football fan, curry addict, Netflix junkie, boyfriend and, most importantly, father.
I write within the Siren Stories universe, and work closely with my fellow writer J.J.Barnes.
My books focus on strong female protagonists in the magical universe that is the backdrop for all Siren Stories. I am currently working on The Schildmaids Saga.



---
What do you think of the book? Share your thoughts in the comment section below!
---
The above links are affiliate links. I receive a very small percentage from each item you purchase via these link, which is at no extra cost to you. If you are thinking about purchasing the book, please think about using one of the links. All money received goes back into the blog and helps to keep it running. Thank you.