Football School Season Four by Alex Bellos & Ben Lyttleton – Book Review
Football School Season Four by Alex Bellos & Ben Lyttleton – Book Review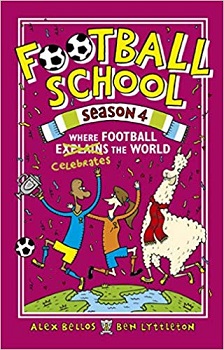 Football School Season Four
Where Football Explains the World
Author – Alex Bellos & Ben Lyttleton
Publisher – Walker Books
Pages – 208
Released – 5th September 2019
ISBN-13 – 978-1406379570
Format – ebook, hardcover
Review by – Stacey
Rating – 5 Stars
I received a free copy of this book.
This post contains affiliate links.
The fourth book in the bestselling series that teaches you about the world through football.
This book is packed with awesome true stories, real science and fascinating facts and will make you laugh loads – and it's all about football. Learn the the psychology of team work, the maths behind the 90 minute match and the best animal-themed football phrases from around the world.
Illustrated throughout with hilarious cartoons and filled with laugh-out-loud gags this is the perfect book for any boy or girl who loves football.

This is the fourth Football School book that has been reviewed on the blog, we have reviewed the first, third and The Amazing Quiz book, yes we managed to miss book Two!
The books have all been well-loved and are a great way for any football mad child to learn about educational things in an easy to understand manner and written in a school schedule type style.
The book begins with Biology where readers/students get to learn about saliva, it then moves on to Modern Languages where you will learn about football phrases from around the world. As well as these two lessons there are Maths, Music, Computer Science, History, PSHE, English, Magic, Politic, Psychology and even a school trip. At the end of each lesson is a quiz, be warned though the answers are at the back, so no cheating!
The book is hilarious, not only via the text but also via the cartoon-style illustrations drawn by Spike Gerrell that adorn each page and will make you giggle.
What better way to make children learn than through something that will make them laugh, hold their attention and is written in a style that they can grasp quickly and understand the first time around. In my opinion, if children have fun learning information they are more likely to remember it.
Football School Season Four: Where Football Explains the World is another great addition to an already growing collection and I hope that there are far more seasons still to come.
Book Reviewer – Stacey
---
Purchase online from:
---
About the Authors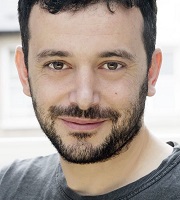 My mum was born in Hungary, which gave me a head start: Hungarians are traditionally very good at maths.
I was born in Oxford, but by the time I had learned to count we were living in Edinburgh. Aged 12, the family moved to Southampton and five years later I was at Oxford University reading Mathematics and Philosophy.
At university I edited Cherwell, the student paper. After graduating, I joined the Brighton Evening Argus as a trainee reporter. I moved to London and the Guardian gave me a job in its newsroom. Eventually, I ended up as the paper's South America correspondent in Rio de Janeiro.
During my five years in Brazil I wrote Futebol: The Brazilian Way of Life, and also presented the BBC TV series Inside Out Brazil.
My return to London was also a return to mathematics. Alex's Adventures in Numberland was published in 2010 and Alex Through the Looking-Glass in 2014. I now divide my time between science popularization and writing about Brazilian football.
www.alexbellos.com
@alexbellos
---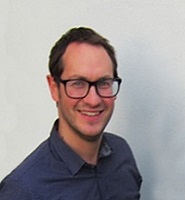 Ben Lyttleton is a journalist, broadcaster and football consultant. He has advised clubs and national federations on strategy, and businesses on developing new products for the football market.
His book Twelve Yards: The Art and Psychology of the Penalty Kick came out in the UK in 2014. His latest book Football School was released in September 2016.
He lives in London.
---
What did you think of the book? Share your thoughts in the comment section below!
---
The above links are affiliate links. I receive a very small percentage from each item you purchase via these link, which is at no extra cost to you. If you are thinking about purchasing the book, please think about using one of the links. All money received goes back into the blog and helps to keep it running. Thank you.