From A Cold Dark Place by Michael Tavon – Book Review
From A Cold Dark Place by Michael Tavon – Book Review
From A Cold Dark Place
Author – Michael Tavon
Pages – 80
Release Date – 25th August 2015
Format – paperback
Reviewer – Marcia
I received a free copy of this book

From a Cold Dark Place is a collection of short stories and essays by Michael Tavon.
The twenty four year old author shares stories and thoughts about his comically awkward sex life, police harassment, coping with loneliness and his resentment towards the blue collar lifestyle.
Tavon does a brilliant job at evoking emotion while implementing his quirky humor. If you enjoy thought provoking essays and entertaining short stories this collection is perfect for you.

'From a Cold Dark Place', is full of short stories and essays about the author's life.
For anyone thinking about reading it I do feel the need to let you know that it is full of swear words and sexual language.
In 'I Envy the Homeless, and what They Represent' – Michael talks of envying the homeless, and believes they are far more honest with themselves than those with a roof over their heads.
I appreciate the author's views on this matter, however I don't believe everyone who is homeless is there by choice, some people have no choice but to lay their heads down at the end of the day on the street.
In 'Because I Look Like Donald Glover' – Michael is going on a car journey with friends to a Caribbean carnival. They stopped the night at a friend's place. A young woman that he used to fancy.
He goes on to describe the party scene at her place in great detail, including the sexual encounter he had with his 'friend'.
In 'Loathing in Loneliness' – Michael talks of his fear of dying alone, of being jealous of couples and wanting a girlfriend of his own who understands him. I get a real sense of his loneliness through his words and felt his heightened emotions on the subject. I also felt sorry for him, and hope that his fears won't come true.
There are plenty more stories throughout including 'A Beautiful World', 'Land of the Lost(Fiction)Act 1: Frankie "The Rolling Stone"', 'When I Lost My Virginity' (This was described in great detail), 'The Lust for Love(Unfinished Fiction)' and many more. All showcasing a poignant time in Michael's life.
The one story/essay which I enjoyed the most was 'Four Letter Word'(Poem) – This is a poem about loving a woman. You can feel the love oozing from the words and I would say it's his best work and the one that hit me the most.
Throughout the book I got a clear picture of the author's voice in every story. You could feel how raw his emotions were on each subject.
If you like autobiographical books and can take the swear words, and at times extreme sexual language, then this is a book that you should read.
This though, wasn't a book I felt I could personally fully connect with and enjoy.
Book Reviewed by Marcia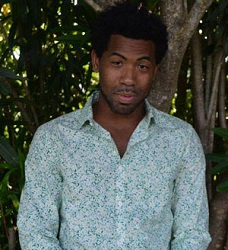 Michael Tavon is an aspiring writer, recording artist,and actor hailing from St.Petersburg, Florida. The 23 year old author is striving to become a powerhouse within the entertainment industry.
From a young age elders and teachers recognize Michael's special gift as a writer, but he himself didn't notice until he made his decision to dropout of college.
He made his first mark by self publishing his début comedic novel "Garage Band : The Legend of Dookie Harris", earlier this year. Thus far, his first effort has gained moderate attention and respectable reviews.
Michael cites Dave Chappelle, Seth McFarland ,Charles Hamilton (rapper) as a few of his inspirations. Michael sets out to reach new plateaus with each endeavor. Never know what he'll have up his sleeve next, so come join the ride.
Author Links