Garkain by Anna J Walner – Book Review
Garkain by Anna J Walner – Book Review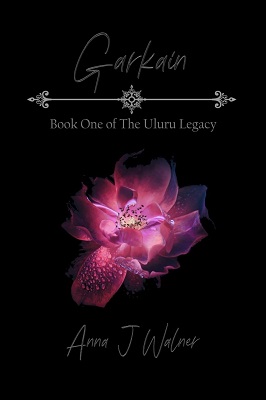 Garkain
Book One of The Uluru Legacy Series
Author – Anna J Walner
Publisher – Silver Dawn Publishing
Pages – 228
Released – 25th June 2021
ISBN-13 – 978-0578789576
Format – ebook, paperback, hardcover
Rating – 3 Stars
I received a free copy of this book.
This post contains affiliate links.


Synopsis
Amelia Wilson was found at a hospital when she was just a baby. Years later, the search for her heritage and answers to all her questions leads her into the dusty Outback of Australia on a journey to discover who and what she is.
A bold proposition could change everything, if she'll agree to marry the handsome son of the Larougo leader. She'll become something she never thought existed and agree to things she never thought she would. She'll find a life worth dying for.
A family found, and a secret society where vampire and werewolf exist in secret, deep in the heart of Australia. Delve into the mystery of The Colony.
Amelia has been in the foster system her entire life after being left outside a hospital as an infant, but after submitting her DNA to an ancestry website, she's reconnected with her biological family and flies out to Australia to meet them.
Once she lands, things start to take an unexpected turn as she discovers that her mother is a vampire and her father a werewolf, making her a hybrid which is something that's never been allowed to exist in the supernatural community before.
This is a familiar trope but the one thing that stands out is that the Larougo (werewolves) are dingos and have to take their animal form during the day and only walk as humans at night – it's an interesting take and makes the most of the Australian setting of the book.
The story itself is slow moving and I feel would have benefitted from having more plot packed in to its pages, there was some repetition of points and covering old ground with the familiar trope. Amelia is not easy to gel with as a main character, after an initial, token resistance to the crazy culture shock she's encountering with her new family and two entire new species she shares her heritage with, she goes along with everything with very little thought.
The epilogue was my favourite part of the book, all things considered – it manages to fit in more intrigue and antagonism than the rest of the book put together, bringing more depth to some of the characters that would have been excellent earlier on in the book.
Purchase Online From:
---
What did you think of 'Garkain'? Share your thoughts in the comment section below!
---
The above links are affiliate links. I receive a very small percentage from each item you purchase via these link, which is at no extra cost to you. If you are thinking about purchasing the book, please think about using one of the links. All money received goes back into the blog and helps to keep it running. Thank you.
Like us on Facebook – Tweet us on Twitter – Pin us on Pinterest – Join us on Instagram