Give in to the Feeling by Sarah Zama – Book Review
Give in to the Feeling by Sarah Zama – Book Review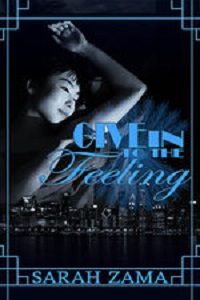 Give in to the Feeling
Author – Sarah Zama
Pages – 82
Release Date – 4th March 2016
Format – ebook
Reviewer – Stacey
I received a free copy of this book
Post Contains Affiliate Links

SHE CALLS IT BE TRUE TO HERSELF. HE CALLS IT BETRAYAL.
Chicago 1924
Two years ago, Susie arrived in America, leaving behind her little village in South China where spirits mingle in the mists of the rice fields and play at being human; where the expectations of a daughter are unimportant and ignored.
After her prospective husband dies, she is taken on by his younger associate, Simon, who gives her the carefree life of the New American Woman; the freedom to dress daringly and do things once only reserved for men–drinking, smoking and dancing with strangers.
It's an exciting life and she considers the loyalty Simon demands of her a small price to pay.

Give in to the Feeling, is a short novella, set in 1920s Chicago, mainly within a Speakeasy club.
Susie, or Sue Xie, her real name, is a Chinese immigrant who came over to the USA to be with her husband. Unfortunately, he died before she had completed her long journey.
His associate, Simon, was the owner of the Speakeasy, and someone most men feared. He took it upon himself to look after Susie, and gave her everything she wanted, including a nightly spot as a dancer in his club. He owned her.
Susie was loyal to Simon, that was until two strangers arrive at the club, Blood and Michael. There was an immediate attraction between Susie and Blood. They felt drawn to one another, as if somehow connected.
Night after night the two strangers made an appearance, and night after night the attraction between Susie and Blood grew. Simon though believed that Susie was his, and wouldn't let her go without a fight, a supernatural one.
For only being 82 pages long, Ms. Zama has packed a lot in, and the book felt much longer, though at times it did seem quite repetitive.
Without being directly told, you get the sense that some of the characters are not human, and that some kind of darkness lurking within the club.
The plot mainly revolves around Susie and Bloods shared attraction, and how they can't get enough of one another. Then you have Simon's dismay, and rage at being side-lined, leading to a big finale.
Give in to the Feeling is a quick and easy read, and I read it in just one sitting. It had enough action to keep me hooked, and a well thought out storyline that naturally flowed, and didn't feel forced. However, I would of loved the book to of been that little bit longer, and for the author to of delved a bit deeper into the characters, and their back stories.
The book now has a new title – Ghosts Through the Cracks.
Book reviewed by Stacey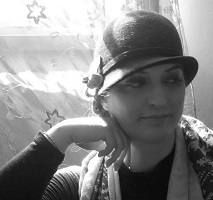 I've always lived surrounded by books, so it's no surprise that I ended up being a bookseller.
Always a fantasy reader and writer, I've recently found my home in the dieselpunk community. My first book, Give in to the Feeling, was published in 2016.
Author Links
www.sarahzama.theoldshelter.com
@JazzFeathers
Pinterest
Goodreads