Last Goodbye by Arlene Hunt – Book Review
Last Goodbye by Arlene Hunt – Book Review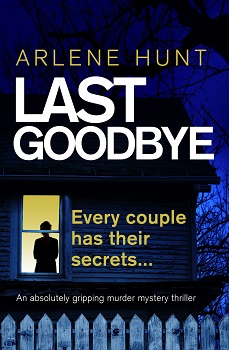 Last Goodbye
Detectives Eli Quinn and Roxy Malloy Book One
Author – Arlene Hunt
Publisher – Bookouture
Pages – 304
Released – 22nd May 2018
ISBN-13 – 978-1786812827
Format – ebook, paperback
Reviewer – Stacey
Rating – 5 Stars
I received a free copy of this book
Post contains affiliate links.
Every couple has their secrets …
'The woman's body lay on the bed, hair fanned out in a golden halo, blue eyes open. On the table stood an unmistakable sign: a bouquet of bright yellow roses…'
On a freezing January morning, a young couple is found dead in their cottage in the quiet Dublin suburbs. When Detective Eli Quinn arrives at the scene his stomach drops. It's the second double homicide in as many months where the killer has left a bunch of yellow roses.
Tucked between the thorns is a little card, with an image of a broken heart. There's no doubt the killer is trying to send a message, but what do the flowers mean? And can Eli figure out the killer's motive, before they strike again?
Utterly gripping, fast-paced and nail-bitingly tense, this serial killer thriller will keep you up reading all night. If you love Angela Marsons, Rachel Abbott and Patricia Gibney, you won't be able to put this down.

Detective Eli Quinn has been called to a crime scene in which a young couple has been murdered in their own home. In the kitchen, the table has been arranged as if they were about to have a romantic meal, except there is no food and they were due at a relatives house that night. Upon the table is a bunch of yellow roses with a card. The card just has a broken heart on it. Quinn is stunned as this scene looks all too familiar.
Roxy Malloy is on her six month probation to becoming a Detective Sergeant. She is called to a murder scene, that of a young woman brutally beaten and laid out on her bed. Inside her home is a bunch of yellow roses.
With the two cases seemingly linked, Quinn and Malloy join forces to try and piece all the evidence together to catch their man. But with Quinn being an old-hand, and Malloy being brand-new and stubborn as hell, how well will this partnership work?
The Last Goodbye is a roller-coaster of a book. It is fast paced, intriguing and had me glued to the pages so much so, that I read it in one sitting. The plot is filled with twist, turns and a few red-herrings. The characters of Quinn and Malloy are realistic and completely different from one another. You get to see both sides of policing, the old and the new.
I also loved that we also get to see inside the killer head too, a man who calls himself The Wolf. The chapters told from the viewpoint of The Wolf give us greater detail as to why he kills and his methods. It is a little scary to think how much preparation he does before killing his victims and how he justifies the killings to himself.
This is a how a great thriller should be written. Last Goodbye was totally addictive and I didn't want to reach the final page. I now look forward to reading more in the series.
Reviewed by Stacey
---
Purchase online from:
---
About the Author

Arlene spent her childhood with 'my nose buried in a book'. She was a fierce debate-captain in school and her love of language was bound to lead her to writing. Alongside being an author, she writes, edits and reviews briefs for radio.
Arlene is married with one daughter and lives with a crotchety one-eyed cat named Binkley and a German Shepherd named Archer, who is not at all crotchety.





---