The Method by Shannon Kirk – Book Review
The Method by Shannon Kirk – Book Review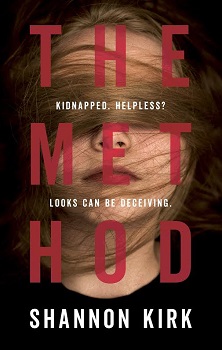 The Method
Author – Shannon Kirk
Publisher – Sphere
Pages – 336
Release Date – 2nd March 2017
ISBN-13 – 978-0751564303
Format – ebook, paperback, audio
Reviewer – Stacey
I received a free copy of this book
Post Contains Affiliate Links

You're sixteen, you're pregnant and you've been kidnapped.
If you're anyone else you give in, but if you're a manipulative prodigy you fight back in the only way you can. You use what you've been given against your captors.
You have only one chance to save your life and that of your unborn child. You're calculating, methodical, and as your kidnappers are about to discover, they made a big mistake in abducting you.
What happens when the victim is just as dangerous as the captors?

Opening straight into the plot, on day four of her kidnap ordeal, Lisa, a heavily pregnant sixteen year old is locked up in a small room. She isn't your typical sixteen year old though, She's very methodical in the manner in which she thinks, plus she can turn her emotions on and off like a light switch.
Using her know how, Lisa starts making an itinerary, thus mentally, of all the assets that she has in the room to help her escape her captor. From a loose floorboard, to a red blanket, each asset is also given a number, and over time the list of assets grows.
It's only a matter of time until all the assets, and a foolproof plan is in place, then she will execute her plan to kill her captor and all those associated with him.
Will Lisa's escape her captor, save her unborn child, and bring a kidnapping ring down in the process?
'The Method' is told by Lisa, seventeen years after her ordeal, talking directly to you, the reader. Shannon Kirk's writing style did take some getting used to at first, but it quickly became the norm.
The book is told from two perspectives, Lisa, and Special Agent Roger Liu, with his partner Lola, who are on the case of another missing pregnant teenager.
Lisa is a not your usual protagonist, as she is hard to get to know, and hard to fully like. You do feel sorry for her, but there was no connection to her, like most lead characters.
The book is gripping and certainly a page turner. It's the originality of the story that had me hooked. There has been many kidnap stories written over the years, and although I have read a lot with characters who have escaped their captors, none has gone all out to outsmart and kill them with what can only be described as assassin like qualities.
Fast paced, suspenseful, thought provoking, and at times brutal, plus a twist you will definitely not see coming is what makes The Method a must read for 2017.
Book Reviewed by Stacey
Purchase Links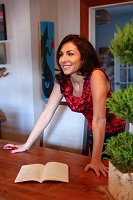 Shannon Kirk is a practicing attorney and law professor. She attended West Virginia Wesleyan and St John's Universities, is a graduate of Suffolk Law School, and was a trial lawyer in Chicago prior to moving to Massachusetts. She has been honoured three times by the Faulkner Society in the William Faulkner-William Wisdom Creative Writing Competition.
She lives in Massachusetts with her husband, a physicist, and their son.
The Method won the 2015 National Indie Excellence Award for best suspense, has been optioned for a major motion film by Next Wednesday productions and will be translated into several languages.
Author Links
www.shannonkirkbooks.com
@ShannonCKirk
Goodreads