Narwhal Unicorn of the Sea! by Ben Clanton – Book Review
Narwhal: Unicorn of the Sea! by Ben Clanton – Book Review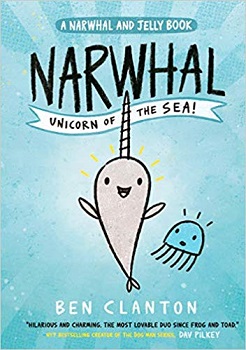 Narwhal: Unicorn of the Sea!
Narwhal and Jelly Book One
Author – Ben Clanton
Publisher – Egmont
Pages – 64
Released – 2nd may 2019
ISBN-13 – 978-1405295307
Format – ebook, paperback
Reviewer – Stacey
Rating – 5 Stars
I received a free copy of this book.
This post contains affiliate links.
Narwhal is a happy-go-lucky narwhal. Jelly is a no-nonsense jellyfish. The two might not have a lot in common, but they do they love waffles, parties and adventures. Join Narwhal and Jelly as they discover the whole wide ocean together.
A wonderfully silly early graphic novel series featuring three short stories and a super fun ocean fact page – and joke page too!
In the first, Jelly learns that Narwhal is a really good friend. Then Narwhal and Jelly form their own pod of awesomeness with their ocean friends. And finally, Narwhal and Jelly read the best book ever!
Review
Narwhal: Unicorn of the Sea! is the first book in a series about a Narwhal and his friend Jelly the Jellyfish, plus some of their other friends too. In this first book, we get to witness Narwhal and Jelly meeting for the first time.
Because neither of them has ever seen an animal like the other before they both think that the other is imaginary, therefore they try to make the other prove that they are real, it is very funny.
This book contains three stories as well as a double-sided information page about Narwhals and Jellyfish. Bit of information for you – Did you know that a group of Jellyfish is called a Smack? Well, I didn't.
The book is highly amusing. I love that Narwhal is always so upbeat. He is proud of how he looks and that he is a Narwhal. He also has an excellent imagination too. Jellyfish is more reserved but is learning to be a bit more free and imaginative with Narwhals help.
I think the story about the best book ever was my favourite, as Narwhal teaches Jelly to see beyond the pages and to make up its own story.
Narwhal Unicorn of the Sea may be only 64 pages long but I giggled my way through it, as a result I thoroughly enjoyed it. It has plenty of laugh-out-loud moments and I can see children becoming engrossed in the story. If you want to witness a Narwhal having parties, eating waffles and even using the internet, then buy a copy of this book now. Because this book was so good I now can't wait to start on book two 'Super Narwhal and Jelly Jolt' – Gosh I really am a big kid!
Book Reviewer – Stacey
Purchase online from:
---
About the Author

I'm Ben! I'm a children's book authorstrator (best known for the Narwhal and Jelly books) as well as an editor-at-large for the Little Bigfoot imprint of Sasquatch Books. I have spent most of my time on this planet reading, drawing, playing basketball, gardening and eating waffles.
I live in Seattle, WA with my wife Kelsey (a photographer and designer), son, daughter, and a wild goldendoodle named gigi (aka Wookie).




---
The above links are affiliate links. I receive a very small percentage from each item you purchase via these links, which is at no extra cost to you. If you are thinking about purchasing the book, please think about using one of the links. All money received goes back into the blog and helps to keep it running. Thank you.