One Night by Deanna Cabinian – Book Review
One Night by Deanna Cabinian – Book Review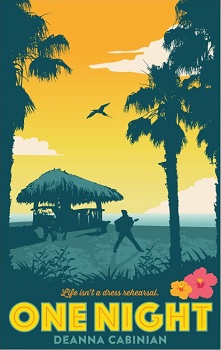 One Night
Author – Deanna Cabinian
Publisher – Timpi Publishing
Pages – 306
Release Date – 5th September 2016
Format – ebook, paperback
Reviewer – Abby
I received a free copy of this book
Post Contains Affiliate Links

Thompson may be only seventeen but he knows he's just checked into Heartbreak Hotel for good, now that his girlfriend, Caroline, has put an end to their burning love. Since then he's been sleepwalking through his summer job at Super Kmart while desperately dreaming of ways to win her back. He even drops by the Tiki House on Elvis Presley Night hoping that she, a diehard fan of the "King of Rock 'n' Roll," will be there as well.
That's when he meets Johnny Lee Young—real estate agent by day, Hawaii's Favorite Elvis Impersonator by night—and the lovesick teen's world suddenly takes a wild and unexpected turn. As luck would have it, Johnny needs a temporary assistant to help with equipment and social media and Thompson eagerly accepts the offer, hoping it will distract him from his painful and lingering romantic issues. But like Thompson, Johnny is nursing a secret heartbreak and pining for his own lost love.
So the new roadie starts making plans—with a little help from his friends Ronnie and Greta—to accompany the counterfeit King on an odyssey of a lifetime that will take them far from their island paradise home in search of true love.

A thoroughly modern coming-of-age YA novel with a retro twist.
We're transported to Hawaii with the rather wonderfully named Thompson Lake as he follows an Elvis impersonator to Chicago on a quest to mend a broken heart. Thompson is a high school student who's looking to reconcile with his ex-girlfriend (notably his first love), Elvis-mad Caroline. On a mission to accidentally-on-purpose bump into Caroline on a night out, he meets Johnny Lee Young, one of Hawaii's hottest Elvis impersonators. Johnny's undeniably handsome, popular and talented but – like Thompson – he hasn't got the girl either. Together, Thompson and Johnny plan a trip to Chicago as Thompson decides to help Johnny reunite with his own ex-girlfriend, Molly. Cue new relationships, adventures and a lot of growing up in amongst Facebook stalking, heartache and countless renditions of "Suspicious Minds".
At the heart of One Night, underneath the constant references to YouTube, Facebook statuses and Nike trainers, there's the timeless elements of love, family and identity, which culminate in a fabulously funny scene in a church in Chicago as Johnny and Thompson sort-of crash a wedding…
I thought for this review, I'd answer a few questions that the author, Deanna Cabinian, asks her readers at the end of her book while being as spoiler-free as I can! Here goes:
Why do you think finding Johnny's long-lost love is so important to Thompson?
So, even from my brief plot outline, it's clear that Thompson channels his own feelings about getting back together with his ex, Caroline, through his unrelenting desire to reunite Johnny with his ex. Despite their age gap, as Johnny is around 15 years older, there is definitely a connection between Thompson and Johnny, beyond this plot line, which grows throughout the novel. While many relationships are unsuccessful in One Night, the relationship that blossoms the most is the one between these two, so I think that Thompson feels it's his duty to make Johnny happy.
What does Johnny get out of his friendship with Thompson? And vice versa?
The relationship between the two goes through various stages. Literally, as the novel begins, Thompson is merely a fan of Johnny's Elvis tribute act. He then gets "promoted" to intern as he helps Johnny set up and organise his gigs during his school holidays. But, this relationship has a deeper level too; Thompson is thrilled when Johnny starts to refer to him as a "friend". More importantly, though, is the growing sense of brotherhood, which is made even more poignant through the fact that, in one way or another, both have "lost" their own fraternal brothers. They are even mistaken for brothers in Chicago: "'Oh, you guys are so cute,' she said. 'Brothers on vacation.' Neither of us bothered to correct her." We also learn that Thompson's brother Samuel sadly died as a baby, before Thompson was born, while Johnny and his brother Ricky do not get on – Ricky doesn't approve of Johnny's lifestyle or career – so they almost become surrogate brothers to each other too.
This is why the trip to Chicago is so important to the both of them. It gives Johnny a chance to relive his youth as he went to college there, and recreate a brotherly bond, and it also gives Thompson the first glimpses of life away from home. In Hawaii, he is rather stifled by his understandably overprotective parents. In Chicago he gets to hang around with the cool older brother he never had.
In a way, Hawaii and Chicago become symbols of Thompson's growing up process. For a start, travelling allows Thompson to experience new things and learn about the world for himself. In Hawaii, he's extremely sheltered. The one time he does let his guard down, by falling in love with Caroline, he is hurt. Chicago gives him a fresh start – albeit brief – especially as the trip starts off under the guise of helping Johnny. In reality, the trip does much more for Thompson as he finds the confidence to express his feelings.
Who is your favourite character in the story? Why?
That's not to say that Johnny isn't an interesting character too. Johnny is actually my favourite character because I think he's on his own quest for self-discovery too. We meet him as Johnny Lee Young, the Elvis impersonator. Elvis, then, becomes the symbol by which he can hide behind. But, as we can tell through his fraught relationship with his brother Ricky, he is a different person to different people. Thompson is likewise intrigued by the man behind the Elvis mask, and gets to know him as Johnny Lee Young. But even Johnny Lee isn't the real Johnny – it's another persona. His dream is to be a musician in his own right: "A CD that says John Giovanni Lee across the bottom" (who knew CDs were still so popular in this smartphone-laden, social media crazy story?). He wants acceptance as the real him. Relationships with his brother and his ex-girlfriend have broken down because of his myriad of personas. It seems then that only Thompson is able to get to know the real Johnny.
So when events kick off in Chicago surrounding the plan to win back Molly, it's all the more poignant that we know "Johnny Lee Young has left the building". The trip seems to have outwardly benefited Thompson a lot more, but it's important not to overlook the effect it has on Johnny and his self-identity too.
Overall, I really enjoyed how Cabinian managed to weave together a story full of parallels and contrasts. We get the similarities between two apparently very different characters. We also get very YA-friendly references to tech, popular brands and social media throughout crossed with Elvis songs, which actually work really well together. They emphasise the timelessness of the plot, which is concerned with relationships between different generations. Set in front of an idyllic Hawaiian backdrop, One Night is a thoroughly entertaining read.
Book reviewed by Abby
Purchase Links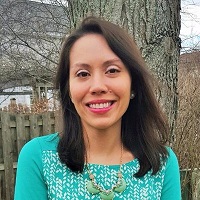 Deanna Cabinian has worked in radio, television, and magazine publishing, but her greatest passion is writing. A graduate of Northern Illinois University, she has a bachelor's degree in journalism and a Master's degree in sport management. She writes from wherever she happens to be, but the majority of her writing is done from Chicago.
When she isn't writing she enjoys travelling and spending time with her husband and family.
You can find out more about Deanna by reading our interview with her – 'The Writing Life of: Deanna Cabinian'
Author Links
www.deannacabinian.com
@deannacabinian
Facebook
Pinterest
Instagram
Goodreads