Pickerton's Jiggle by Riya Aarini – Book Review
Pickerton's Jiggle by Riya Aarini – Book Review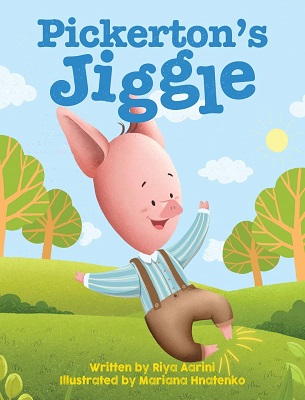 Pickerton's Jiggle
Author – Riya Aarini
Illustrator – Mariana Hnatenko
Pages – 34
Released – 20th February 2021
ISBN-13 – 978-1735347332
Format – ebook, paperback, hardcover
Review by – Stacey
Rating – 5 Stars
I received a free copy of this book.
This post contains affiliate links.


Pickerton Wickerton is a particular pig who loves to stay clean. But when he accidentally lands in the mud, he becomes upset! Will Pickerton learn that all it takes is a jiggle to shake off the dirt? The delightful rhymes and charming illustrations in this picture book are sure to entertain!
"Good morning again,
to bubbly, kind me!
It's you I wake up
each fine day to see.
"Hello, floppy ears
and four wiggly toes.
Welcome curly tail
and cool, freckled nose.
Pickerton's Jiggle is a story of how one happy-go-lucky pig overcomes life's setbacks. Difficulties can be resiliently shaken off-and, as Pickerton shows, all it takes is a jiggle!

Pickerton was a pig who liked to be exquisitely clean. He didn't like dirt and grime and scrubbed himself every morning until he was sparkly.
One day when he hopped off the bus he landed in a puddle of mud. At first, he was unsure what to do, he was dirty and unclean but then he decided all he needed to do to get rid of the mud was to shake, shake, shake and do the Pickerton Jiggle as he didn't want the mud to put him in a bad mood for the day.
Pickerton soon learned that it was okay not to be completely clean and tidy all the time and to embrace the fact that sometimes he will get mucky or have unruly hair.
Pickerton's Jiggle is a beautiful, young children's book that was good fun to read. It has been written in a rhyming style that flows well and is entertaining.
The full-page, brightly coloured illustrations are amazing and draw the eye to Pickerton and his quirky ways and his fun jiggle.
The book is a quick read but it is oh so lovely too. It will make children smile and I can see them wanting to do the Pickerton Jiggle too, especially when they have had little mishaps and soon realise that mishaps happen so shake them off.
Book Reviewer – Stacey
---
Purchase online from:
---
About the Author

Riya Aarini will release her newest picture book Pickerton's Jiggle in February 2021. Ollie's Garden is the third book in her Carefree Ollie early reader series. Stay tuned for more upcoming children's books!



---
What did you think of Pickerton's Jiggle? Share your thoughts in the comment section below!
---
The above links are affiliate links. I receive a very small percentage from each item you purchase via these link, which is at no extra cost to you. If you are thinking about purchasing the book, please think about using one of the links. All money received goes back into the blog and helps to keep it running. Thank you.
Like us on Facebook – Tweet us on Twitter – Pin us on Pinterest