Shot Through the Heart by Andrea Downing – Book Review
Shot Through the Heart by Andrea Downing – Book Review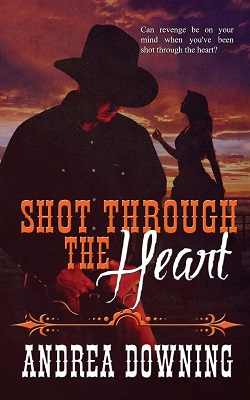 Shot Through the Heart
Author – Andrea Downing
Publisher – The Wild Rose Press
Pages – 238
Released – 31st August 2020
ISBN-13 – 978-1509232345
Format – ebook, papaerback
Review by – Ed
Rating – 4 Stars
I received a free copy of this book.
This post contains affiliate links.


Gunslinger Shiloh Coltrane has returned home to work the family's Wyoming ranch, only to find there's still violence ahead. His sister and nephew have been murdered, and the killers are at large.
Dr. Sydney Cantrell has come west to start her medical practice, aiming to treat the people of a small town. As she tries to help and heal, she finds disapproval and cruelty the payment in kind.
When the two meet, it's an attraction of opposites. As Shiloh seeks revenge, Sydney seeks to do what's right. Each wants a new life, but will trouble or love find them first?

Andrea Downing's novel, Shot Through the Heart, starts with Wyoming rancher Shiloh Coltrane crashing through the plate glass window of the Painted Lady saloon for asking the wrong person about the whereabouts of his brother-in-law, Oswald Parmeter, who he believes is partly responsible for the murder of Shiloh's sister and her little boy. The saloon owner suggests that Shiloh go across the street to see Sydney Cantrell, the new doctor in town to attend to his cuts. Shiloh is shocked to see that Sydney is not a man, but a beautiful woman about his age—around thirty. There weren't many women doctors in America in 1897 and none in Wyoming.
Shiloh and Sydney were immediately attracted to each other. She had golden-blond hair and eyes the color of the blue Wyoming sky. He was over six feet tall without an inch of fat and eyes the color of the Wyoming grey sky before a snow storm. Sydney removed the glass shards from the palms of his hands and asked if was hurting anywhere else besides his face. He got a small grin and told her he hurt the worst on his . . . his behind, and couldn't ride his horse to his ranch unless the glass was removed. Thus started a romance between them until Shiloh admitted that he had killed several men who needed killing and intended to find the people who murdered his sister and infant nephew and kill them. Sydney had just moved from Philadelphia to Wyoming and couldn't let herself fall in love with a gunslinger killer.
Most good romance novels have an issue that keeps the romance from progressing. This is a great romantic thriller with plenty of action, conflict, and a sophisticated plot. The editing was excellent. I couldn't put the novel down and highly recommend it to all adult readers.
Book Reviewer – Ed
---
Purchase online from:
---
About the Author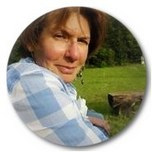 A native New Yorker, Andrea Downing currently divides her time between the canyons of city streets and the wide-open spaces of Wyoming. Her background in publishing and English Language teaching has transferred into fiction writing, and her love of horses, ranches, rodeo, and just about anything else western, is reflected in her award-winning historical and contemporary western romances.
She has been a finalist in the RONE Awards for Best American Historical Romance twice, placed in the International Digital Awards twice, and won 'Favorite Hero' along with Honorable Mentions for Favorite Heroine, Short Story and Novel in the Maple Leaf Awards. Her book, Dearest Darling, has also won The Golden Quill Award for Best Novella and been on the short list for winning The Chanticleer Award for Best Short or Novella.



---
What did you think of Shot Through the Heart? Share your thoughts in the comment section below!
---
The above links are affiliate links. I receive a very small percentage from each item you purchase via these link, which is at no extra cost to you. If you are thinking about purchasing the book, please think about using one of the links. All money received goes back into the blog and helps to keep it running. Thank you.
Like us on Facebook – Tweet us on Twitter – Pin us on Pinterest