All at Sea by Gerry Bryne – Book Review
All at Sea by Gerry Bryne – Book Review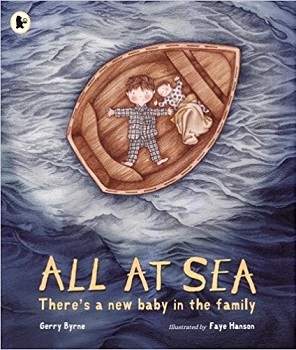 All at Sea
There's a New Baby in the Family
Author – Gerry Bryne
Illustrator – Faye Hanson
Publisher – Walker Books
Pages – 32
Released – 4th January 2018
ISBN-13 – 978-1406323252
Format – paperback
Reviewer – Stacey
Rating – 4 Stars
I received a free copy of this book
Post Contains Affiliate Links
The perfect picture book for any anxious young child waiting for their new brother or sister to arrive.
When Liam and Mary's mum and dad bring their new baby brother home from the hospital they also bring some presents: for Mary, some building blocks and for Liam, a family of hippos. But the baby hippo of the family keeps going missing.
First he gets eaten by a crocodile, then trampled by an elephant until finally the littlest hippo gets stuck after taking a swim in the toilet.
This is a warm, sensitive and reassuring book about the arrival of a new baby in the family, written by an expert in the field of child development.

All at Sea is a lovely short children's book about having a new baby in the house. Liam and Mary have a new baby brother. Their mum and dad bought each of them a present to welcome the new baby. Mary got building blocks and Liam received a family of Hippo's – with a mummy, daddy, two children and a baby hippo.
Whilst Mary had no trouble welcoming the new baby, Liam was obviously anxious and worried about having a new brother. It would also seem that he wasn't very happy about having one either, as each night when Liam put the hippos on his bedside table for them to see him while he slept, he only ever placed the mummy, daddy and two children hippos. The baby hippo kept on disappearing.
Eventually he learnt that there was nothing to worry about.
It's a long time since we brought a new baby into the house, my youngest is twelve, so I was trying to remember what the older two were like when we did and, if either of them were bothered by the new addition to the family. I'm quite lucky in that I don't remember either of them showing any issues, but then the oldest was nine and couldn't wait to meet his little brother (although he was desperate for a sister), and my middle son was two and just wanted to kiss and cuddle him.
The book has some beautiful full page illustrations with most having an orange-brown hue to them. They work seamlessly with the story and help to enhance the message that it might be hard for a child to accept a new baby into the family but, the new baby will not take their place, and that they are still loved.
This is a worthwhile investment for anyone who is pregnant and worried about how their child/ren will accept the new baby, as it emphasises the fact that there will be change but there is nothing to be scared about.
Reviewed by Stacey
---
Purchase online from:
---