The Second Wife by Sheryl Browne – Book Review
The Second Wife by Sheryl Browne – Book Review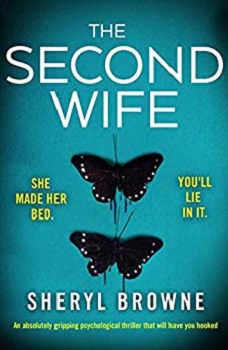 The Second Wife
Author – Sheryl Browne
Publisher – Bookouture
Pages – 349
Released – 29th January 2019
Format – ebook
Reviewer – Stacey
Rating – 4 Stars
I received a free copy of this book.
This post contains affiliate links.
She made her bed. You'll lie in it.
Rebecca only wanted to help out – to be kind. Richard seemed so alone after his wife, Nicole, died, and Rebecca wanted to make sure he knew he had someone to rely on.
But now she's in Nicole's immaculate house. Drinking from her favourite crystal wine glass. Keeping shoes in her orderly closet. Comforting her sweet and grieving step-daughter. It feels like Rebecca is living another woman's life.
And as she gets to know the neighbours, Rebecca hears stories that make her wonder: was free-spirited Nicole happy in this perfect life, or did she feel trapped? Did she feel, as Rebecca is beginning to, that something wasn't quite right?
Review
Rebecca and Nicole had been best friends for years. They had been there for one another, through thick and thin. They swore to one another that they would be best friends for life. However as always, life gets in the way and with them both living in different countries they hadn't physically seen each other for the last three years, though they kept in touch via email.
Rebecca is surprised and shocked to receive an email from Nicole's husband Richard, telling her that Nicola had taken her own life. The Nicole that Rebecca knew would never have even thought about suicide, she had so much to live for. Had she changed so much in the last three year?
At Nicole's funeral, Rebecca meets Richard for the first time and his grown-up daughter Olivia. With their posh, clutter-free house and no sign of a studio within (Nicole was an artist), something doesn't seem right to Rebecca and she is willing to do whatever it takes to uncover the truth, but sometimes the truth is worse than you ever thought it could be!
I've read a few of Sheryl Browne's books and always enjoyed them and loved her writing style so when I saw this book I just had to read it. I love a good psychological thriller and this one really spoke to me.
From the opening scene told by Nicole, you get a sense of what this woman had been though but nothing could have prepared me for the direction the story took. I had put some of the pieces together but I was so shocked at discovering what really happened to Nicole I sat open-mouthed for at least a minute.
The characters are all perfectly formed and realistic. There are those that you will love and those that you will hate and a few that you won't be sure about, never knowing whether they should sit on the good or the bad side.
This is a book that will play with your emotions and set you off on an emotional roller coaster. Throughout you will feel sorrow, happiness, anger and bewilderment, all mixed into one. There are plenty of twists to the plot, enough to keep you gripped to the book and interested the whole way through.
If you love psychological thrillers you need to read The Second Wife, it is exceptional from the very beginning to the end.
Reviewed by Stacey
---
Purchase online from:
---
About the Author

Sheryl Browne brings you edgy, sexy contemporary fiction and psychological thrillers.
A member of the Crime Writers' Association, Romantic Novelists' Association and awarded a Red Ribbon by The Wishing Shelf Book Awards, Sheryl has several books published and two short stories in Birmingham City University anthologies, where she completed her MA in Creative Writing.
You can find out more about Sheryl by reading our interview with her – 'The Writing Life of: Sheryl Browne'





---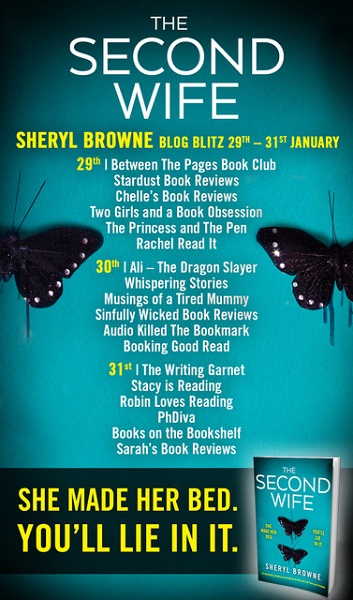 The above links are affiliate links. I receive a very small percentage from each item you purchase via these link, which is at no extra cost to you. If you are thinking about purchasing the book, please think about using one of the links. All money received goes back into the blog and helps to keep it running. Thank you.