The Family Tree by Steph Mullin – Book Review
The Family Tree by Steph Mullin – Book Review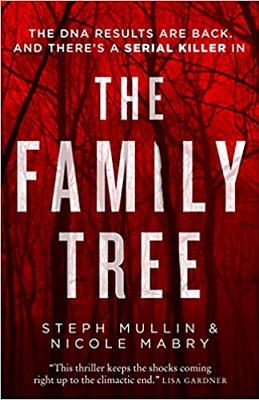 The Family Tree
Author – Steph Mullin & Nicole Mabry
Publisher – Avon
Pages – 412
Released – 10th June 2021
ISBN-13 – 978-0008461249
Format – ebook, paperback, audio
Rating – 4 Stars
I received a free copy of this book.
This post contains affiliate links.


Synopsis
The DNA results are back. And there's a serial killer in her family tree…
Liz Catalano is shocked when an ancestry kit reveals she's adopted. But she could never have imagined connecting with her unknown family would plunge her into an FBI investigation of a notorious serial killer…
The Tri-State Killer has been abducting pairs of women for forty years, leaving no clues behind – only bodies.
Can Liz figure out who the killer in her new family is? And can she save his newest victims before it's too late?
As a birthday present from her cousin and housemate Andie, Liz receives a 23AndMe DNA kit. When checking her results she discovers that her genetics seem to be different from her cousin's and that there is no mention of her Italian heritage. Confused she rings her mum who tells her that she and her father need to explain something they have kept from her. Liz was adopted as a baby.
Deciding that she wants to find out more about her adoptive family she shares her results to see if there are any DNA matches without much success. She then is advised to upload her DNA details onto a site called GEDMatch where she can check for any matches across all genetic DNA sites. There was a tick box on the joining form which allows law enforcement to access the DNA. Liz knows that her mother was in prison at the time of her birth so she ticks it.
Not long after Liz receives a message from an agent working for the FBI who wants to talk to her about her DNA results and a familial link to a multiple homicide case they have been working on.
The Family Tree is an absorbing and gripping tale of one woman who by checking her DNA for her heritage not only discovers devastating information about her life but also frightening information that someone she is related to is a serial killer.
The serial killer has been killing for over forty years, choosing two women at a time and killing every two years. I loved that the book had chapters from each of the double murders and shows you exactly how the killer abducted his victims and the victim's thoughts and feelings. This was something I hadn't come across in a novel before.
Whilst I rushed through the book, reading it in a couple of days, and thoroughly enjoyed the exciting plot, I can't say I liked Liz much. Her attitude towards her parents that had raised her since being a baby was atrocious. I understand she was hurt for not being told she was adopted but she went over the top and was quite whinny too which made her feel a lot younger than she was.
The story is quite intense and dark at times. I loved the uniqueness of it and the twisty thrill of trying to fathom out who the 'Tri-State Killer' could be. If you are looking for a thriller that stands out from the norm, this would be the one to read.
Purchase Online From:
---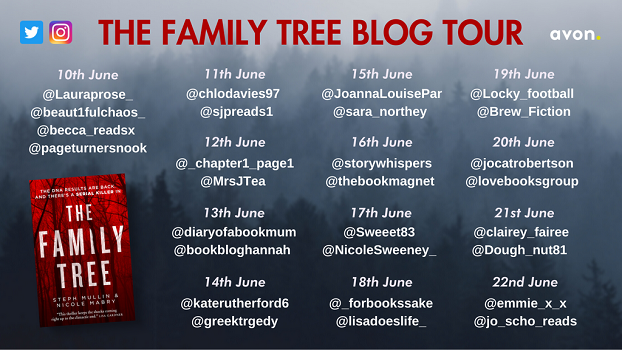 ---
What did you think of 'The Family Tree'? Share your thoughts in the comment section below!
---
The above links are affiliate links. I receive a very small percentage from each item you purchase via these link, which is at no extra cost to you. If you are thinking about purchasing the book, please think about using one of the links. All money received goes back into the blog and helps to keep it running. Thank you.
Like us on Facebook – Tweet us on Twitter – Pin us on Pinterest – Join us on Instagram