Someone Else's Conflict by Alison Layland – Book Review
Someone Else's Conflict by Alison Layland – Book Review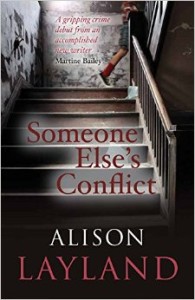 Someone Else's Conflict
Author – Alison Layland
Publisher – Honno Welsh Women's Press
Pages – 352
Release Date – 6th November 2014
ISBN-13 – 978-1909983120
Format – ebook, paperback
Reviewer – Stacey
Rating – 5 Stars
I received a free copy of this book
Contains Affiliate Links

Jay has been roaming rootless for years until one morning he arrives in a small Yorkshire Dales town and sees a face in the crowd which takes him back to the best and worst times of his life.
In the aftermath of a failed affair, Marilyn is rebuilding her life and her barn when a lightning storm threatens to ruin everything. Should she trust Jay is who he says he is, even when he is economical with the truth?
When he disappears running after an immigrant pickpocket, Marilyn is visited by the police with a tale of murder; should she keep quiet about her doubts?

Someone Else's Conflict, is a gripping and powerful début novel, written by Alison Layland.
The story begins with the prologue of a young boy in war-torn Yugoslavia. He witnesses the execution of his father at the hands of soldiers that are rampaging his village.
Trying to flee, he comes face-to-face with one of the soldiers. Instead of shooting him, the soldier tells him to run, and 'The Boy' runs.
The prologue is central to the whole story. 'The Boy' is an integral part of the book. Once you find out how 'The Boy' and one of the main characters are connected, all of the pieces of the story fit together perfectly.
Jay Spinney is a middle-aged man, travelling the UK busking. He brings in the crowds with his wonderful, captivating stories. Jay is haunted by his past. He has tried to run, tried to forget, but it has never worked. The ghosts of his past are ever present.
One afternoon after he has finished busking in the English Dale's town of Holdwick, he is approached by a young woman who has just had her purse stolen, to ask if he has witness the theft.
Marilyn (Polly), is a beautiful, thoughtful young woman with a heart of gold. She is nursing a broken heart at the hands of her controlling ex Matt. Living alone in a secluded house, Marilyn is at a loss when her precious barn is ruined by a vicious storm that causes a landslide.
Jay offers to help Marilyn restore the barn. This is the start of a friendship between two very different people, from very different backgrounds. The bond between Jay and Marilyn is evident from the moment they meet, and soon there is romance in the air.
With the arrival of a young illegal immigrant, Vinko, Jay's past is starting to catch up with him, and make him face what happened during the war head on.
Someone Else's Conflict, does not fit into one genre. With scenes of war, suspense, romance, murder, mystery and historical flashbacks, the book has something for everyone.
The compelling storyline, complete with wonderful vivid characters makes this a sensational read.
I didn't know until I had read the book that this was Alison's début novel, and I would not have guessed. The book is beautifully written and is fluid. It had me intrigued and enthralled all of the way through.
I found myself reading into the dead of night, even falling asleep with my Kindle in my hand, as I wanted to keep on reading, needing to find out where the story was heading.
There are plenty of jaw-dropping moments and emotional scenes. The baseline subject surrounding the traumas of war and the after-effects on those that witnessed it, is handled with care and sensitivity.
I loved the fast pace of the book, and all of the twists and turns. I was very impressed Someone Else's Conflict, and hats-off to Alison, she certainly has found a true calling in life.
Book reviewed by Stacey
Purchase Links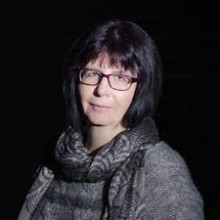 I am a writer and translator, and have told myself stories for as long as I can remember.
Raised in Newark and Bradford, I now live in mid-Wales with my husband and two teenage children.
I studied Anglo-Saxon, Norse and Celtic at Cambridge University, and after a brief spell as a taxi driver worked for several years as a chartered surveyor before returning to my first love – languages. I translate from German, French and Welsh into English, and I write fiction. Someone Else's Conflict is my debut novel.
You can find out more about Alison by having a read of our interview with her – 'The Writing Life of: Alison Layland'
Author Links