Still Life with a Vengeance by Jan Turk Petrie – Book Review
Still Life with a Vengeance by Jan Turk Petrie – Book Review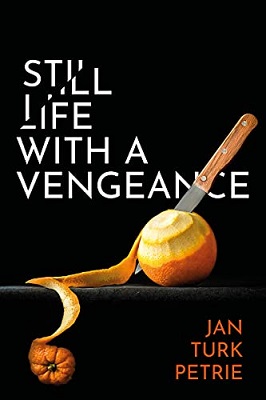 Still Life with a Vengeance
Author – Jan Turk Petrie
Publisher – Pintail Press
Release Date – 5th October 2021
Pages – 305
ISBN 13 – 978-1912855926
Format – ebook, paperback
Star Rating – 4
I received a free copy of this book.
This post contains affiliate links.

Synopsis
Married to rich and famous guitarist, Nick Quenington, and living in a country mansion, from the outside Eve's life appears to be perfect. Heartbroken when they can't conceive a child, Eve's adoption hopes are threatened when Nick and his band are accused of drugging and raping a fan. Despite vehemently denying the allegations, the band are subjected to trial by social media.
Eve's belief in Nick's innocence leads her to passionately defend him to the press, but sales and downloads take a nosedive, the upcoming tour is cancelled and their music dropped from radio stations. And, as more accusations emerge, Eve begins to have her doubts.
Still Life with a Vengeance is the second book by author Jan Turk Petrie that I have read with the time-slip story Running Behind Time being the first, which I loved.
This book was a decent read but it didn't grip me in the same way that Running Behind Time did. The plot revolves around guitarist with a rock group, Nick Quenington, and his wife Eve.
The group is embroiled in an allegation of sexual assault that they deny, including photographs which they say are deep fakes. Whilst the band denies the allegation, Eve is devastated as she and Nick had started the adoption process, and now with this over their heads they didn't stand a chance of being selected.
The book also has a secondary plot running parallel in which Eve is trying to discover what happened to her deceased parents, this I was less interested in as it distracted me from the assault allegations and Nick and Eve's lives in the present which was nice and suspenseful and had me hoping for the couple that the allegations would turn out to be fake, but never quite so sure how it would go.
The storyline is certainly different and engaging. It gripped me in parts and overall it was a good solid read.
---
Purchase Online:
Jan Turk Petrie

Jan Turk Petrie is an award winning writer who lives in the Cotswolds area of England (UK).
She is the author of the fast paced Nordic thriller series: the Eldísvík Trilogy.. All three volumes are set in 2068 in a fictional city state just below the artic circle.
Jan has written a further 5 standalone novels in a variety of genres.
'Too Many Heroes' – a period noir thriller set in London England in 1952.
'Towards the Vanishing Point' – a literary drama which spans the years 1938-1958.
'The Truth in a Lie' – Jan's first contemporary novel dealing with family dramas and relationships.
'Running Behind Time' – a time-slip, romantic novel set in both 2020 and 1982.
And just published: 'Still Life with a Vengeance' – a contemporary story of a woman coming to terms with her troubled past and present.
A former English teacher with an MA in Creative Writing from the University of Gloucestershire, Jan has also penned numerous, prize-winning short stories.
Author Links:
---
The above links are affiliate links. I receive a very small percentage from each item you purchase via these links, which is at no extra cost to you. If you are thinking about purchasing the book, please think about using one of the links. All money received goes back into the blog and helps to keep it running. Thank you.