NYPD Red by James Patterson – Book Review
NYPD Red by James Patterson – Book Review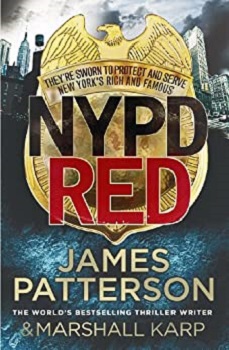 NYPD Red
Author – James Patterson & Marshall Karp
Publisher – Cornerstone Digital
Release Date – 25th October 2012
Pages – 498
ISBN 13 – 978-0099576433
Format – ebook, paperback, hardcover, audio
Star Rating – 5
This post contains affiliate links.

Synopsis
Every cop wants to be part of NYPD Red.
The elite team in New York's police department, they handle the headline cases – the ones involving the city's most high-profile people. For Detective Zach Jordan, it's his dream job – but he's about to step into a nightmare.
At a major film festival, a maniac begins a brutal public killing spree. His target? Hollywood's biggest stars.
Zach is assigned a new partner, Detective Kylie MacDonald – his ex-girlfriend. But they'll need to put their history aside to have a chance of stopping this homicidal psychopath before he brings New York City to its knees…
NYPD Red is the first book in a detective series from author James Patterson that has been out for a while. Currently, there are six books in the series which I am a little late to, although it does mean I get to read the books back-to-back rather than having to wait for the next to be published.
NYPD Red is a police department that deals with the wealthy and famous as the Major of New York decided that they deserve their own team to investigate crimes against them.
In book one we meet a killer who is targeting those in the movie industry. From the beginning, we know who the killer is and why he is killing his victims, which he writes like a movie scene to play out in his head.
The detectives on the case are Zach Jordan and Kylie MacDonald (Kylie being new to the team and Zach's ex-girlfriend). They need to locate and stop the killer before New York is brought to its knees and the movie stars all head back to California.
The book is fast-paced and exciting. It has short chapters, which I adore, and two likeable main characters, even if Zach's is a little chauvinistic.
I flew through this book and enjoyed the cat-and-mouse chase throughout, especially the finale which includes some action on the river.
I've now just started book two as I couldn't wait to get back to New York and join Zach and Kylie as they begin case number two together.
---
Purchase Online:
James Patterson

James Patterson is one of the best-known and biggest-selling writers of all time. His books have sold in excess of 375 million copies worldwide. He is the author of some of the most popular series of the past two decades – the Alex Cross, Women's Murder Club, Detective Michael Bennett and Private novels – and he has written many other number one bestsellers including romance novels and stand-alone thrillers.
James is passionate about encouraging children to read. Inspired by his own son who was a reluctant reader, he also writes a range of books for young readers including the Middle School, I Funny, Treasure Hunters, Dog Diaries and Max Einstein series. James has donated millions in grants to independent bookshops and has been the most borrowed author of adult fiction in UK libraries for the past eleven years in a row. He lives in Florida with his wife and son.
Author Links:
---
The above links are affiliate links. I receive a very small percentage from each item you purchase via these links, which is at no extra cost to you. If you are thinking about purchasing the book, please think about using one of the links. All money received goes back into the blog and helps to keep it running. Thank you.