The Celestial Assignment by Theresa Braun – Book Review
The Celestial Assignment by Theresa Braun – Book Review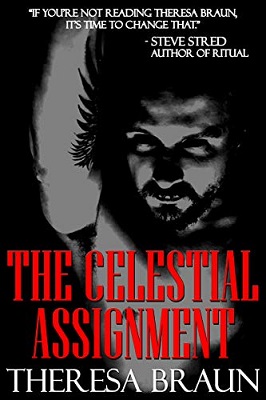 The Celestial Assignment
Author – Theresa Braun
Pages – 28
Released – 14th February 2020
Format – ebook
Review by – Stacey
Rating – 4 Stars
I received a free copy of this book.
This post contains affiliate links.


After a sudden death, Will, a misguided angel, is tasked with protecting a baby girl. Watching over her as she grows up and navigates the world appears a harsh punishment for his past failings. Can he redeem himself, or will he fall further from grace?

The Celestial Assignment is a novella of just 28 pages by the queen of short stories author Theresa Braun. We first meet bad boy Will, who has become a guardian angel as he is given an assignment to watch over newly born Celeste.
Will doesn't quite understand why he has been given the role seen as he isn't religious, nor ever stepped foot in a church but the powers that be have chosen him and he has no way of getting out of it.
Will watches and protects Celeste as she grows older and into a teenage girl having her first boy crush. He doesn't particularly like the guy that she has chosen but little did he know that this guy would be in and out of her life for many years to come.
It takes him a long time but Will starts to understand why he has been given this assignment as he can see himself in the boy and his behaviour towards women.
The story took me just thirty minutes to read and was really enjoyable. I can't say that I am one of those people that finds books philosophical so for me, this was just an interesting, touching story but I can see some readers having a more in-depth though analysis about The Celestial Assignment.
If you are looking for a quick read that is different, intriguing and just might make you analyse your life then this is the book for you.
Book Reviewer – Stacey
---
Purchase online from:
---
About the Author

Theresa Braun was born in St. Paul, Minnesota and has carried some of that hardiness with her to South Florida where she currently resides. An English teacher and adjunct college professor for over thirteen years, she continues to share her enthusiasm for literary arts with her students.
She earned a Masters in English literature with a thesis on Shakespeare's Twelfth Night. In her spare time, she enjoys delving into her own creative writing, painting, photography and even ghost hunting. Spending time with her family and traveling as often possible are two of her passions. In fact, her world meanderings are often backdrops for her work. Striving to make the world a better place is something dear to her heart.




---
What did you think of The Celestial Assignment? Share your thoughts in the comment section below!
---
The above links are affiliate links. I receive a very small percentage from each item you purchase via these link, which is at no extra cost to you. If you are thinking about purchasing the book, please think about using one of the links. All money received goes back into the blog and helps to keep it running. Thank you.
Like us on Facebook – Tweet us on Twitter – Pin us on Pinterest