The Delicious Shadow by Srividhya Lakshmanan – Book Review
The Delicious Shadow by Srividhya Lakshmanan – Book Review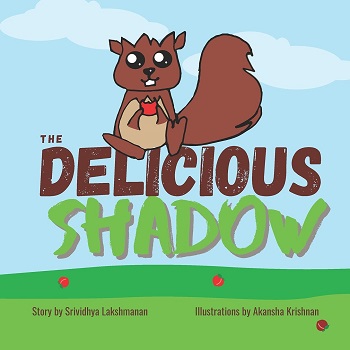 The Delicious Shadow
Author – Srividhya Lakshmanan
Illustrator – Akansha Krishnan
Pages – 31
Released – 4th March 2021
ISBN-13 – 979-8576272815
Format – ebook, paperback
Rating – 3 Stars
I received a free copy of this book.
This post contains affiliate links.


Synopsis
Some want to become stars overnight doing nothing!
Stickle, the squirrel, lives in the forest with her family. She dreams of becoming the most famous person but is lazy and decides everything in a rush. With the support of her parents, Stickle thinks of a way to reach her goal. She decides on becoming a scientist but is lazy to work for it. In haste, Stickle pretends to have found something, but things become strange afterwards. Did she make her wish come true? Discover now from this illustrated picture book that will help your child learn an important moral.
Best suited for preschoolers and children upto the age of eight.
The Delicious Shadow is a children's picture book featuring an indecisive squirrel called Stickle who lives in the forest with her family. Her dreams for the future are to become famous, however, her parents think she should think of a different career and so she tries out for a short time different ones that her relatives have such as baker, mechanic, doctor, without much success.
I have mixed feelings about the book. It is sweet, fun, and I can see children loving Stickle the Squirrel and enjoy watching her try out different careers and realising that they are not for her. It is bright and colourful with full-page illustrations and is easy to read.
However, the book then takes a strange turn as she works out that when the fruit falls from the trees and is in the shadow it is juicier than if it lands in the sun. This to me felt like a complete deviation from the plot of the book and out of place. I understand the author was trying to show that Stickle made a discovery all on her own without following in the footsteps of others but it just felt strange. I also didn't feel like the moral of the story came across well enough to be interpreted by a child.
Overall, if you are after a book to keep a young child entertained for a short while, one they can follow easily via the images and short text then this would be a good start.
Purchase Online From:
---
What did you think of 'The Delicious Shadow'? Share your thoughts in the comment section below!
---
The above links are affiliate links. I receive a very small percentage from each item you purchase via these link, which is at no extra cost to you. If you are thinking about purchasing the book, please think about using one of the links. All money received goes back into the blog and helps to keep it running. Thank you.
Like us on Facebook – Tweet us on Twitter – Pin us on Pinterest – Join us on Instagram