The Familiars by Stacey Halls – Book Review
The Familiars by Stacey Halls – Book Review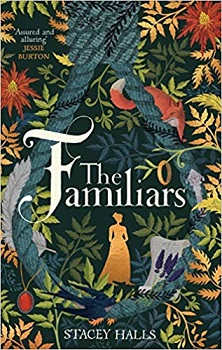 The Familiars
Author – Stacey Halls
Publisher – Zaffre
Pages – 432
Released – 7th February 2019
ISBN-13 – 978-1785766114
Format – ebook, hardcover, audio
Reviewer – Stacey
Rating – 4 Stars
I received a free copy of this book.
This post contains affiliate links.
In a time of suspicion and accusation, to be a woman is the greatest risk of all . . .
Fleetwood Shuttleworth is 17 years old, married, and pregnant for the fourth time. But as the mistress at Gawthorpe Hall, she still has no living child, and her husband Richard is anxious for an heir. When Fleetwood finds a letter she isn't supposed to read from the doctor who delivered her third stillbirth, she is dealt the crushing blow that she will not survive another pregnancy.
Then she crosses paths by chance with Alice Gray, a young midwife. Alice promises to help her give birth to a healthy baby, and to prove the physician wrong.
As Alice is drawn into the witchcraft accusations that are sweeping the north-west, Fleetwood risks everything by trying to help her. But is there more to Alice than meets the eye?
Soon the two women's lives will become inextricably bound together as the legendary trial at Lancaster approaches, and Fleetwood's stomach continues to grow. Time is running out, and both their lives are at stake.
Only they know the truth. Only they can save each other.

The Year 1612, Pendle, Lancashire. Seventeen-Year-Old Fleetwood Shuttleworth has been married for four years and in that time she has been pregnant three times too, losing each child before their birth dates. Fleetwood is once again pregnant and hoping to make it to full term with her child so she can give her husband an heir to carry on the Shuttleworth name. Unfortunately, she comes across a letter from the local physician which was written after she lost her third child which states that if she would be to fall pregnant again it is unlikely that she will survive.
Fleetwood is distressed by the letter and wants to confront her husband about it but doesn't know how. She decides to go a different route and hire a local woman to be her midwife, a woman that knows all about potions and herbs and promises to deliver a healthy baby – Alice Grey.
There is talk amongst the local people of witches in the area and her new midwife is soon finding her name bought into the accusations of witchcraft. Fleetwood is sure Alice is innocent and with the trial looming close and if found guilty Alice will be hung, Fleetwood will do anything to save her new friend, even going against her husband for the young woman.
The Familiars is a historical novel set in the era when people who were a little different were accused of being witches and killed, not only in the UK but across the world too. One of the most famous and best-recorded witch trials in the UK was in Pendle, Lancashire, now dubbed the home of the 'Pendle Witches', where twelve people went on trial and ten found guilty.
Ms. Halls has weaved her superior tale around the events from 1612 and brought into her fictional novel some famous names from the trials, including Alizon Device and Alice Grey. The Shuttleworth family are also a well-known real family from the area too.
Fleetwood although only seventeen has been through some hard times. Not only is it illegal to get married at the age she did these days, but you just couldn't comprehend a young girl of seventeen having been married for four years and not only being pregnant four times but losing three of her children before birth too. I found her character although a little weak minded at times, yet she was intriguing and I enjoyed watching her evolve as the plot progressed.
Whilst the book is set during the Pendle Witch trials, for my liking, there wasn't enough about them in the book, mainly because I love a good book featuring witches and this is what made me choose to read the story in the first place. What information there is, is historically accurate and you can tell that the author has a keen interest in the past and has done lots of research.
Overall the book left me satisfied and I thoroughly enjoyed it. It left me feeling enthralled with parts and spellbound by others. The pace felt a little slow to at times but in my personal opinion slowness works in historical fiction as it allows you to really grasp the past and understand it. The pace does pick up as you near the end.
This is a book that I feel is going to be a bit like Marmite in that if you have an interest in historical fiction or indeed the witch trials or Pendle, you will love it. If you have no interest in these subject then I can't see it being of interest to you.
Reviewed by Stacey
---
Purchase online from:
---
About the Author

Stacey Halls grew up in Rossendale, Lancashire, as the daughter of market traders. She has always been fascinated by the Pendle witches. She studied journalism at the University of Central Lancashire and moved to London aged 21.
She was media editor at The Bookseller and books editor at Stylist.co.uk, and has also written for Psychologies, the Independent and Fabulous magazine, where she now works as Deputy Chief Sub Editor. The Familiars is her first novel.




---
The above links are affiliate links. I receive a very small percentage from each item you purchase via these link, which is at no extra cost to you. If you are thinking about purchasing the book, please think about using one of the links. All money received goes back into the blog and helps to keep it running. Thank you.